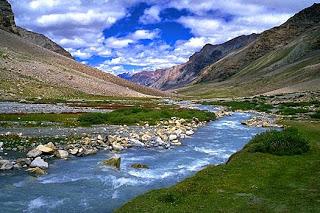 Sonamarg is a wonderful thrilling tourist hot spot of Kashmir. It is a lovely small hill
resort situated at the height of 2740 m in the state of Jammu and Kashmir and is literally by name means the meadow of gold is due to its awesome outstanding beauty and charm of flowers that wraps the meadow during the spring. 
The place is quite a lovable and impressive tourist destination set at the last major point in the Kashmir valley. Sonamarg today is one of the most popular spot in Kashmir.
Since earlier days it is quite common to people as the place lies on the main trading route into the central Asia. As time pass people start loving the place and visit it during summer and vacation holidays to spend relaxation in it. Trekking, adventure thrills became popular in this site and later it became the main attention of tourism in Kashmir.
The picturesque natural beauty of the region brought up its name to the eye of tourism. It is a popular gateway to Ladakh and Zojii La pass. Sonamarg offers various interesting places such as Nilagrad, Bisansar Lake and Krishnasar Lake and Nichnai Pass are some of the popular places to visit in Sonamarg.
A drive to Sonamarg is through the Sindh Valley which presents another face of the countryside in Kashmir and has snowy mountains in its backdrop. Sonamarg is the main base for the treks that passes along several mountains lakes like Vishansar, Kishansar, Gadsar, Satsar and Gangbal and is also a major point for the drive to Ladakh across the Zojii La pass and the main base to for undertaking the yatra to the holy Amarnath cave.
 Like this Sonamarg tour places can lead you to one destination to another and from one attraction to the other in Kashmir. So take up such multifaceted best route for unending chains of tour thrill experiences like that of Sonamarg tours.
The Sindh River that flows down cutting through the Sonamarg charming town is bountiful with Trout and Mahseer and is one of the popular sought after tourist places in Sonamarg. Here one can enjoy unlimited thrills and adventure excitements along with enjoyment of trout and Mahseer fishing. 
Tourism in this site also offers various other excitements such as trekking, hiking trails and many other options even for sightseeing of historical attraction, lakes and cuisine enjoyment.
Sonamarg precisely saying is not only meadow of gold that spark in Kashmir but also a paradise world for adventure lovers worldwide which can be calm as one of the best tourist place in India and a feasible area for adventure travelers of the world.