Here's a webpage trashing me that some retarded cunt wasted a couple of hours of her insipid life creating. This stupid bitch even blacked out the faces of the girls on the memes because I guess they are "child abuse victims" or some such. That's so idiotic.
Isn't that stupid? That has to be the stupidest webpage ever created. And of course if that's true, it had to be made by a woman.
About the "Sometimes you want to break the law meme: Normal men and women DO NOT desire little girls. Any female under the age of 18 — is a CHILD! Robert Lindsay blogs about sexual predators only. He also justifies their desire for young females on his blog and his Facebook. He deleted Facebook pics though and blogged that he was a victim. I can assure you, he is NO victim. He also totally screwed up profiling the women that called him out on being a pervert.

About the girl in the bikini meme: Below he is having a conversation about how this little girl is so developed and nothing wrong with GROWN men wanting her and blah blah… sick SOB goes on and on.

These pics are just a few examples of MANY that he had on his Facebook page and I wish I had gotten more before he hid them for his perverted viewing "pleasure" only. I also wonder if these girls' parents know he took these pics and I AM THE ONE THAT BLOCKED their faces…He needed to be able to rant on his blog about how he was being bullied by women, so his pervert pictures and comments are now hidden.
Yeah and guess what? The mental health professionals of the US have agreed in writing that it's perfectly normal for any adult to be attracted to minors aged 13-17, so her first lines are just wrong.
She's wrong. Girls age 13-17 are not children. They are adolescents. Adolescents are neither children nor adults. They are in between. Girls that age should be called something like girlwomen because they are in between a girl and a woman.
Next line is wrong. I do not blog exclusively about sexual predators. Was this woman in Special Ed? Sometimes I think all women should be in Special Ed.
The next sentence is true. I do indeed justify the desire of men to have sex with 13-17 year old girls. Absolutely.
Onto the next paragraph. This is correct. She is very well-developed. I wonder how she can get any more developed than that. And she's not a little girl. She has to be at least 16.
Next, indeed, I do state that there is nothing wrong with grown men wanting to have sex with that girl. Absolutely that is my position.
Then she wonders if those girls' parents know I took pics of their daughters. LOL! Now I know she was in Special Ed. She should have never graduated. They should have forced her into Special Ed for life. And she blocked out their faces like they are some sexual abuse victims! Idiocy! Of course I didn't take pice of those girls, you retarded baboon. That's just some Internet meme. Someone took those pics (probably the girls' own friends) then some guy made a meme out of the photo. I don't know those girls. I've never met or seen them, and I have no idea where those pics were taken.
Actually my pics and posts are not hidden. It's just that I've blocked most of these screeching harpies from my page. Women like this should not be allowed outside to roam the streets. They're a threat to public safety. They belong in zoos.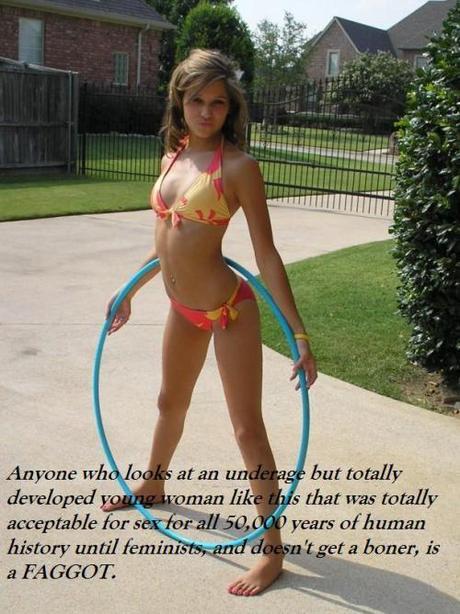 Self-explanatory.
This is one of the photos that caused all the furor when that gaggle of retarded cunts mass-reported it to Facebook in an effort to get my page taken down Facebook removed this photo because they said it violated their community standards. It was all cunts who reported me, no men reported me because men are rational about this sort of thing whearas cunts are not.
These insipid cunts said that I stole the pictures of those girls and put them on my  page. LOL those are Internet memes, you idiotic bitches. Some guy got a hold of that picture and turned it into a meme and I borrowed it. I have no idea who that girl is and yeah I stole her picture off the Internet. I stole it off a meme, you cunt retards.
Good God women are stupid. This is why you cannot let women run society. If you let women run society, they will make all memes like this illegal and call it pedophilic material or child pornography and you will get 10 years for posting something like this. Women cannot be trusted in positions of power because once they get into power they are going to make half of life illegal. Basically, women are too stupid to hold power in society. Society must be ruled by men.
Women are incapable of running society, and an society run by women will probably quickly collapse. Women bitch that in every culture and tribe ever studied, men run the show and women follow orders. Women say this is some evil plot called patriarchy. I have another theory. I believe many tribes and cultures may have let women run things for a while as a test run. Or perhaps they allowed women to share power with men.
Many cultures were ruled by queens for instance. But it was still men who made up the rules of society because women cannot be trusted to do such things. I figure that every attempt to let women run the show collapsed into utter chaos and anarchy and the tribe or culture rapidly fell apart. Because this is what is going to happen every time you let women run society. They will destroy it because women are simply incapable of running societies, cultures or tribes. All must be ruled by men or at least by the rules, mores and laws of men. Once you let women rule society by the idiotic rules, mores and laws of women, society will rapidly collapse.
They also reported that photo to numerous law enforcement agencies. What a gaggle of idiot cunts.
Apparently I violated this retarded standard. I had not the faintest idea that I was violating any standard by posting that pic. It's pretty innocuous.
Sexual Violence and Exploitation: How we Fight Sexual Violence and Exploitation on Facebook

We remove content that threatens or promotes sexual violence or exploitation. This includes the sexual exploitation of minors and sexual assault. To protect victims and survivors, we also remove photographs or videos depicting incidents of sexual violence and images shared in revenge or without permissions from the people in the images.

Our definition of sexual exploitation includes solicitation of sexual material, any sexual content involving minors, threats to share intimate images, and offers of sexual services. Where appropriate, we refer this content to law enforcement. Offers of sexual services include prostitution, escort services, sexual massages, and filmed sexual activity.
Wow. So that meme promotes the sexual exploitation of minors. LOL! How idiotic. Apparently that meme is somehow defined as "sexual content involving minors," I guess because she's wearing a bathing suit!
Really all that meme says is it's ok for a man of any age to be sexually aroused by this girl. Because that's true, right? Careful studies in the lab repeatedly find that all normal males are sexually aroused by girls that age. It's not abnormal at all. The only men who are not aroused by that girl are gay men. So not only is my statement true, but it's been validated in many scientific studies.
I am not promoting the sexual exploitation of minors, whatever the Hell that means. I'm saying it's ok for men to get turned on by teenage girls. I'm not saying it's ok to have sex with them or anything like that. Actually I recommend that all men age 19+ do not have sex or engage in any sexual activity with any female below the age of consent. Not because there's anything wrong with it. In my opinion, for any man to have sex with a girl like the above is perfectly acceptable to me. But all men age 19+ need to avoid sexual behavior with girls below consent age because you might get arrested. Actually nowadays you probably will get arrested.
Society has gone berserk on Pedophile Mass Hysteria, mostly due to the insane and retarded conflation of statutory rape of underage girls and actual molestation done by pedophiles and child molesters. A man attracted to teenage girls is called normal, not a pedophile. We in mental health get to make the definitions of things like pedophilia, not a bunch of retarded cunts. We have decided that pedophilia has to do with minors age 12-under.
Mental health professionals officially state that sexual activity with minors age 13-17 is not pedophilia. In fact, in the DSM-5 discussions about hebephilia, it was even argued that attraction to girls aged 13-15 was absolutely normal. Not only was it not a disorder called hebephilia, but it wasn't even abnormal. It other words, mental health professionals decided that attraction to minors age 13-15 was absolutely normal human behavior. That's all we have to say about it because we only give definitions to mental disorders, not crimes like child molestation. However, I am sure that nearly all mental health professionals would say that adults having sex with minors aged 13-17 is not child molestation. We would define child molestation as sex with minors age 12-under.
This is getting really weird. What if most publishing platforms start making insane rules like this saying that that meme is not permitted because it "promotes sexual exploitation of minors"? That's really dumb. I can see it coming though because Pedophile Mass Hysteria seems to get worse every year and I do not believe it has peaked yet.
I saw a 22 year old man go down for "aggressive kissing" of a 16 year old girl. He didn't even fuck her! He kissed her! Actually, she probably kissed him as 16 year old girls are little seductresses and they seduce young men constantly.
Next I saw a 19 year old man go down for having sex with a 17 year old girl! What!? Lame!
This is just getting nuttier and weirder every year.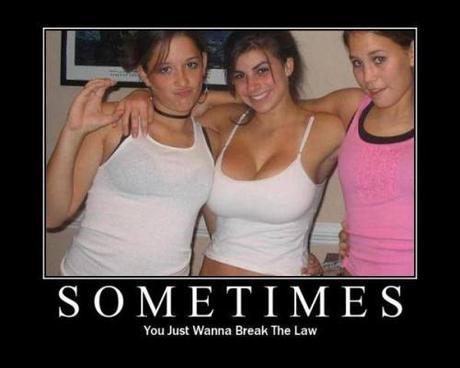 Control yourselves, guys.
This is the other one that got reported. Those girls are probably 16-18 at the youngest. Does this meme somehow "promote sexual exploitation of minors." I would say that it doesn't since while the meme itself seems to promote that, my words below that say,  "Control yourselves, guys." That encapsulates my position that while it is perfectly normal to want to break the law and have sex with those girls, men need to control themselves and not do it there's too much risk of arrest.
Actually the meme itself doesn't promote sexual exploitation of minors. All it says  is it's ok to want to have sex with those girls. Well of course it's normal to want to do that. Any normal man would feel that way. So I don't see how this meme violates Facebook's wussy standards. Who runs Facebook anyway? Men or wusses? I think it's mostly wussies, pussies, faggots and women who seem to run the company. I guess there's not one real man in the whole company. Nothing but girly-boys in the  whole company. What a pity.