What the Dufner story and the golf world would look like today if the USGA and R&A had banned the long putter 25 years ago?

Jason Dufner struck the ball purely and confidently when it mattered the most: Sunday afternoon. He showed the heart, aggression and carefree recklessness of a past major champion. 

Apart from a couple squirrelly par putts (squeezed in the two-footer on the 10th and yanked a 5 footer wide on the 17th), Dufner played with the confidence of a major champion. It was an interesting contrast to his first major victory 2 years ago when he limped home. This time, he striped his drives down the middle of the narrow oak-lined fariways and hit precision short irons under pressure. It was the kind of ball striking that reminded us of fifteen time major Champion Tiger Woods in his prime.
By the end of Sunday, Dufner had passed his playing partner Jim Furyk's major championship total in winning his second PGA Championship in two years.
This time, he did it in convincing fashion compared to two year ago at Atlanta Athletic Club. If you recall, Dufner barely made it to the clubhouse with four straight bogeys to barely eke out a win over the hard changing Anders Hansen. At the time, it felt like one of the least satisfying major wins in some time. Dufner changed that narrative in Rochester: he played like a closer. He seized the lead by two strokes at the turn and did not let anyone else get close on the back nine. The par three 15th hole at Oak Hill was eerily similar to the hole in which he blocked his tee shot into the water in Atlanta 2 years ago. This time, Dufner calmly and safely steered clear of the water with a solid strike to the left portion of the green (just onto the fringe) and getting his par.
Despite recent disappointments in majors – perhaps most recently in 2012 when he let Grame McDowell leapfrog him in the final few holes on the Irishman's way to his second U.S. Open, Furyk played well down the stretch and made some great putts to stay close. Provided he stays away from the product on this hat, he should be able to sleep tonight knowing he got beat versus beating himself. On the back nine Sunday, Dufner's short-iron play made it discouraging, if not impossible, for Furyk to make a real move on the champion.
Don't be fooled by Dufner's two bogeys on the 71st and 72nd holes on Sunday. In both cases, the champion hit decent shots on extremely difficult holes. He could observe Furyk in similar difficult circumstances and played with the appropriate caution. Those bogeys were the result of a former champion knowing how to avoid the big number with a two stroke lead.
Dufner now joins contemporaries Graeme McDowell (2010 and 2012 U.S. Opens), Rory McIlroy (2011 U.S. Open and 2012 PGA) and Reteif Goosen (2001 and 2004 U.S Opens) with 2 career majors titles and hot on the tail of Angel Cabrera (2007 U.S. Open and 2009 and 2013 Masters), Padraig Harrington (2007, 2008 U.S. Opens and 2008 PGA) and Vijay Singh (2000 Masters and 1998 and 2004 PGAs) with three majors.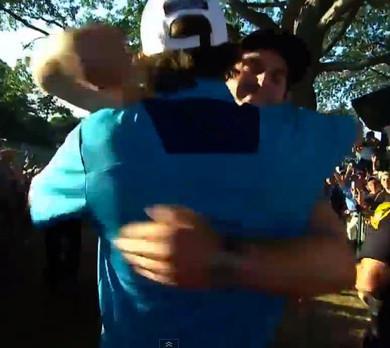 Why is journeyman Keegan Bradley so happy for Dufner?
Should Dufner continue his strong performances in majors, it is reasonable to expect him to join the list of three-time major champions. It is an important list historically. Aside from a couple Scottish guys from the 19th century, of the fifteen players with three major championships, only Harrington and Cabrera are not yet in the World Golf Hall of Fame.
If Dufner wins one more PGA Championship, he would join Gene Sarazen and Sam Snead (both won their PGA Championships in the match play era) with three titles. Dufner would also join Jack Nicklaus and Tiger Woods as the only players with more than two PGA Championships since the switch from match to stroke play in 1958. This is elite company.
THE POTENTIAL DUFNER LEGACY
Ultimately, what does this second major win mean for Dufner? We mentioned the three time winners above and he has reached 2 majors titles at a younger age than each of Cabrera, Singh and Harrington. Dufner's record-tying 63 on Friday and his precision ball-striking Sunday puts his in the hunt for a couple of more majors in the coming years. Although he seems to be a late bloomer, he is only a year older than the age at which 5-time major winner Phil Mickelson won his second major.
True, he doesn't have the amateur and PGA Tour winning pedigree of Mickelson and even some of the other players mentioned; but on Sunday, he showed the game and temperament of a major champion destined for more. 
Douglas Han
Like what  you read? Please share by passing it on to a friend via email or any of the other buttons above.
Have a submission for Golf Videos of The Week? Please email video or link via the Contact Page.