The Perfect Liar by Thomas Christopher Greene
Published by St. Martin's Press on January 15, 2019
Genres: Literary, Mystery, Psychological, Suspense, Thrillers
Pages: 288
Format: ARC, eBook
Goodreads
Buy on Amazon



A seemingly perfect marriage is threatened by the deadly secrets husband and wife keep from each other, for fans of B.A. Paris and Paula Hawkins.

Susannah, a young widow and single mother, has remarried well: to Max, a charismatic artist and popular speaker whose career took her and her fifteen-year-old son out of New York City and to a quiet Vermont university town. Strong-willed and attractive, Susannah expects that her life is perfectly in place again. Then one quiet morning she finds a note on her door: I KNOW WHO YOU ARE.

Max dismisses the note as a prank. But days after a neighborhood couple comes to dinner, the husband mysteriously dies in a tragic accident while on a run with Max. Soon thereafter, a second note appears on their door: DID YOU GET AWAY WITH IT?

Both Susannah and Max are keeping secrets from the world and from each other —secrets that could destroy their family and everything they have built. The Perfect Liar is a thrilling novel told through the alternating perspectives of Susannah and Max with a shocking climax that no one will expect, from the bestselling author of The Headmaster's Wife.
I kept seeing The Perfect Liar by Thomas Christopher Green on the internet and on social media, so when I saw it available, I knew I needed to read it. I was happy when I was approved on NetGalley for a book review!
Susannah is widowed in her 20's and left with a young son  At a work party, she meets Max, who had lied about who he was in order to gain access to the exclusive event.  They fall in love, marry and have a seemingly perfect marriage, but the truth is that their is built on a web of lies.  
Max and Susannah are comfortable and happy in their marriage until one day a note appears on their door that reads I KNOW WHO YOU ARE.  Soon another note arrives and tension mounts while suspicion grows. Readers are left to wonder how Max and Susannah will react if either of their secrets are revealed. 
I found The Perfect Liar to be a fast and easy read that came with some twists and turns, making it an interesting read not requiring much thought. I found Max and Susannah's secrets to be more interesting than the actual identity of the note sender. I found the story to be quite enjoyable and I thought the best part was trying to figure out just who the "perfect" liar was!
Pick up your copy here ~~
---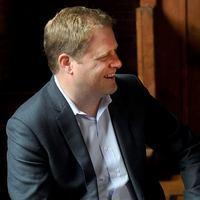 Thomas Christopher Greene is the author of six novels, including the bestseller THE HEADMASTER'S WIFE. His latest is a domestic thriller, THE PERFECT LIAR.
In 2007, Tom founded the Vermont College of Fine Arts, a top graduate fine arts college where he still serves as President. His fiction has been translated into 11 languages. He lives in Vermont.
Connect with Mr. Greene on his WEBSITE  or FACEBOOK!
---
Thank you to St. Martin's Press who provided me with a advanced reader copy of this book through NetGalley for review.  All opinions expressed in this review are entirely my own.

~ ~ ~ ~ ~ ~ ~ ~ ~ ~ ~ ~ ~ ~ ~ ~ ~ ~

It would be great if you would stay connected with me!! You can follow me on Twitter @DebiL1611, like me on Facebook at 2014 and Beyond, circle me on Google+, follow me on Tumblr, Instagram and Bloglovin', subscribe on YouTube, or connect with me on LinkedIn and Pinterest.

Please make sure to visit my homepage and subscribe to my blog for more great posts on running, fitness and lifestyle topics as well as food, product, music and book reviews, and more!