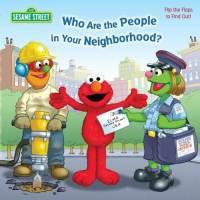 Image courtesy of tower.com
"Oh who are the people in your neighbourhood?
In your neighbourhood?
In your neighbourhood?
Say who are the people in your neighbourhood?
The people that you meet each day
Well they're the people that you meet
When you're walking down the street
They're the people that you meet each day"
(Written by Jeff Moss 1969 - Sesame Street)
Ahh!  Well that song certainly brings back many childhood memories.I spent countless mornings and afternoons faithfully watching good old Sesame Street.For some reason it was also the song that came to mind as I recalled my recent weekend in Sydney, where I had the opportunity meet with some locals.Considering I know quite a few people that live in the area who have been online friends for many years, I was eager to arrange a hook-up with some of my Beauty Heaven advocates and fellow bloggers.Meeting the girls turned out to be the highlight of my weekend away! 

:)
Because I live in the sticks (think rural, FNQ), located in the small farming community of Innisfail, I always miss the benefits that come with living in a big city, the kind of things that you just can't do living in a small town.I am not the jealous type, but on many occasions, my already green eye's often become even greeeeener with envy as I read about the city girls (

the Sydneysiders in particular

) meeting up for recreational days out, being invited to various PR events or just joining forces with other likeminded girlfriends on groupie style shopping expeditions. 

At times it feels like I am an alien from another planet, coz living up here is just so isolating! 

>-)So, when my itinerary for the Sydney International Spa and Beauty Expo weekend arrived, revealing four hours to kill between checking out of my motel at the Novotel Rockford Darling Harbour and departing for the airport to catch my return flight home, I pondered the possibility of arranging a meet-up with some of my online buddies.  :-?            
I posted my thoughts of a meet up on Facebook, which sparked a bit of interest from my cohort of beauty aficionado comrades, however, unfortunately there were beauties that had already planned holidays, or had no access to babysitters etc, the usual dilemmas that arise when planning any type of get-together.Nevertheless, as it turned out, three girlfriends confirmed that they were available to venture into Darling Harbour on Sunday and spend a few hours catching up.In addition, another friend and blogger that I conjointly met on the Beauty Heaven website as regular participants on their Forum, who wasn't able to make it into the city for our Sunday meet, just so happened to be attending the expo on Saturday as well, so we swapped numbers and decided to purposely bump into each other while there.

Yippee!!!

I'm so excited, as plans were in place and it dawned on me that it was actually going to happen; I mean we had all talked about meeting each other one in person day, but now it was finally a reality,

whoop, whoop YAY!

  <:-P I'm literally doing a happy dance.
\:D/ 

Yeah boi, bring it on

…..Sydney here I come!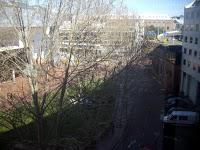 View from window Darling Harbour Motel
After jetting into Sydney late on Friday night and making way to the
Novotel Rockford Darling Harbour
, my temporary abode for the weekend, I offloaded off my luggage and made a mad dash down the street to grab a bite to eat.My eyes lit up as the city came to life at night, the beats were pumping from nearby live music venues as people scattered the streets with an appetite for activity.As enticing as it was to stay and enjoy the entertaining nightlife, I was exhausted and needed to crash ASAP to manage just over four hours shut eye before the big day I had ahead.Awoken by the 'wake-up-call' I requested at 5.45 am, I got out of bed looking like something the cat had dragged in,

EEK

.:-OI bee-lined for the shower with my Evo Soap DodgerBody Wash to spark my senses with the refreshing, uplifting natural aroma, which is an instant reviver and a great way to energise me for the new day.I quickly washed my hair with my GoldwellDualsenses Ultra Volume Shampoo and Conditioner, that I fortunately had in travel sized versions, then prepped my skin using the Alpha-H Clear Skin Kit, which accompanied me to Sydney for convenience.I love travel-sized products when going away, so much better than overloading my suitcase with all the products I normally incorporate into my Serious Skin Care regime, and not to mention the hoards of other beauty products I use on a daily basis

LOL

:))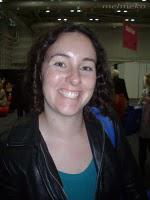 Sarah, The Science of Beauty
Anyway, I made it to the breakfast briefing on time and then spent hours trawling around the stands at the expo.Come mid-morning, it was time for my highly anticipated social engagement, where I was able to meet the first of my welcoming girlfriends, Sarah from The Science of Beauty.We met up in the lounge but ended up wandering over to the designated café seating area to grab a drink.Finding an empty table, we sat down and chatted like a couple of excited school girls.I don't know about you guys but to me, it's kind of funny when you meet your online friends in person, coz they don't exactly resemble the image etched in my head that they look like,

LOL

.

  :))

Even though I have seen Sarah's profile photo more than enough times, but she just didn't mirror the radiant, blushing young bride looking perfect for her wedding day,

doh!

#-o I knew she wasn't going to come waltzing down one of the isles in her wedding dress or anything,

bwahahaha

  =))  But I think I envisioned her face and hair to have frozen in time and still exactly like that,

haha

.

:D 

Anyway, Sarah was gorgeous and I enjoyed meeting her in the flesh.It felt like I was catching up with an old friend, as we practically new each other anyway, via emails, swaps, forums, blogs and of course Facebook, so it wasn't awkward like meeting a complete stranger for the first time.I humbugged her for a photo before we parted ways and, as always, Sarah was gracious enough to oblige. :)

Image courtesy of The Meat & Wine Co
That afternoon I attended a work conference, followed by dinner at The Meat and Wine Co over-looking over the harbor and afterward headed to the Capitol Theatre to take the enchanting 'Supercalifragilistic Musical' production, Mary Poppins. The magical extravaganza was spectacular, I might add, how talented are those actors who sing with the most powerful voices and boy-oh-boy can they dance, the choreography was brilliant!It's definitely a Broadway Musical that would appeal to anyone, even if you're not normally into that sort of thing, it's absolutely mind-blowing!I eventually crawled into bed just after midnight and was so relieved that checkout wasn't until 11am the following morning,

phew

.It's finally, time for some decent shuteye. I slept until 9am then got up and got ready to rock and roll out of there and head off to meet the girlfriends.My makeup was a neutral look, which is not something I normally do, however my favorite bold pink lipstick would have clashed with my outfit :-O (

we can't have that now can we? LOL

) 
[-X
  Here is a rundown of my natural-looking FOTD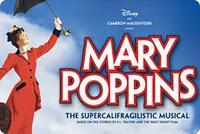 Image Courtesy of sydney.com
Sunday 14th August, 2011 - Sydney FOTD



Primer –

Laura Mercier Foundation Primer

Foundation – gloMinerals Protective Liquid Foundations MatteII
Powder - gloMinerals Matte Finishing Powder
Bronzer – Clinique Almost Bronzer SPF15 in light/medium
Blush – Clinique Quick Blush in In-a-Rush
Illuminator – Benefit Girl Meets Pearl
Mascara – Benefit BADgirl Lash Mascara
Eyeliner – Revlon High Dimension Eyeliner in Gold Flash
Eyeshadow – NYX The Runway Collection 10 Color Palette inVersus
Brows – NYX Auto Eyebrow Pencil in Brown
Lipliner – BECCA Lip Liner Pencil in Nude
Lipstick – Benefit Full Finish Lipstick in Ladies Choice
Gloss – Mirenesse Velvet Lip Moisture Shine in no.11 StTropez
Yes, actually, in case your wondering, I did mange to fit all that makeup in my suitcase and I will fill you in on a little secret,

shhh

:-$ That was only the half of it :">

Hmmm

, I am renowned for taking faaaaaaaarrrrr too much makeup with me when I go away and remember a couple of years back I even had to pay extra to check my carry-on luggage in because it was too heavy :-S

oops, LOL

.After applying my makeup, I tended to my hair, which was super easy, whipping out my Batiste Diva Dry Shampoo and my Redken Quick Dry 18 Instant FinishingSpray, I gave it a quick once over and slapped a hat on my head.At five minutes to 11 am, I managed to jam everything back into my suitcase to take home, and despite only accumulating a Mini Haul at the expo, I still struggled to fit it in well enough to close it,

oh,oh

.:-L But, plonking myself on top of the case did the trick, where I was able to maneuver the slider and force the zipper to close and the final result was a suitcase that was nearly busting at the seams,

oops

.:"> 8-| Note to one's self, NOT SO MUCH MAKEUP next time,

haha

, :D I must invest in some decent travel sized makeup just for the sole purpose of going away, this was just ridiculous! 
:P
I got out of the motel with only seconds to spare and immediately recognised one of my dearest mates, who like the others, I first met on the Forum as members of the Beauty Heaven website.  We regularly keep in contact, mostly on Facebook these days and also via email. Christine, was the first to arrive and had walked from the train station to surprise me by waiting out the front of the hotel.>:D<  Soon after, we met up with Su from My Perfume Diaries, who I have become quite close friends with over the past few years, regularly engaging in personal exchanges in addition to our usual beauty nattering.

  ;) 

The last to arrive was another beauty, Alice who I have always admired after becoming firm friends, once again thanks to our love of beauty and frequenting the Forum on Beauty Heaven, as well as connecting on more casual terms via Facebook.

  

Alice, who is also the author of Alice Jane in Newcastle, had me feeling super privy when I learned she was coming to the city, considering she lives a 3-hour train trip away; I couldn't believe she came all that way just to meet me, so I was thrilled!;;)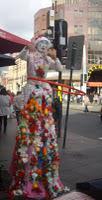 Clown in the Neighbourhood
Once together, we ventured around in Haymarket, finding an eatery in the Market City Shopping Centre, where we sat down for a meal and a big fat chat,

LOL

:))I naturally swamped the girls, revealing my goody bag of products from my Mini Haul at the expo and showcased some photos that I had taken over the weekend,

he,he

.

;)) 

Afterward Su and I went browsing in the Cosmetics Fragrance Direct outlet, while Chris and Alice watched a table tennis tournament they were filming in the center court.I behaved myself whilst in the legion of all those enticing beauty products, despite the temptation before me; I resisted and only left with the one Rimmel Rich Moisture Cream Lipstick in Exquisite a pretty, pink shade, so dibs to me again for my exquisite display of self-control,

phew

. #:-S We made our way downstairs and roamed around Paddy's Markets for the rest of the afternoon, where I got some toys for the hard-heads (kids) back at home and some candy coated almonds (for mwah).

;) 

I think I could have easily spent up big there too, but instead, I was just happy to trawl around eying off all the different stalls, especially whilst keeping with such great company.  :)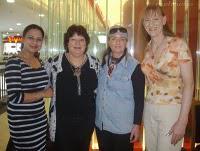 L-R Su, Chris, Me and Alice
The meet and greet ended with some happy snaps of us all together, which came about when we roped some poor woman walking by into taking for of us.I bet she wished she had of walked in another direction at that point, as ambushed her with not one camera and a couple of photos, but all our cameras and several shots,

LOL

.

:)) 

Soon after, we bid our farewells.For me it would be at least another 12 months before the possibility of seeing any of them again, however, as for my Sydney friends, I'm sure they will all meet up again very soon, maybe even at IMATS, this coming month??  %%-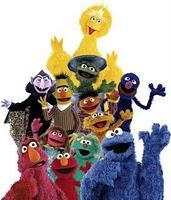 Image courtesy of wifelysteps.com
Overall, What a great weekend!=D>  I had an awesome time and loved having the chance to meet such amazing people, who all share the same interests as me.It was a weekend to remember and one that I will cherish for many years to come.I certainly hope to meet them all again next time I am visiting in their neighbourhood, along with some of my other online friends who couldn't make it this time round.It is great to have friends online but even better when you meet them face to face.

  :) 

Oh who are the people in your neighbourhood?They're the people that you meet each day!  :-h
Have you ever met any of your online buddies in person?
All images in this post are my own, apart from any generic images, which I have given credit to the source in the caption below each image.