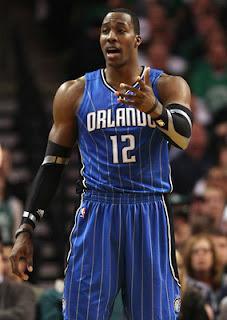 Photo: Getty Images
- Troy Ballard
Dwight Howard is, has been, and likely will be, the biggest news in Orlando for a long time, and right now his status has been emphasized with a flurry of rumors that involve the Magic trading him.
Last season, there was still a possibility that Howard would re-sign with the Magic. However, as the NBA Lockout dragged on, it became more clear that the All-Star center was doing nothing more than biding his time in Orlando.
The Magic were put into a tough situation. Either trade away their big man, try to convince him to re-sign, or just see how things played out. Despite how things may look, Orlando has actually played this Howard situation perfectly.
Yes, at one point it did seem to be inevitability that Howard would be traded. The rumors circulating Orlando had him landning everywhere from New Jersey and Chicago, all the way to Los Angeles. Whoever Howard would end up being dealt to would be interchangeable, and the only constant was that he would be off the Magic soon.
Although, as we approach the All-Star break in a shortened NBA season, #12 is still starting for the Magic. It's a real puzzler. Orlando obviously had trade offers stuffed in their inbox, and they couldn't find a single one to suit a player who is going to leave in free agency anyway? That's baffling.
But it really isn't.
When breaking down a player like Howard, what exactly is fair-value? In terms of talent, he is far and away the best center in the NBA, immediately makes any team into an instant championship contender, totally and completely shuts down the paint, rebounds like it's no big deal, has no issue posting 20-20 nights, is a three time Defensive Player of The Year Award winner, and is only 26-years old.
That's it -- there is no fair value for a player like Howard. His talent, combined with his age, make him the single player with the absolute highest ceiling for success. Unless we're talking about trading the LeBron James' and the Kobe Bryant's of the NBA, the Magic aren't even going to be able to get fair-value for Howard in a trade.
The best thing Orlando can do is what they're already doing -- letting Howard play and not discussing trades. Even with the strong desire to be traded, and with his hand on the door to leave, Howard is still posting mind-blowing numbers. Combine that with the fact that he is a lock to win DPOY for a fourth-consecutive season, and the Magic have no reason to trade him.
Would it make sense to at least get something back in exchange for Howard? Sure. Luckily, Orlando has until March 15, which is the NBA's trade deadline for the shortened season. In the meantime, why not let Howard continue to carry the team to more wins?
When the trade deadline approaches, the Magic will be thrown more last-effort offers for Howard. Unless Orlando gets an offer that is totally earth shattering, why deal him away? The Magic are a lock to make the playoffs with him, and if they get hot at the right time, who knows how far they could go.
During the time while Howard is still with the Magic, why not enjoy it, Orlando?
Be sure to follow Beard and Stache on Twitter @BeardAndStache, and also Troy @TroyBallards, Like our Facebook page HERE!