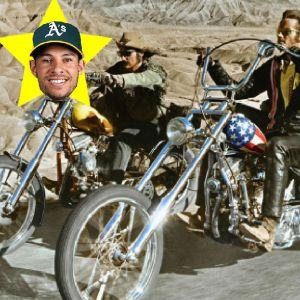 I had what can be called a perfect summer evening last night: I watched Star Wars on a 60 foot screen on top of a 6 story building with the stars twinkling brightly above while drinking a wicked batch of sauvignon blanc.
These are the kind of nights that summer is supposed to represent: everyone is dressed casually and comfortably as they enjoyed a night out with friends and family and no cares in the world at that moment. After the movie my acquaintance and I returned to her house for some champagne and a light snack of falafel balls. The great ball of fires close vicinity to the Earth couldn't ruin this perfect evening and perhaps even enlightened it with its creamy layers of cosmic beauty.
We had small talk for a moment about science fiction novels before "the acquaintance" slides in a DVD of Easy Rider and comments, "Boy, your baseball team sure does stink this year; it must be difficult to find things to write about on that blog of yours."
"I'm not hypersensitive to it. Perhaps I've even given up–which makes me enjoy watching the fiasco all the more. It's not as if I'm pulling my hair out; there is a sense of calm in losing. Now I know how Cubs fans felt all those years."
"I find that hard to believe," she said as she softly tossed her cat off the couch. "Ughh, don't ever buy anything that eats."
"Besides, why would I care so deeply about a bunch of millionaires running around in pajamas when I can think about how insignificant my own life is relative to a world that is filled with injustice?"
"I think a lot of the experience of being an adult is: what am I even complaining about?"
"Exactly. So I can be positive and talk about how Danny Valencia and Khris Davis are absolutely raking this season. And Daniel Mengden is a pretty exciting rookie."
"I have no idea what you are talking about."
"Neither do I," I said as the opening credits to Easy Rider spread across the screen. I really do like Dennis Hopper in this movie I thought.