Charlotte Street's most recent stylish resident; The Ninth caught my eye as I was casually strolling by.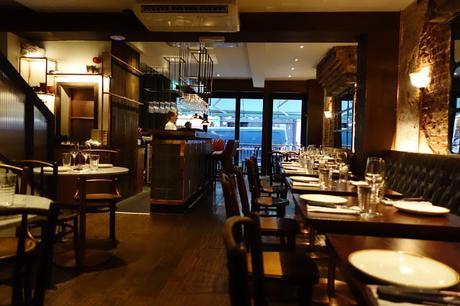 The exposed brick walls, it's warm and inviting lighting make this place perfect for dates.
It so happened that I would be meeting the beautiful Erin & Felicia for lunch date on a seriously cold wintery day. Two gorgeous girls to cosy up against the luxurious sofa seats? Yes please!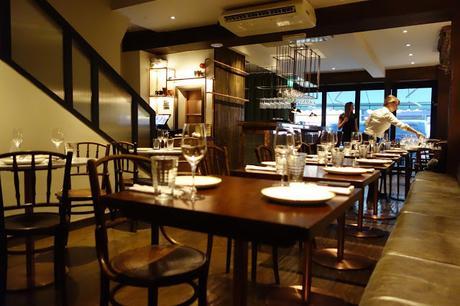 We had the whole restaurant to ourselves, how very romantic :P
The Ninth, is the 9th venue from Jun Tanaka (formerly of the Pearl in Holborn) and is his first solo venture, delivering simple yet refined French/Mediterranean food ideal for sharing.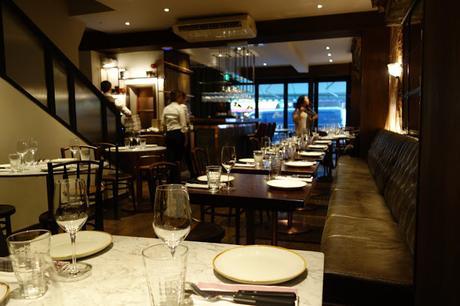 We couldn't decide what to order from the menu and let our waitress choose for us.
We started off with oxtail croquettes, which were generously filled with a light and crispy armor.
Oxtail Croquettes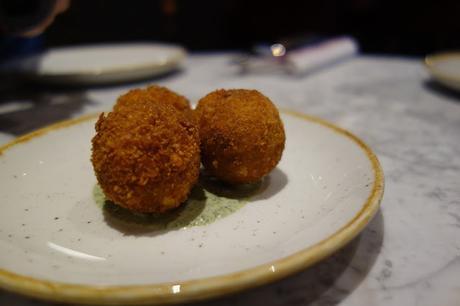 Photo credit: Erin from Islandbell.co.uk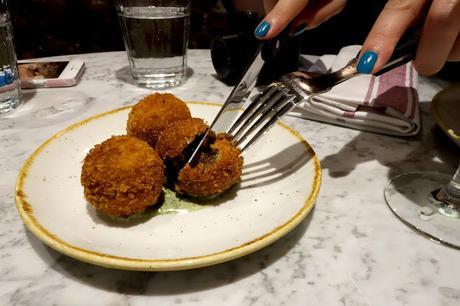 Isn't it a wonderful sight, seeing a croquette packed full of flavoursome oxtail? Delicious.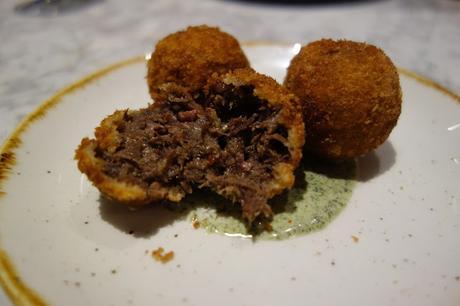 Next we were presented with flamed mackerel with dill, cucumber and capers, sea bass carpaccio and salsa verde & pickled kohlrabi and cured pork belly with pecorino and mustard leaf.
Flamed mackerel with dill, cucumber and capers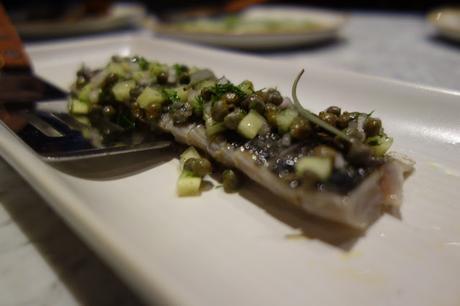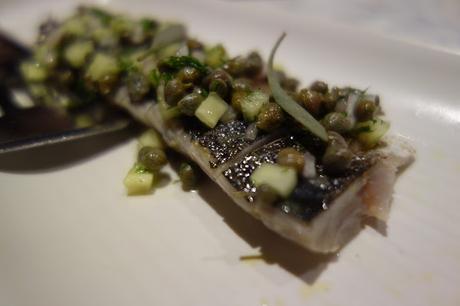 Sea bass carpaccio and salsa verde & pickled kohlrabi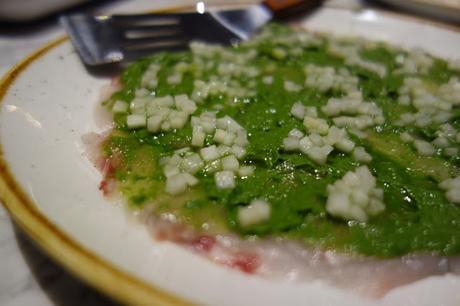 Cured pork belly with pecorino and mustard leaf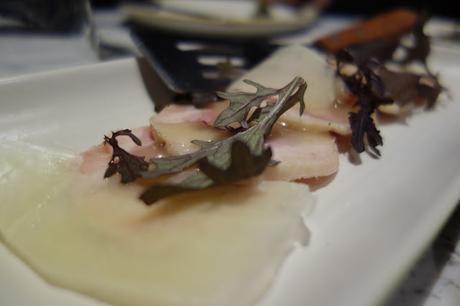 From the 3 starters, I was a little disappointed with the pork belly. It was a pale shadow in comparison to the seafood dishes. Especially the piquant kohlrabi and salsa verde with sea bass that had citrus, refreshing punch to it.
Salted beef cheeks with oxtail consume and charred cabbage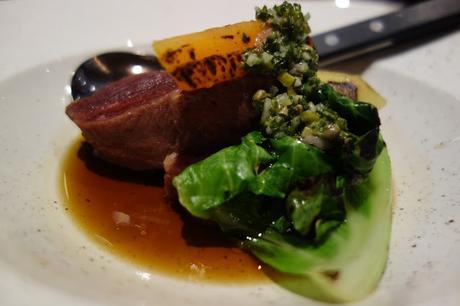 Just look at her...
The beef was just so tender it melted in your mouth and tasted almost buttery.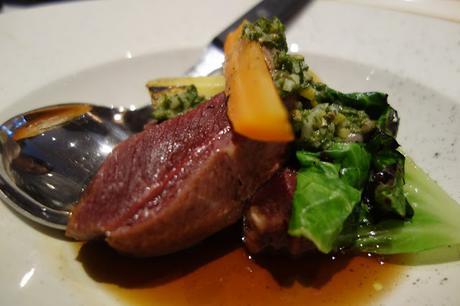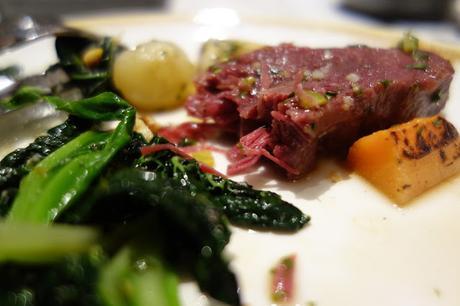 However the whole roasted sea bream, served with lemon and miso smoked aubergine was in a league of it's own.
The crisp char of the skin, unveiled a delicate, soft, undeniably moist flesh underneath.
The only shame, was that I had to share this dish with others...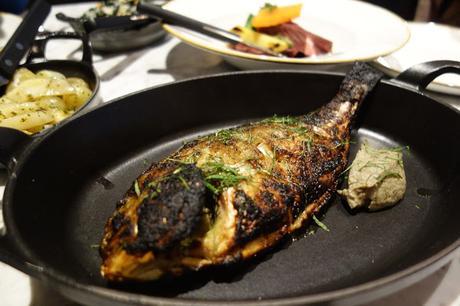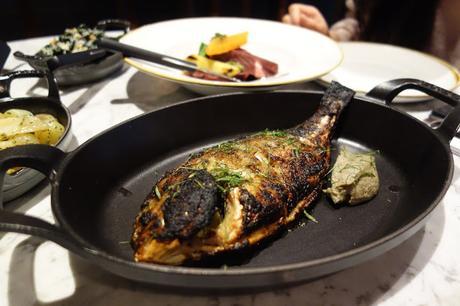 This was served with cavolo nero with hazelnut pesto and the fricassee of Jerusalem artichokes and truffle. They were subtly flavoured and well seasoned making a fantastic complement to the main dishes.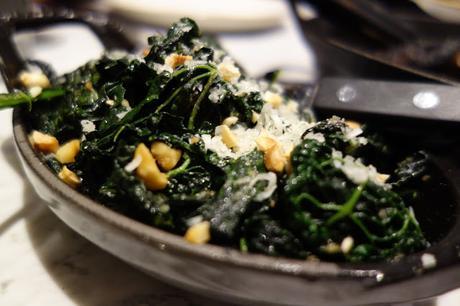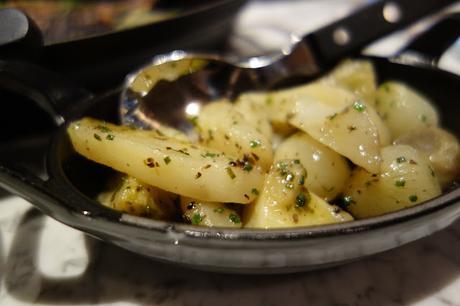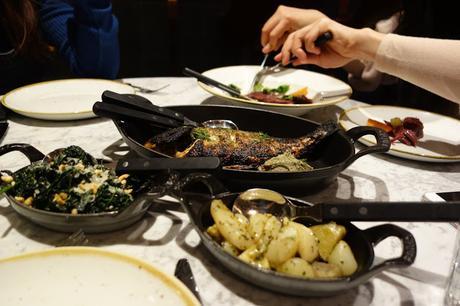 We finished off with mini Madeleines fresh from the oven. These were delicately flavoured and were a welcome finish to a decadent meal.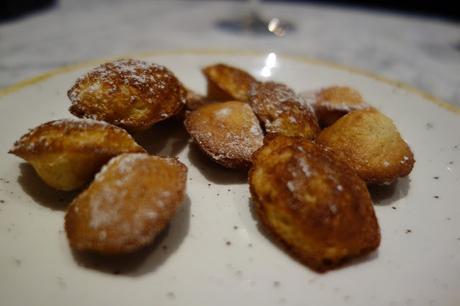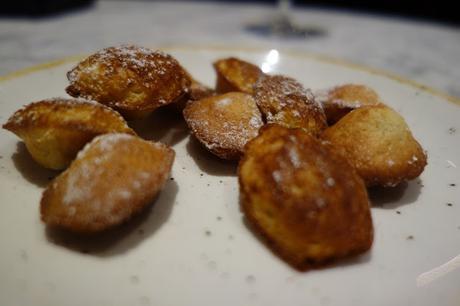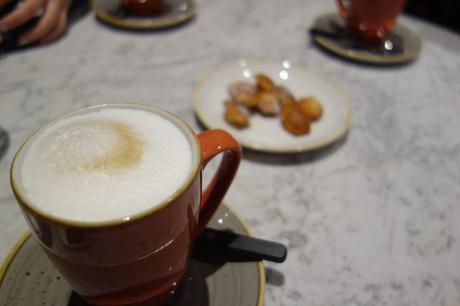 Overall, the service was flawless, the food simple yet refined and were full of flavor with the strongest contenders being the seafood dishes. 




Yummeis: 8/10


Where?
The Ninth
22 Charlotte Street,
London
W1T 2NB