I love unlikely food pairings. 
It's a bit like living on the edge, wild and free.
And the best part? It feels a little naughty yet so right.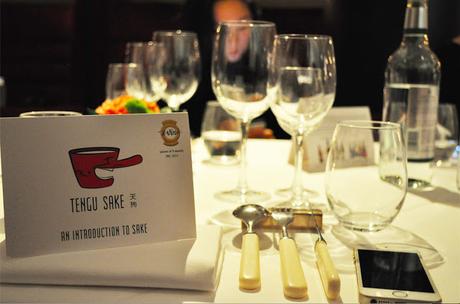 When I was invited to the Moti Mahal Sake & Spice event, I knew this event would be something that I simply couldn't miss.
Never have I seen or heard of sake paired with Indian food until this fateful day.
The fusion of Japanese sake & Indian cuisine will BLOW YOUR MIND!
This was the brain-child of Barry McCaughley, Head of Beverages at Moti Mahal, Chotto Matte etc. who came up with this unexpected pairing of Japanese sake with the spices of traditional Indian cuisine of Moti Mahal. Absolutely genius.

 Chukander Ka salad - Wafer-thin slices of beetroot with crushed peanuts, and a stuffed pepper with mint potatoes and green peas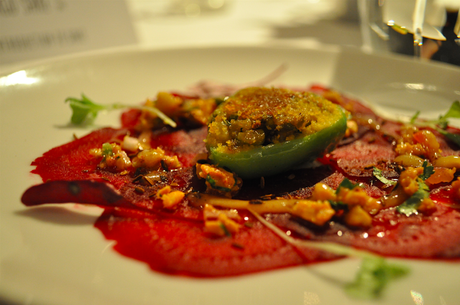 Sake is brewed like beer, using 4 key ingredients - rice, koji, yeast and water. It is designed to be drunk within 1-2 years of bottling, meaning that there is usually no vintage.
There are 2 variables in the production of sake:
1) The amount the rice is polished - which is expressed as a percentage of the rice grain remaining
2) Whether or not alcohol is added
 Over 5 courses we were treated to different sake pairings with each dish.
First up was the 

Chukander Ka salad - w

afer-thin slices of beetroot with crushed peanuts, and a stuffed pepper with mint potatoes and green peas paired with Fukukomachi Junmai Daiginjo from the Kimura Brewery; made with premium sake rice, Yamadanishiki, which is polished to 40%. This was wonderfully fruity with hints of melo. Delicious, I could have polished off the whole bottle easily.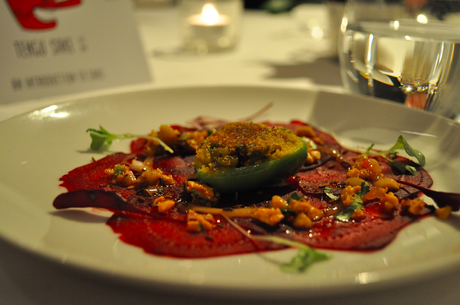 Paired with Kimura Fukukomachi Junmai Daiginjo sake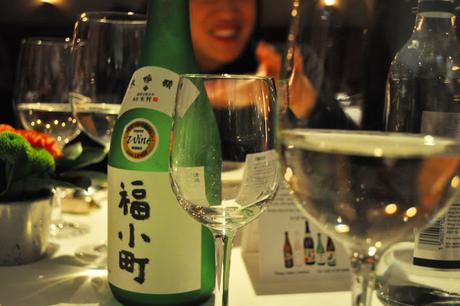 Next up was the Barra Peshwari, these were tender lamb chops with a crisp char around the edges served with caraway seeds, Kashmiri chillies, mooli raita, avocado chutney and keema naan paired with Kimura Fukukomachi Daiginjo sake. Compared to the first sake this one was a little drier and packed a little more punch.
Barra Peshwari lampchops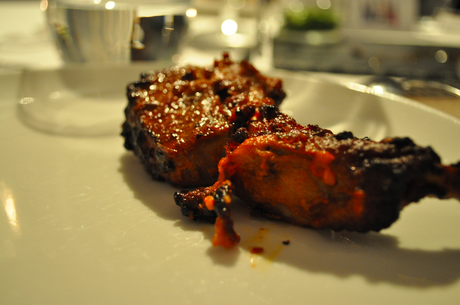 This was probably my favorite course of the evening, the keema naan was exquisite paired with the lamb chops. You know that the naan is fresh when is it pillow-y soft and melts in your mouth.
 Keema Naan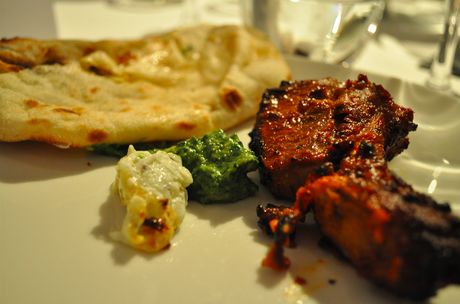 Kimura Fukukomachi Daiginjo sake (far 
left) & Akita Shurui Seizoh Takashimizu Honjozo sake (brown bottle)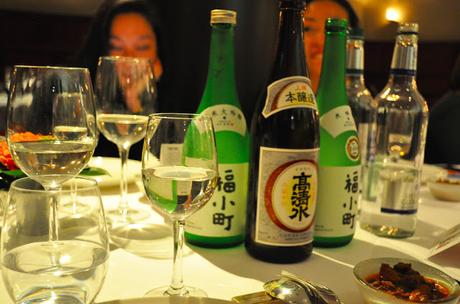 Spicy pickled partridge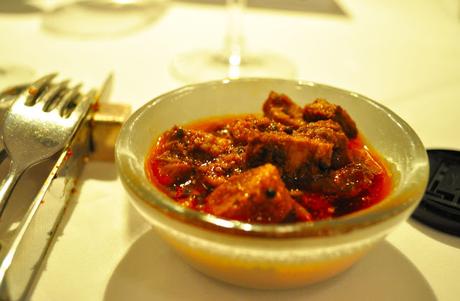 Spiced Okra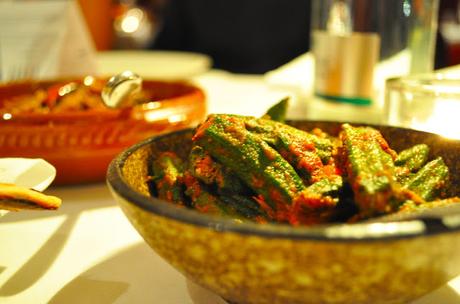 After we were presented with a spread of Murgabi, served with Teetar, stir-fried okra and Tandoori baked breads.
Murgabi, is a pheasant dish that has been stir-fried with Malabar spices, and when paired with the sweet and spicy picked partridge, it was quite literally a party in my mouth.
The fusion of flavours were so well balanced, and was paired with the Akita Shuri Seizoh Takashimizu Honjozo sake. This was a more neutral sake and didn't fight against the deep spices, with a velvety soft texture and savoury finish.

Murgabi, stir-fried pheasant curry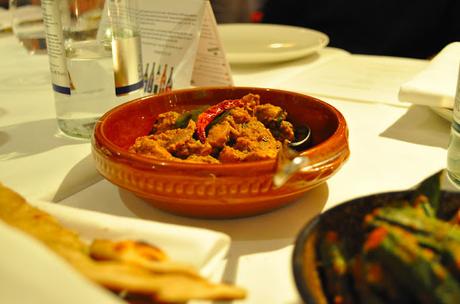 Tandoori baked breads, spiced okra & stir-fried pheasant curry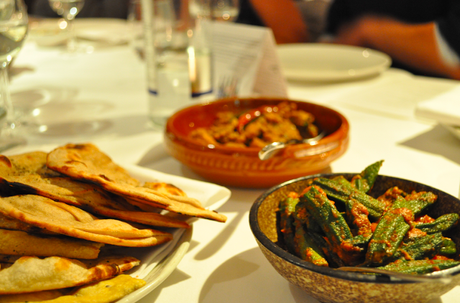 Gozenshu 9 "Mountain Stream" Junmai Nama Bodaimoto sake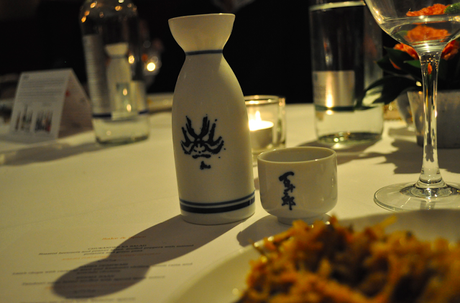 Lahori Macchi Pulao - baby red mullet cooked in a sealed pot with basmati rice and curry spices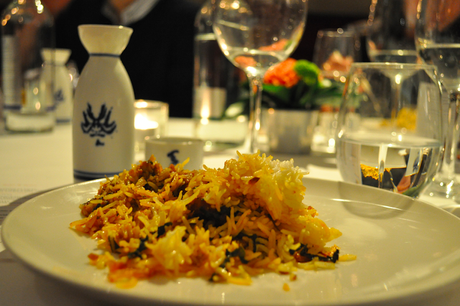 Then piled up high on our plates was Lahori Macchi Pulao - basmati rice which had been cooked slowly with baby red mullet, curry leaf and pounded full of spices served with raita. 
This was the most amazing biryani, which was light and delicate due to the flavor and the cook of the red mullet. 
This was paired with Gozenshu 9 nama "Mountain Stream"an unpasterised sake made using the ancient bodaimoto technique resulting in a more earthy yet light and refreshing qualities. 
It was served in a sake flash, and we were advised to pour sake for each other, a common custom in Japan. Raita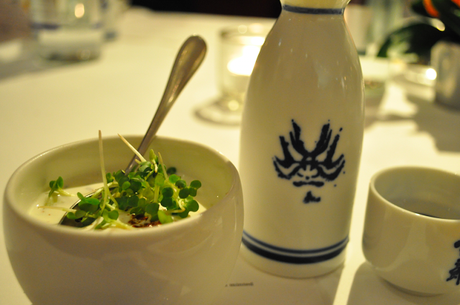 Finally, before I could no longer breathe and keel over due to food coma.
We were presented with Ananas ka Meetha, a pineapple carpaccio served with plum and port wine sorbet and paired with the most delicious, sweet and refreshing plum wine Ume No Yado Aragoshi Umeshu.
Plus saying the word 'Umeshu' is so satisfying. Go on say it out loud.
Ume no Yado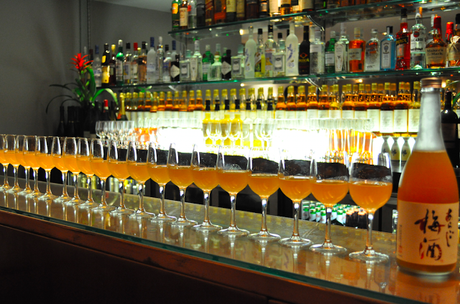 Ananas Ka Meetha - Pineapple Carpaccio with plum and port wine sorbet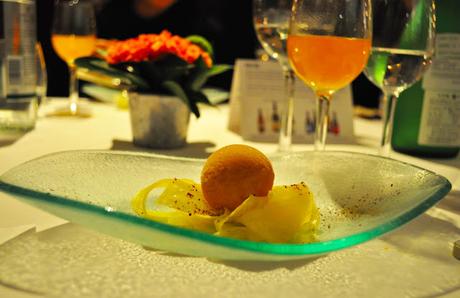 The plum and port sorbet was fragrant and refreshing. An outstanding end to an exquisite evening.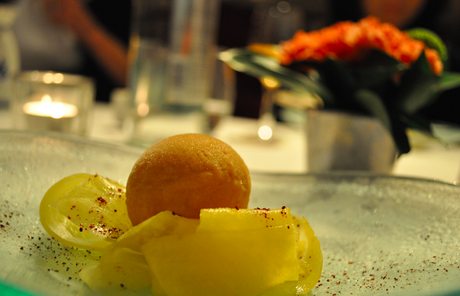 If there is one thing you NEED to do in 2016. It is to experience a sake and spice pairing at Moti Mahal.
Thank me later.


YUMMEI's 9.5/10 


Where?
Moti Mahal
45 Great Queen Street,
London
WC2B 5AA