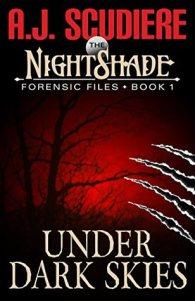 What's it all about?:
In NightShade nothing is as it seems . . .
Eleri Eames didn't think she'd ever be allowed to work for the FBI again, so the special FBI division of NightShade seems like an amazing opportunity. But all too soon, her chance to start over starts to disturb her.
When the FBI offers Donovan a chance to leave his job as a medical examiner and try his hand at something new, he takes a chance on the NightShade division. Somehow, he has to try to escape from his shadows, but can he trust Eleri with the truth?
Thrown together on their first case, Eleri and Donovan must deal with a charismatic cult leader and his true-believers. The cult is mixed up with several decade-old kidnapping cases and the missing daughter of a prominent FBI Agent. As Eleri and Donovan dig deeper, they discover that NightShade's mysteries aren't coincidence.
Their secrets will save them . . . or destroy them.
What did I think?:
First of all, thank you very much to Jessica Henkle of MBM Book Publicity and Griffyn Ink for letting me read a copy of Under Dark Skies in exchange for an honest review. It is the beginning in a series for author A.J. Scudiere and the first opportunity that I've had to read her work. Of course I was instantly intrigued by the synopsis of the story which led me to believe it was gritty crime fiction with a slice of the supernatural thrown in for good measure. On this count I was not disappointed at all and in fact, was surprised about how much I genuinely enjoyed the novel. Well…the supernatural can be done in two ways – quite poorly with a hint of "cheese," or very well where you actually believe supernatural powers can exist. Wait a minute, they do don't they?!
The first of our main characters is Eleri Eames who has been pulled out of some "time off" and specially selected to head a team known as The Nightshade Division, a lesser known and mysterious branch of the FBI that keeps its secrets between as few people as possible. Her partner in crime is rookie agent and former medical examiner Donovan Heath who has just graduated from the FBI program and again, was head hunted to be part of this particular case. The case itself involves the members of a religious cult, The City Of God who are suspected to be involved in a multitude of kidnappings, some a decade old. The action is ramped up a notch however when a child of a fellow FBI agent is abducted and a murder occurs of which the cult are strongly suspected to be responsible.
Eleri and Donovan reach a milestone in the investigation when they are able to get hold of people that were part of the cult but managed to escape in some way. In this way, the team are able to analyze the movements of the cult much more easily and begin to collect the crucial evidence that they require in order to see the perps, and in particular the leader of the cult, brought to justice. However, they are not able to solve the puzzles presented to them without calling on some deep-seated and occasionally unknown abilities of their own which not only makes the Nightshade Division an exclusive club to belong to but a very perilous one as the investigation threatens to endanger their lives.
If you like a bit of supernatural and fantasy in your crime fiction, this is definitely the book for you. I have to admit to being a bit sceptical at the beginning and I did actually guess Donovan's "secret," but it did not hamper my enjoyment of the story one bit. The characterisation was terrific – I loved how we got to see both the gruff and soft sides of Donovan and Eleri just fascinated me from the start. I have a feeling there is a lot more we are going to find out about both her back story and her special abilities in the books to follow in the series. The plot was interesting and very readable and the action sequences at the very end had me hovering on the edge of my seat in excitement. I'm now eagerly anticipating the second book for The Nightshade Division to see what Eleri and Donovan get up to next.
Please visit bibliobeth tomorrow where I will be interviewing A.J. Scudiere and finding out the answer to the question we all want to know… does she dog ear her books?!
Would I recommend it?:
But of course!
Star rating (out of 5):