With a name like '

The Nighthawk Diner

' expectations grow. This is supposedly where the cool people hang, and where you take your gf/bf to eat breakfast on his/her birthday (because it opens at 7A.M.) . It's about time T.G.I. Friday's got some competition in Oslo!
The Nightawk Diner @ Grünerløkka decked in 50s interior design, has bold personnel, and serves American meals.
The menu
American. Choose between breakfast, sandwiches, salads, burgers, mains, and kids' menu! I had a hard time choosing something, just because there were so many on-the-paper-mouthwatering-meals to choose from. And for a fair price!
The dishI choose the CLUB SANDWICH (because I'm not daring, and because it was morning) and definitely thought it was good. The olives were a positive surprise adding an interesting touch. Basically I enjoyed it, but didn't love it as much as Cafekontoret's Club Sandwich, but will come back! Next time I'll take it without the coleslaw, that is one American side dish I cannot get used to or like. Ugh.Price tag: 139 NOK.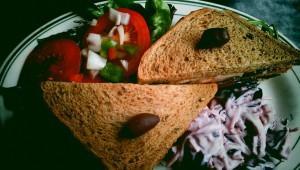 The Nighthawk Diner, Oslo
CLUB SANDWICH
 Triple Decker with bacon, grilled chicken, tomatoes, lettuce, coleslaw and chipotle mayo.
Atmosphere
Clean and thorough 50′s inspired design that reminds me of the U.S. And I love the U.S.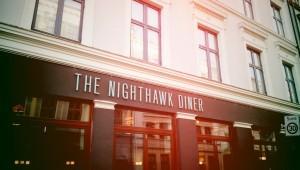 The Nighthawk Diner, Oslo
My rating: ♥♥♥