Suddenly a juice press is all the rage in in our home. Everything started quiet as usual, nothing extravagant; I just read I need a juice press for my hard vegetables for some smoothie recipes leading me to think YES, YES I DO.
...My hunt for the BEST juice press begun. It was not an easy task as there are so many choices. I started in the wrong end and decided for the juice machine with the most appealing look; the Magimix Le Duo Plus XL. After doing more research I read that the machine cannot handle herbs, nuts or leafy greens so I moved on and then found out there are basically two type of juicers: a) centrifugal juicers and b) masticating (cold press) juicers. The latter is supposed to be the best preserving more vitamins, pressing out more juice and the ability to squeeze out juices of almost everything edible (leaf, berries, fruit, root vegetables and even nuts). I do not go well with limitations so I decided for a masticating juicer.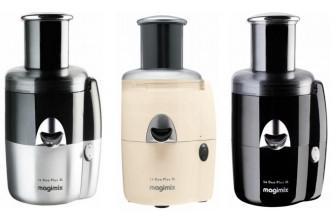 I had three criteria's, it should 1) look good, 2) be easy to clean and 3) not require too much preparation. I quickly found out that all the criteria's were a challenge to meet for the cold press juicers, but eventually I fell for Juicepresso which actually looks cool as well as having received consistently good reviews. One of its biggest selling points is that it's dishwasher safe (though not recommended & this video makes it look like it can be tricky), but the downside is that it lets a lot of pulp slip through (use a sieve). I went to the electronics store to buy it, but there I noticed big brother Witt by Kuvings and it did not look as bad as I thought it would and thus gave more to think about with its ability to juice whole fruit! It has a stiffer price and unfortunately is not dishwasher safe, a big con in my book. Unlike Juicepresso; Kuvings does have a tap you can open and close so you can decide how long to circulate the juice before it runs out, which is good if you are making nut milk.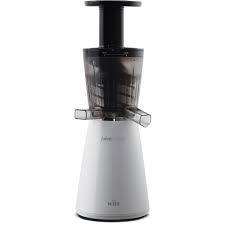 Although being dishwasher safe the Juicepresso require much more fruit/vegetable preparation than the Kuvings, so I think the amount of time spent on preparation/cleaning would be about the same. I would have preferred the Kuvings to be less expensive, but since the price is above the pain threshold I eventually also considered the and Omega VSJ843RS. Hurom scores high in many tests, but requires a lot of veggie preparatory work so is not much better than Juicepresso IMO. The Omega handles raw nutter/seeds and can make nut butter (!), but is too expensive so was only considered a few minutes. So then it was back to Juicepresso, which I feel has the right price compared to utilization/quality.
At 4:30 AM Saturday morning I made a last online search comparing prices suddenly, the Kuvings had dropped by 500 NOK (50USD)! That was the sign I was waiting for and I ordered the machine there and then. Hurray!!!!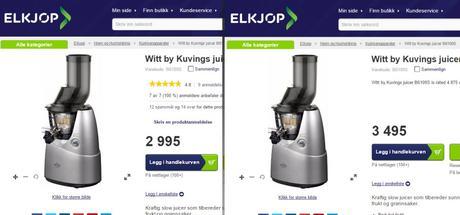 Recommended reading before you purchase a cold press juicer: