For the first time in a century US households are actually getting larger rather than smaller. More adult children are now living with their parents than at any time since the 1950's... and the number of elderly parents living with their children has grown by more than 60% in the last seven years.
The multi-generational home may well be the next big thing in housing.
Whether permanent or temporary, more and more families are finding additional family members moving in and out at different times for various reasons...
Children moving back with their parents after college when they can't find a job or decide to get additional schooling
Family or friends moving in when they lose a job or a house or face a change in relationship status
Single parents moving in with family to help raise their children
Parents moving in with their children for various reasons... due to illness or when they can no longer live alone... or to help with family needs in a busy household where both parents are working
Immigrant families with a long tradition of multiple generations living together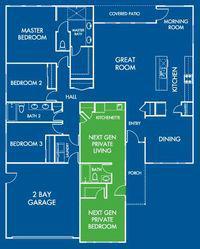 In fact, this movement is significant enough that national homebuilders are developing a new style of housing in response to this growing trend.
Lennar's NEXT GENSM, The Home Within a HomeSM has already launched in communities in Arizona, Nevada and California.
Designed to help individuals and families to provide private living quarters for long-term guests or 'double up' in order to share mortgage costs and other living expenses, they have several different models which  include a complete suite with bedroom(s), eat-in kitchenette and living room with a separate entrance. Much like adjoining suites in a hotel, they can be opened for easy access to share space or closed for privacy.
When national homebuilders are building homes with this design it's a sign that this is a significant trend. Will it be coming to Minnesota anytime soon?
Sharlene Hensrud, RE/MAX Results - Email - HomesMSP.com