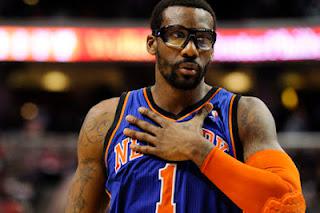 Photo: AP Images
- Adam Parker

It's official.
The New York Knicks, the team that supposedly had all the pieces in place to turn the corner, get over the hump and contend for a championship is in complete shambles.
Granted, the team's 104-94 loss to the Miami Heat in Game Two of Eastern Conference Quarterfinals was more respectable than the 33-point shellacking at the hands of LeBron James and the Heat in Game One.
The optimists (which I believe only exist in the Knicks' locker room at this point, if at all) could count this 'lesser' loss as a consolation prize or a step in the right direction.
Sorry, but I don't believe in moral victories, nor do I imagine do the Knicks' loyal and hungry fans at this juncture.
Star forward Amare Stoudemire's postgame frustrations were understandable, but completely unacceptable. How does one make such a poor decision to get in a fight with an inanimate object? Especially something such as a fire extinguisher case where you're guaranteed to lose?
Bonehead move, Amare.
I hate to say it, Knicks fans, but Amare's momentary lapse in judgment has all but closed the door on your championship aspirations this year.
First off, I'd like to admit that as a diehard Phoenix Suns fan, I was extremely bummed when the Suns let Stoudemire walk away in free agency.
But now, after two unsuccessful campaigns in the Big Apple with superstar Carmelo Anthony alongside him for both stints, I no longer have any bitterness towards Phoenix for handing Amare his walking papers. 
Looking back on it, it was probably the right decision. Sure, he is immensely talented and athletic offensively, (though most of his points were spoon-fed to him by superstar Steve Nash) but the guy has never been one to put his hard hat on and fight for rebounds or defend the paint ala a Tyson Chandler.
It's clear to me now that Amare is a one-trick pony offensively, or rather, he's a square peg and the Knicks' system with Carmelo as the centerpiece is a round hole.
Amare just doesn't fit there.
The Carmelo/Amare marriage looked great on paper. Hell, when they first got the duo together, I thought the Knicks' brass were deserving of a gold star after executing a Miami Heat/Pat Riley-esque coup to pair the two together
The Knicks were the talk of New York and the entire NBA world and were many analysts' sexy pick to potentially knock the Heat off their throne in the East.
Needless to say, those thoughts were a bit foolish and premature.
Sorry, Knicks fans, but this pairing simply isn't work.
This latest 'Amare being Amare' moment puts a definitive damper on any hopes the Knicks had left for this season. After losing the bout with the fire extinguisher, Stoudemire has been ruled out for the remainder of the series, essentially sealing New York's fate of being swept by Miami. Well, time to cut your losses, New York. It's time to rise up. Gather up your torches and pitchforks and march on Knicks' headquarters to demand that New York does what they should have done last offseason after acquiring Melo -- amnesty Amare and his disgusting contract and try to pick up the pieces and regroup around Carmelo as your franchise face.