Hope you all are having a good week.  Wednesday has come a lot faster than I want it to and as excited as I am about getting back into the swing of things with school I feel like summer should be just one or two weeks longer.  It's a little sad knowing summer has come to an end and now that I've finished the Hunger Games trilogy I really feel like things are ending.  I'm not sure why it is that when I finish a book series I get sad and feel like something special is over.  I very rarely feel like that with stand alone books.  Does anyone else suffer from this kind of end-of-book depression?  Maybe it's just me.
I've been working a lot but really enjoying the new job.  While it can be frustrating with difficult customers it's somewhat relaxing to have work to do that isn't quite as taxing as my student-teaching work.  It's nice to have a break from all that and go somewhere all I have to do is work a register.  Not to mention having money coming in is a huge plus.
I also signed up for a netflix account with my dad, we're splitting the cost which comes out to about $48 each for a year and considering how many movies and t.v. shows we watch each year that's pretty cheap.  So I'm spending my free time trying to come up with things to watch.
And now, what we've all been waiting for… … … The new cross-stitch project revealed!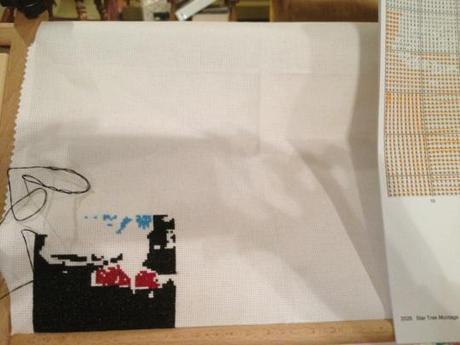 the bottom left corner of the project
Now, I have some worries about this project.  The first is that the design picture that came with the kit is so pixelated I can't really tell what the project is going to look like.  The second is that it is 100% full cross-stitch so the pattern doesn't have anything to separate one section from another.  This means I'm stitching blind.  I don't know what section is going to be what until I've already started to stitch it.  This leaves almost no room for error.  If I make a mistake I'll have to unstitch because there's no real way to look ahead and see what about the patter can be fixed to account for the mistake.  It's tough.  I still think it's going to turn out looking pretty cool though…
You'll have to come back and see more next week!  I'm not sure what the finally design will look like, but it's great watching it take shape!
Right now I'm currently reading "Shadow of Night" by Deborah Harkness and a reviewer copy of another book sent to me by the author.  So far both are going well.  With all the reading, stitching, teaching, and working going on this month I feel like I should be starting to feel overwhelmed but I'm not.  The more I think about it the happier I am with the way life is now.  I might not have a lot of time but I get to fill it with things that make me happy.  Can't ask for more than that!
Now, go do something crafty, read a good book, and enjoy your day!