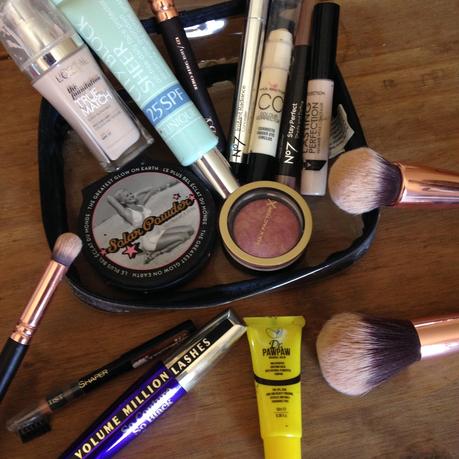 As you can imagine having a newborn to look after means time to yourself is very limited if you actually get any at all. This last week my other half has been off so I have been lucky enough to have a decent shower and a little bit of time to make myself look more presentable if we are going anywhere.
That saying I still have been on a time limit and will be even more so now Neil's back at work so I have got myself a make up bag together that contains products I know I can throw on quickly and make me look less tired.
The base products are the main focus, my skin is a bit all over the place due the hormone changes and lets not talk about the under eye circles!
Now the weather is brighter I am applying the Clinique City Block in SPF 25 everyday, I then buff on a light layer of the L'Oreal True Match Foundation with the Zoeva Silk Finish Brush.
To cover any blemishes I use the Collection Lasting Perfecting Concealer, I also use this on any redness which I seem to have a lot around my nose at the moment.
For the under eye circles the Max Factor Colour Corrector has been perfect for brightening up the eyes I then apply the No7 Instant Radiance Concealer for a bit more coverage.
To finish that all off I dust a bit of the Soap & Glory Solar Powder Bronzer using the Zoeva Powder Brush all over and a little bit of the Max Factor Creme Puff Blush in Seductive Pink to my cheeks for a bit of color.
On the eyes I just apply a quick layer of the No7 Stay Perfect Shade & Define Eyeshadow Pencil in Cool Mink all over the lid and blend it in with my finger. Then on the lashes I am currently using the L'oreal Volume Million Lashes. 
Lastly to define the brows I just run a bit of the L'Oreal Brow Pencil through them.
It seems quite a lot of products but I can apply them all in about 5 mins if I rush and it just makes me feel a bit more presentable.
What are your go to make up items for a quick makeup look?