Hey Loves, 
I am so happy to be back with an update from The Makeup Show NYC! A few weeks ago I posted a new "The Adventures With TFBJ" involving all the Pre-events I went to for The Makeup Show. NOW, I'm back to share all the excitement that was The Makeup Show itself! I was genuinely exhausted after my weekend being spent at The Metropolitan Pavilion Center but it was well worth it. 
If you read my previous post about The Makeup Show you would know that this was my first year attending the show. I was pretty stoked to be apart of it because it was literally the biggest show to date! Over 7000 people attended, more than 85 beauty brands and don't even get me started on all the hands on workshops and keynote speakers they had. I was so impressed by the organization of this event. I started my Sunday nice and earlier and made sure I was there on time- ok, maybe not on time BUT 9:45am wasn't too bad. I was lucky enough to skip the long line of attendees because I was part of press. So, I strapped on my camera and got to work!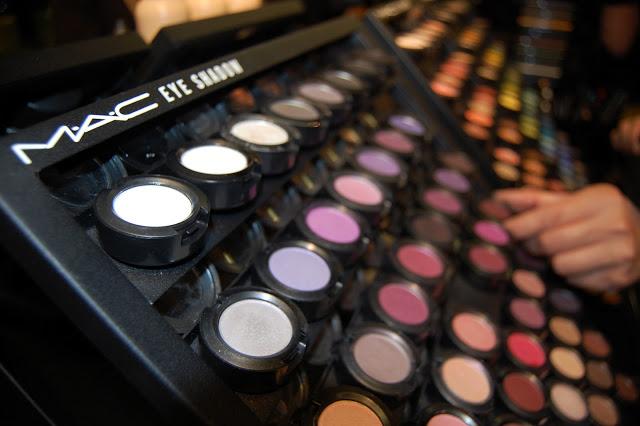 I had some shopping to do so I couldn't help but do that first. I picked up my favorite liquid eyeliners from Alcone (3 to be exact), stopped at OCC to grab their new Lip Tar Stained Gloss and floated my way over to MAC. The line for MAC was insane- so eventually I gave up and did my rounds of picture taking. I wasn't "allowed" to take any pictures at MAC but I was able to sneak this one before I got "yelled" at. I tried hitting every booth and every vendor. I ran into some old friends and made tons of new ones as I was doing all of this.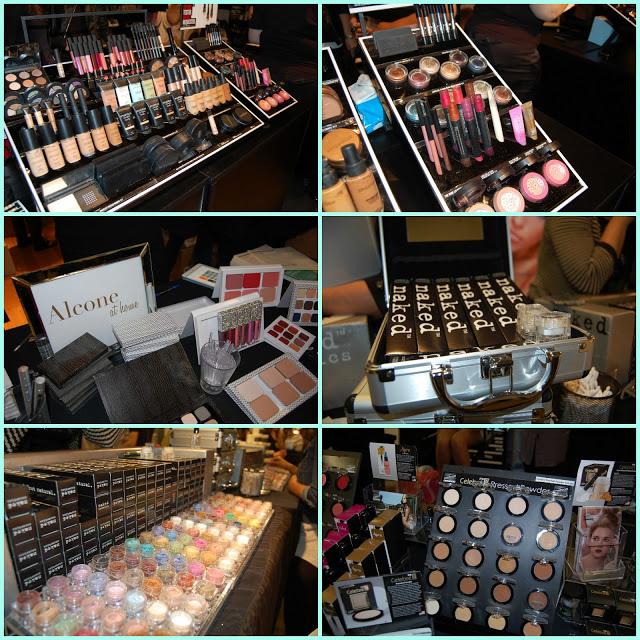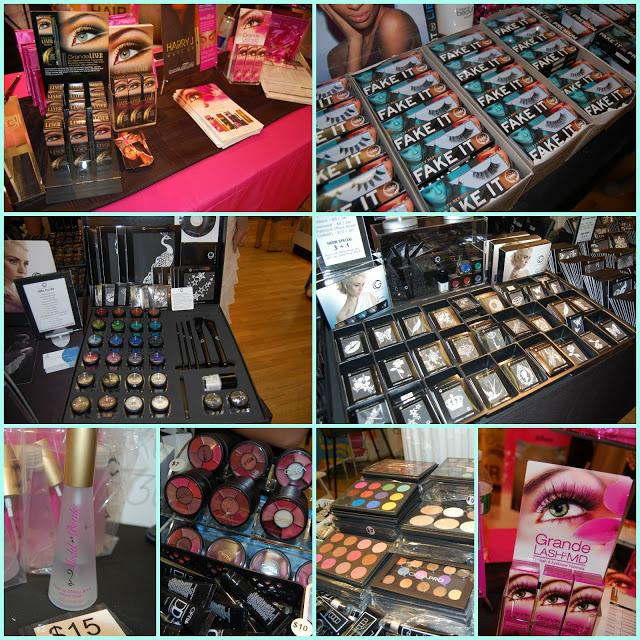 One of my favorite parts of the show was the live makeup application. Especially the booths with the special effects artists. In my opinion, special effects makeup application is just on a WHOLE new level of artistry. The artists from The Makeup Forever Academy are wildly talented. I literally stopped in my tracks as they were working. Which wasn't a great idea- I also almost got knocked over a couple of times while standing there.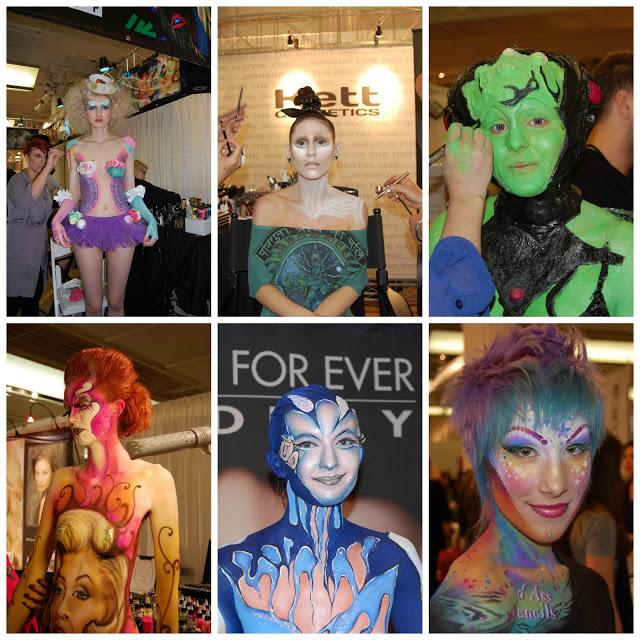 I definitely knew I HAD to stop by certain booths due to the coolness of the actual vendors. One of the booths was the Frends Beauty booth BECAUSE the love of my life Jordan Liberty was there with his "Fake It" Lashes!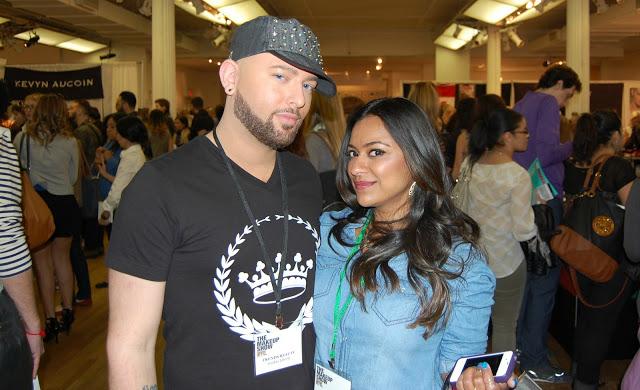 I initially met Jordan at IMATS this year and when I heard he was going to be at The Makeup Show, I knew I had to see him. I was so taken back when he remembered me. He didn't remember me from IMATS, but actually from Twitter, which is COOL anyway! He is such a doll and I will be interviewing him soon so you guys can fall in love with him the way I have.
Moving on...............................
While the madness happened, I still made time to sit for some of the demo's and key note speakers. One of my favorite demo that I made sure to attend was "A/W 2013  Back Stage Trends" given by Courtney Tichman from OCC Makeup. Courtney shared with us one of the many looks that was used on the runway of Fall NYFW.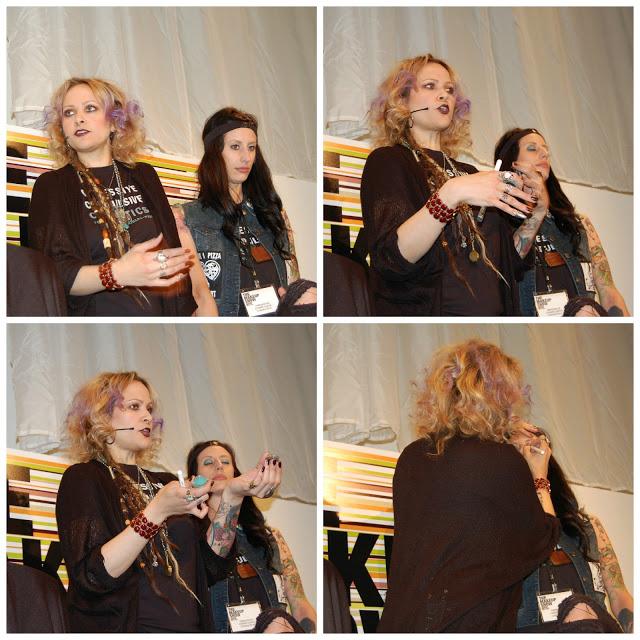 The final look was absolutely gorgeous! Since then, i've tried this look on me more than once. I love it! It is so bohemian and wearable at the same time.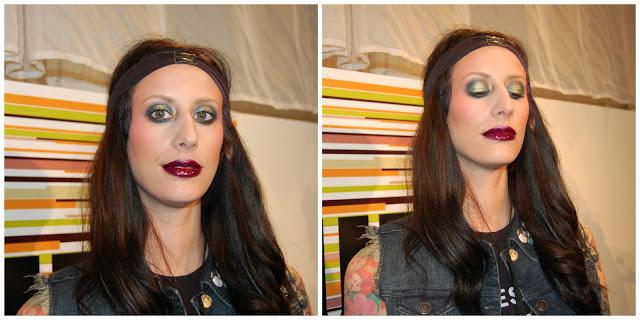 The Makeup Show NYC had amazing key note speakers and one of them I made sure to see on that Sunday was Gina Brooke. Gina Brooke is currently Madonna's makeup artist and have worked with some of the greats like David LaChapelle. So needless to say I wanted to hear what she had to say. I couldn't believe how inspired I was by her story and journey. She shared how she had to restart her life in LA, what she carries in her kit and her obsession with great lighting.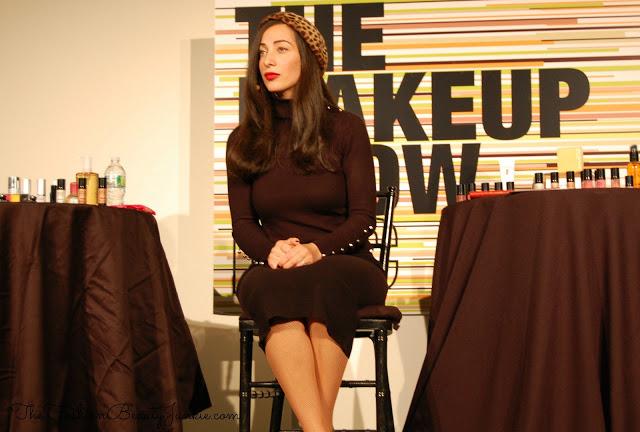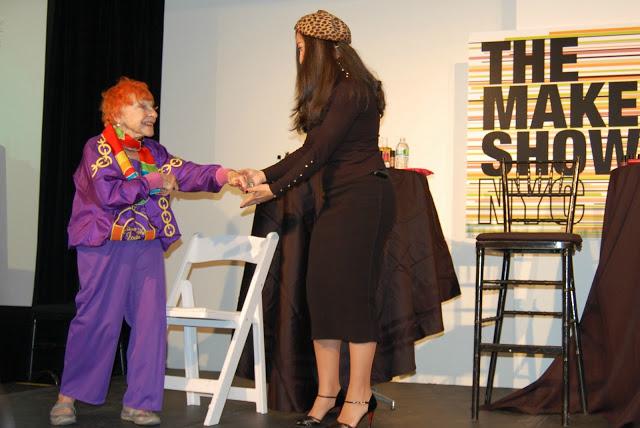 We were also lucky enough to meet her muse, IIona! I mean, how awesome is that? IIona was also wearing lashes she made herself!I made sure to snap a picture with Gina Brooke before I left. She was super sweet and talking to her about my future and what I want to do in the industry was great.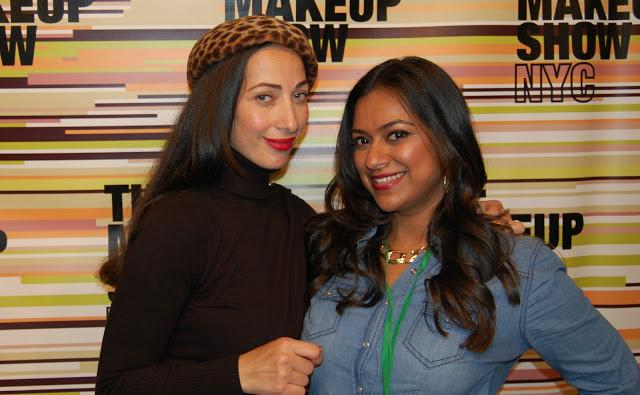 Still so much to do! I mean day one wasn't even over yet at that point. Crazy, right? I still needed to hit some more booths and network a little more so I did that for my "downtime".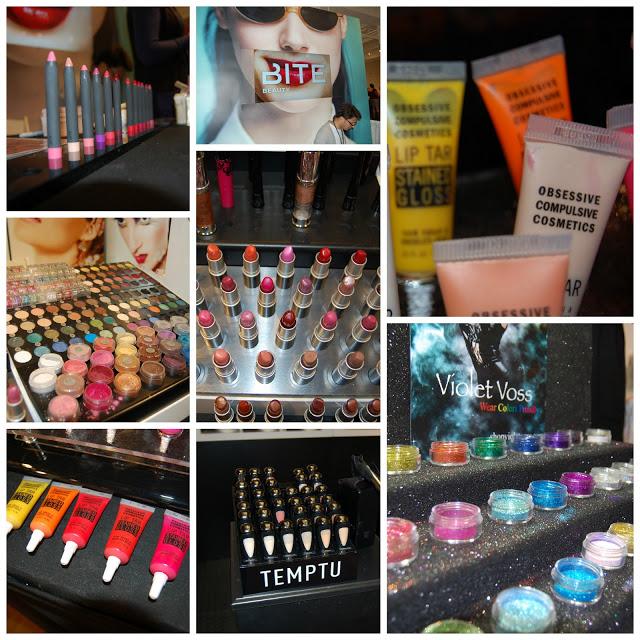 I started out that Monday (day 2) with a hysterical keynote speaker Mathu Andersen. I didn't expect the demo he had in store for everyone but I am definitely happy I made a stop to watch him do his magic. "Humanizing Glamour: The Art of Transformation" was incredible to watch. It was as if he started with a blank face and created his own look (if that makes sense). He talked about different elements of "transformation". Making men into woman or even a woman into a man. His models end look was so gorgeous, yet just the right extreme.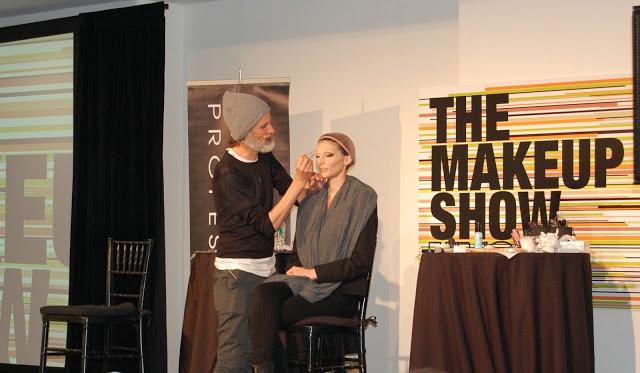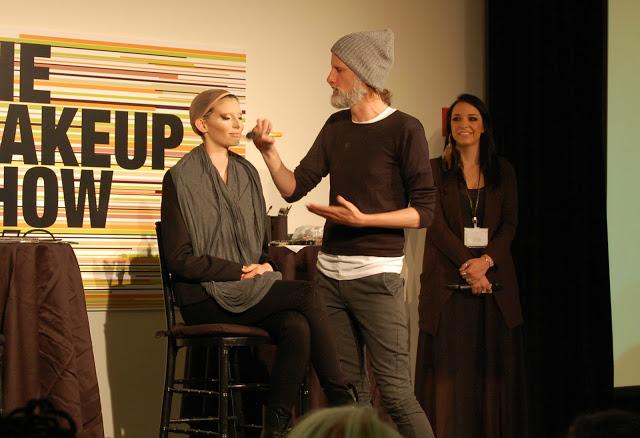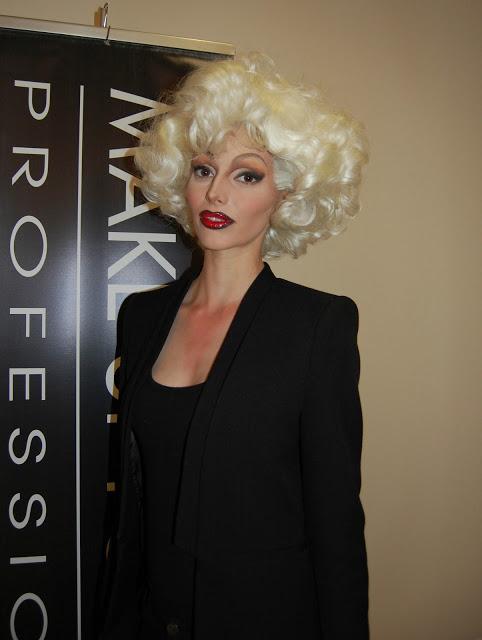 Last but not least (for keynotes at least). I had to stop and listen to the charming Dick Page. Dick Page has worked with designers like Narcisco Rodrguez, Marc Jacobs and Michael Kors. He is well known for his editorial and advertising work. (Just in case you don't know who I'm talking about just yet- He did the February 2013 W Magazine Cover with Emma Stone.)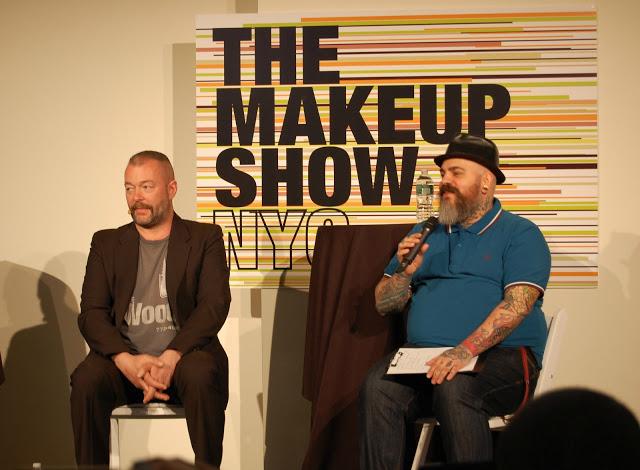 Dick Page (left) was very humble while sitting there in a fully packed room. I'm talking people sitting on the floor packed. He answered questions and told his "story". He was one of the most anticipated key note speakers for that Monday. People were so excited to see him and hear what he had to say.
Finally, my day came to an end. Yes, I know-you almost thought it was going to go on forever right? I wish I could talk about this event all day long because I feel as if there's so much I need to cover. I'm already planning a more "tactical" route for next year. What I loved about The Makeup Show NYC was not that it is a "Pro Only" event but the fact that there was so mych education behind the show. I learned so much from sitting at the demo's and listening to the speakers. It was a great show and I can't wait for next year (I seriously mean that). Until next time................


Other Highlights!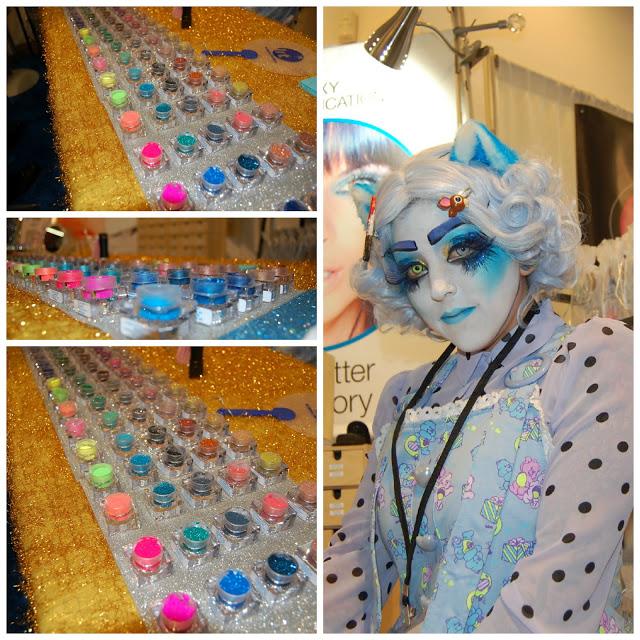 Durga for Lit Cosmetics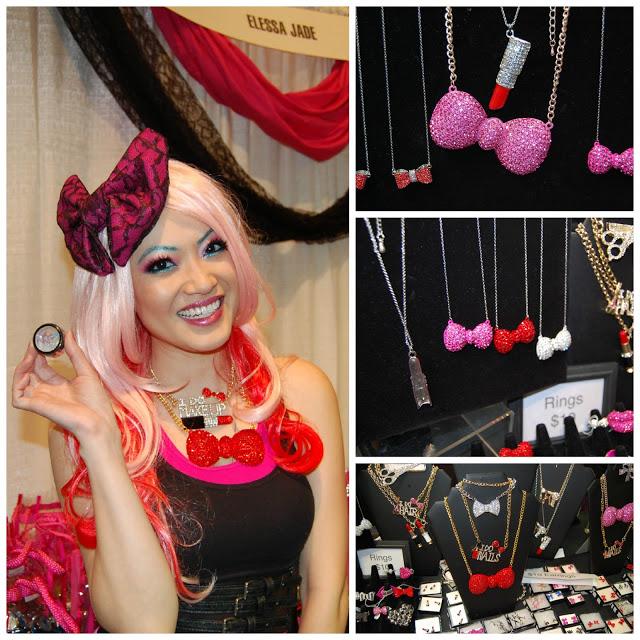 Elessa Jade a.ka Pursebuzz!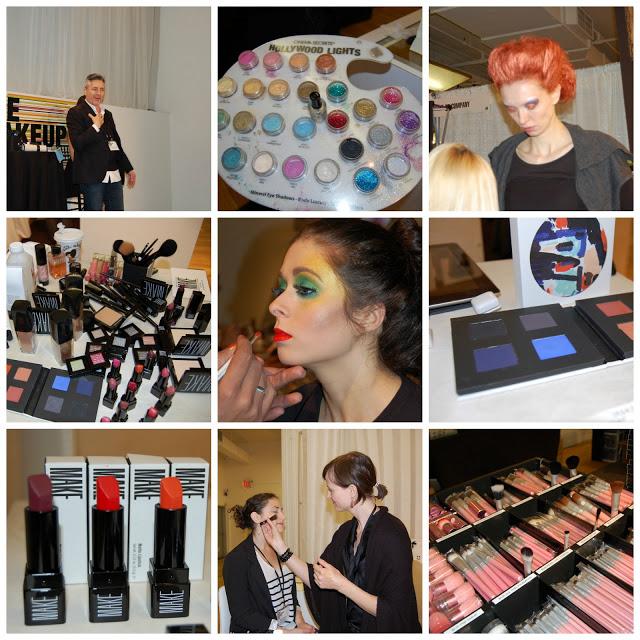 Some Instagram Highlights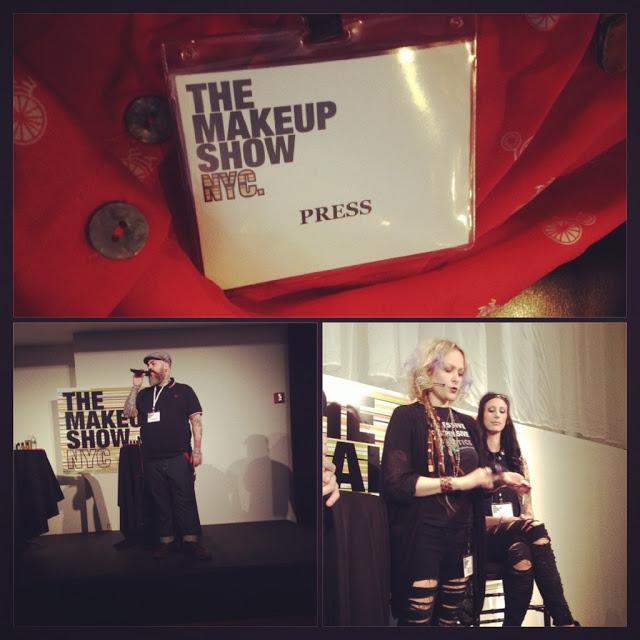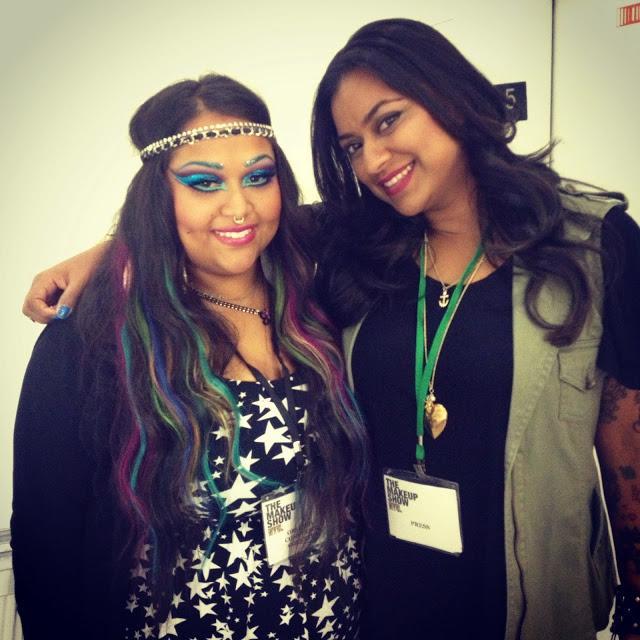 Lauren aka Queen of Blending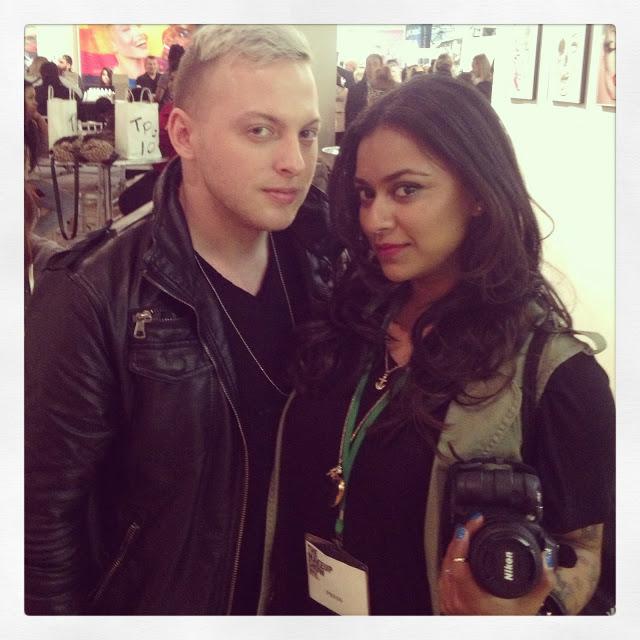 My buddy Michael (I met him at MAC during their Glamourdaze Event)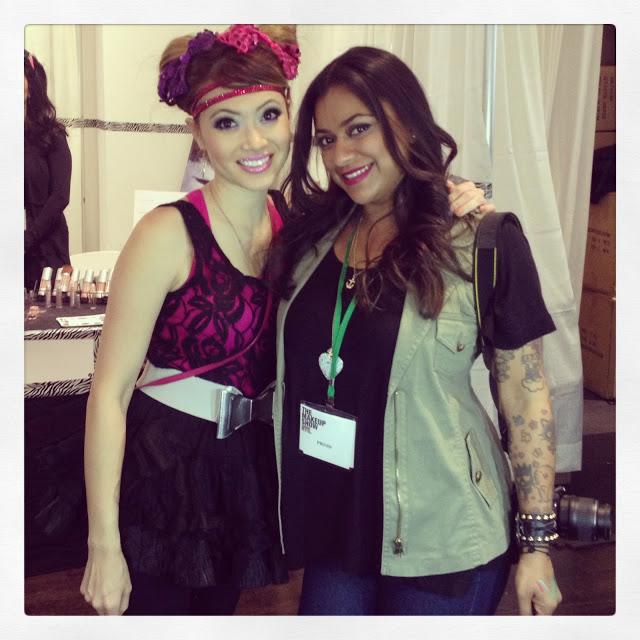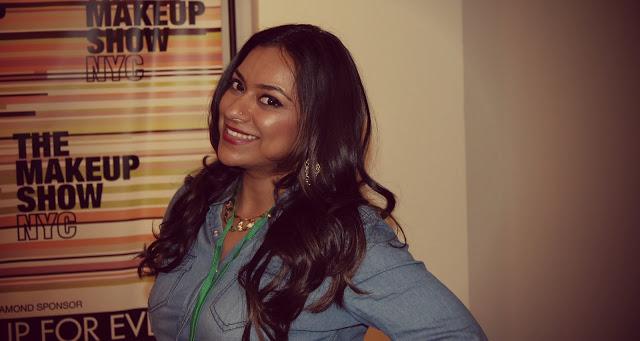 xo Suma