We only spent so many hours in Macau. Nevertheless, I have listed some tips if you intend to spend a day in Macau:
Macau is small and can be toured in a day. Right outside the pier, you would see moonlighting Filipino tour guides charging a small fee per person. If you negotiate well, it's not too bad of a deal, considering that they would utilize your limited time efficiently and would take advantage of the free casino shuttles.If you want to tour by yourselves like we did, tourism desks are armed with maps. It's pretty easy to do a do-it-yourself tour of Macau and its heritage sites. However, advanced planning is a must, as some attractions of interest may be not in the same vicinity. Download a map of Macau's attractions here. Read more...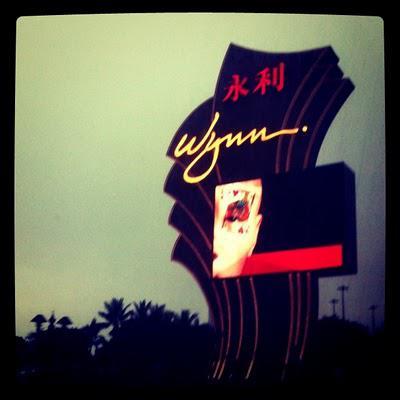 Wynn Macau
The Taipa Island Temporary Pier, the Outer Harbour Ferry Terminal, and the Aeroporto Internacional de Macau are all near the city. A cab ride to the relatively small aeroporto will only take 20-25 minutes from the city and won't cost too much, likewise with both piers. Airport transportation information can be seen

here

.
In most of Macau, as mentioned, HK$ is legal tender. Casinos take HK$ solely, while public transportation take MOP only. Back in Hong Kong, you have to exchange MOP.
While my iPhone weather app claims that Macau is cooler than Hong Kong by a degree or two, I felt some humidity in Macau that I wanted to take my jacket off. Then again, it drizzled in the afternoon.
I've been told there is less congestion in the bare, warehouse-like Taipa Island Termporary Pier than the usual Outer Harbour Ferry Terminal in Macau Island. True enough, immigration processing was fast.
Take advantage of the free casino and hotel shuttles. At The Venetian, they have free left luggage storage and porterage to boot. Don't be discouraged to avail of these services, because all are treated as prospective casino gamblers.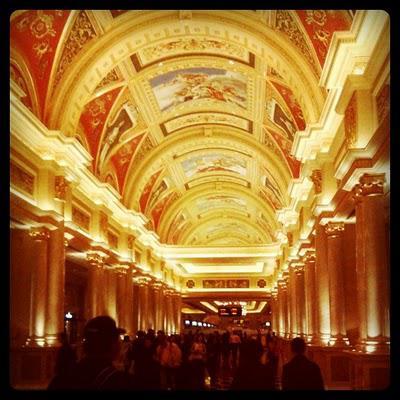 One of the Grand Halls at The Venetian
Let me repeat what the Filipina stationed at the bus stop of The Venetian told us to get to Senado Square and the other heritage sites: Take The Venetian bus to the Outer Harbour Ferry Terminal then take the free shuttle bus going to The Grand Emperor Hotel. From there, you can find your way by foot to Senado Square. Going back, walk to Wynn near the Grand Lisboa and take the free shuttle bus back to the Outer Harbour Ferry Terminal. From there, you can take the free shuttle bus to The Venetian, where there is a free shuttle bus to Taipa Island Temporary Pier, the Outer Harbour Ferry Terminal, the Aeroporto Internacional de Macau, and the cross-border gate.
While we didn't have to take one, taxis in Macau are cheap, so if pressed on time, don't be afraid to take one. Cabs take HK$. 
If time is limited, the two most familiar structures in the Macau Heritage Sites are Senado Square and St. Paul's Ruins. Some structures would be seen along the way. Learn more about the Macau Heritage Sites

here

.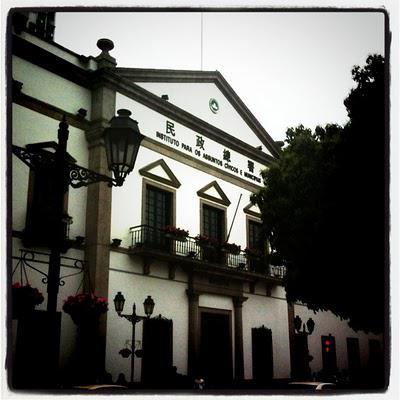 The Macau Central Library
The dried BBQ pork are vacuum-sealed and boxed, thus they are handcarry-friendly. Same is the case with other Macanese treats, the Portuguese egg tarts and the almond cookies.
Don't forget to try Macanese cuisine, which has a strong Portuguese influence, and Macau's famous porkchop bun.
For more tourist resources, do check out the Macau Government Tourist Office's website

here

. Lonely Planet's travel information and guide is

here

.
Need a hotel room? Find cheap rooms with 

TripMama

, HotelClub, 

BookingBuddy

, and 

Hotels Combined

.
Need plane tickets? Find the cheapest with 

Vayama

.