I am proud to say that this Hong Kong-Macau trip is entirely do-it-myself. The itinerary I made took some time to formulate, and thanks to the internet, I was able to build a robust itinerary that covered most of Hong Kong in only almost three and a half days.
Below, I have listed some first hand tips that might be of help to first timers in Hong Kong: 
Before take-off, remember the four main divisions of Hong Kong: Kowloon, where you'd probably stay and where the tourists mostly are; Hong Kong Island, where Central, the financial district is located; the New Territories, where you'd oddly find cramped apartment skyscrapers set upon greenery; and the distant Outlying Islands, which you could only explore through ferries. The map of Hong Kong is

here

.
The airport is located far from the city in Lantau Island. You may take the fast but quite costly Airport Express, the 45-minute airport buses, expensive cabs, or a bus to Tung Chung then connecting to the MTR. The last one is said to be the option used by locals. More about airport transportation

here

. Read more...
thelostboylloyd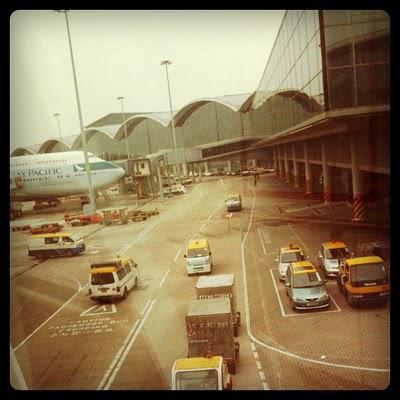 Ground Activity at Hong Kong International Airport

I highly recommend the Airport Express and three-day unlimited MTR Travel Pass, which is packed with valuable coupons for admission fees. To give you an idea, a tourist-friendly but pricey MTR ride from Kowloon to Central is already HK$7, while a complete MTR ride from the city to Hong Kong Disneyland is roughly HK$20 per way. Know more about the pass

here

.
Best to get an Octopus Card, which can be used in a lot of stores, such as 7-11, Circle K, bakeries, and McDonald's, and most public transportation--the MTR, light rail, buses, trams, some ferries, and the Star Ferry. The MTR Travel Pass is actually an Octopus Card, so be sure to load extra for your bus and ferry rides. Minimum load is HK$50, and a HK$50 refundable deposit is charged. Information about the Octopus Card is

here

.
Buses, like in other progressive cities, are number-coded and efficient. However, it may take a while to study bus routes in Hong Kong, where there are three private bus companies. If you dislike counting numbered stops and would rather rely on names of places, take the MTR. MTR stations are armed with directions to everywhere. The MTR system map and journey planner is

here

.
The Star Ferry is the cheapest and fastest link from Tsim Sha Tsui to Central for roughly HK$2. In Hong Kong Island, go from east to west and vice versa using the trams for only HK$2, regardless of distance.
We went in March, which dictates cooler days and cold nights set in not-so high humidity. Even with the sun up, temperatures would still require a jacket, while wearing sunglasses. In the evening, Victoria Harbour could be so frigid by Filipino standards.
thelostboylloyd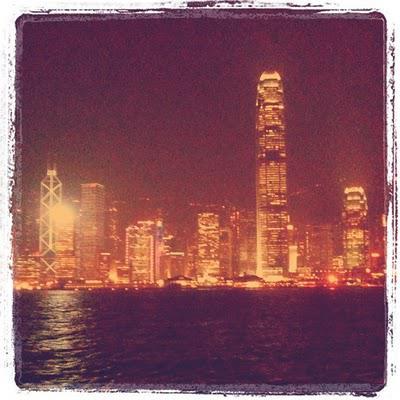 Victoria Harbour at Night
Hong Kong is a fashion city. If in Manila, you'd look like an oddball in a leather jacket or trench coat, in Hong Kong, you'd pretty much blend in. It's time to show off that jacket you've always kept in the closet. Boots are common too.
Virtually all of Hong Kong has English translations. The problem you would encounter is conversing with the locals. Practice your hand gestures to get your message across. 
While we sometimes slightly went off track, we were never lost. You might be overwhelmed by the rush in the streets of Hong Kong, so prior planning is obviously helpful.
If you get lost, it never hurts to attempt to ask. Approachable policemen are your best bet. Maps are available at the airport, and Google Maps has an accurate street view of Hong Kong.
Some places may not be able to deliver friendly service. Just be understanding, and think that the language barrier is hindering them from giving you good service and causing them a lot of frustration.
Prepare to walk in your comfortable footwear. Being a cosmopolitan city, Hong Kong's people walk and climb stairs everyday to everywhere. By the way, you'd notice that fat people in Hong Kong are rare. Just goes to show how active they are.
As a matter of courtesy, if you are not in a hurry, stay on the right side of stairs, escalators, or moving walkways. Do not obstruct the left side that is reserved for people in a rush.
Even you paid an exorbitant amount, do not be surprised if your hotel room is smaller than your room back home. Land is a scarce commodity in Hong Kong. Expect malls with 15 or even more floors.
Electric outlets are three-prong and 220v. While provided for, an extra adapter, while uncommon here in Manila, would help. An example of a typical Hong Kong Type G outlet can be seen

here

.
Early in the morning, you may opt to explore Hong Kong's uncommon destinations, just like what I did. Refer to the MTR tours by Dr Patrick Hase for a taste of culture and the daily grind of the common Hong Kong local. They take two to four hours to complete and have MTR stations as reference points. Download the materials

here

.
thelostboylloyd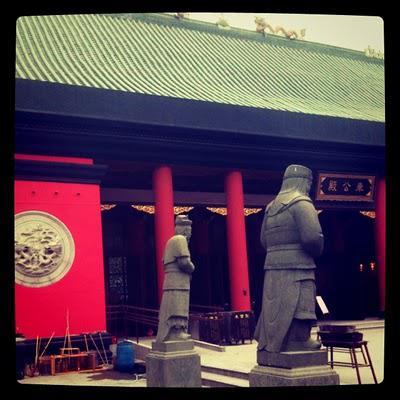 Che Kung Temple
The most popular viewing deck for A Symphony of Lights is near the Star Ferry pier and the clock tower at Tsim Sha Tsui. Be there at least 15 minutes before the show to ensure a good spot.
thelostboylloyd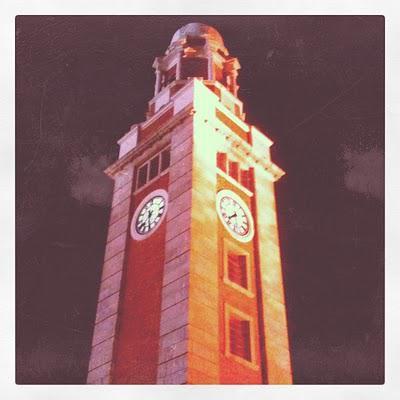 The Kowloon-Canton Railway Clock Tower
What I regret not doing is visiting one of Hong Kong's museums. If you have time for at least one, make the Hong Kong Museum of Art in Tsim Sha Tsui your priority. The strip of museums in Tsim Sha Tsui are closed Thursdays. Admission is minimal and free on Wednesdays. More on museums

here

.
thelostboylloyd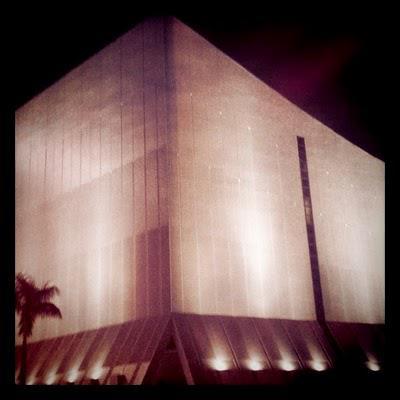 The Hong Kong Cultural Centre
Markets can be tourist traps. Like my Singaporean friend told me, haggle only on items you really intend to buy, and do not bargain for bargaining's sake. Even with Hong Kong being a duty free port, we've found a lot of items more expensive than what you'd pay back in Manila. Perhaps the only wise buys are the cheap Hong Kong souvenir tees. Night markets are open from late in the morning until midnight.
thelostboylloyd
Since we have access to electronics in the US, Hong Kong's electronic stores did not excite us. However, in Mongkok, electronics are aplenty and "heavily bargained." I put those in quotes, because as Frommer's would report, a lot of stores are actually bait and switch, sometimes giving tourists discontinued models in lieu of what they intended to buy. Do your research.
Brand names are aplenty in Hong Kong, and like Dad told us, it's as if Rolex stores were 7-11's. True enough, you'd easily find a range of high end brands from Giorgio Armani to Hermes. Lower to middle range brands are common too, such as H&M, Zara, 5cm, Giordano, Esprit, G2000, Uniqlo, and Marks and Spencer. In Tung Chung, you'd find Citygate Outlets, which we failed to explore. Malls are usually open from 10am-9pm.
thelostboylloyd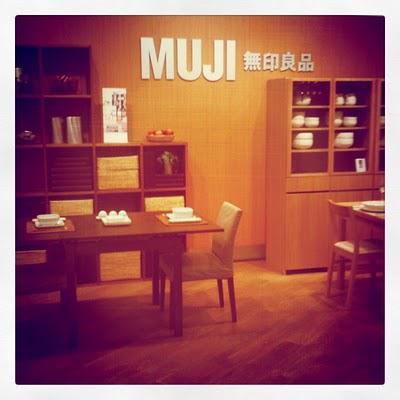 A Muji Display at Lee Theatre Plaza
One shopping rule to remember: Kowloon is for bargains and lower-end brands, Central is for high-end and designer brands, and Causeway Bay is for locals. More about shopping

here

.
Don't forget to try the dai pai dongs or the inexpensive hole-in-the-wall places. Don't worry, as these places have a rough English translation of the menu, and often, pictures are displayed. 
Spoon and forks almost everywhere are hybridized into "sporks." Prepare to eat in these, chopsticks, a melamine soup spoon, or your hands.
It's very valuable to know that drinks are allowed into Hong Kong Disneyland and Ocean Park. To be safe, bring them in plastic bottles. Water sells as much as HK$15 and bottled soda, HK$22 in both parks. These are way expensive than their convenience store counterparts.
For sure, you'd smell that weird odor, which you'd get used to at first but you'd eventually grow sick of. It's everywhere, and I'm not exaggerating that I can taste the smell in my cup of Coke Zero from McDonald's. That smell is from chòu dòufu or stinky tofu, a fermented form of tofu commonly fried in Hong Kong street stalls.
thelostboylloyd
When converted, fast food, such as McDonald's and KFC, is priced with little difference from Manila. There is a slight, almost indiscernible difference in taste too.
Food in Hong Kong Disneyland and Ocean Park is priced similarly. However, there are cheaper choices in Ocean Park, such as pizza and McDonald's. Expect to pay HK$60-70 in both parks for a meal with drinks.
Here the prices of some items to give you a trend in the "cost of living" of a tourist in Hong Kong:
Can of Coke, HK$6 or two for HK$9.80; bottled water, HK$4-5; McDonald's value meals, HK$26-30; KFC Bucket for three, HK$90; Starbucks Venti Frappucino, HK$40; bread/pastries, HK$4-7; noodles, HK$23-25; rice bowls, HK$23-25; dim sum, HK$6-15; 
Hong Kong souvenir t-shirts, HK$100 for five; 
bus rides, HK$1.20-45; taxi fare, HK$15 minimum; weekly seven-museum admission, HK$30; A Symphony of Lights, free.
For more tourist resources, do check out Hong Kong Tourism Board's website

here

. Lonely Planet's travel information and guide is

here

.
Need a hotel room? Find cheap rooms with

TripMama

,

HotelClub

,

BookingBuddy

, and

Hotels Combined

.
Need plane tickets? Find the cheapest with

Vayama

.