Paddle boarding is a watersport that used to be unheard of to me, ergo I've never tried it before that one awesome lifestyle weekend at Swell Bar and Café in Subic. And just my luck, I was not only able to try it, I actually learned how to do it! Read more…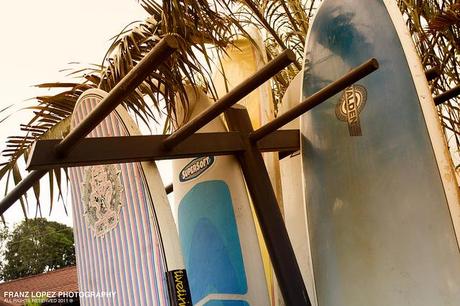 Paddle boarding, also stand up paddle boarding, originated in Hawaii and was pioneered by Thomas Edward Blake in the 1930's. Blake constructed the first paddle board out of redwood by replicating the surfboards of Hawaiian kings. The distinct feature of his creation was that holes were drilled into the board and covered. He broke records with the said paddle board.
Paddle boarding is an easy-to-learn alternative to related watersport surfing. Among those spotted doing paddle boarding were Robert Downey Jr., Cindy Crawford, Steve Tyler, and Pierce Brosnan. Here in the Philippines, this activity can be enjoyed in Camiguin or surfer haven Siargao Island. Up north in Subic, Zambales, Swell Bar and Café offers complimentary use of paddle boards to its patrons, and that's how we got to test paddle boarding.
It's easy to paddle board once you get the hang of it. Franz Lopez whom I was with in Subic held a pictorial and made this graphic: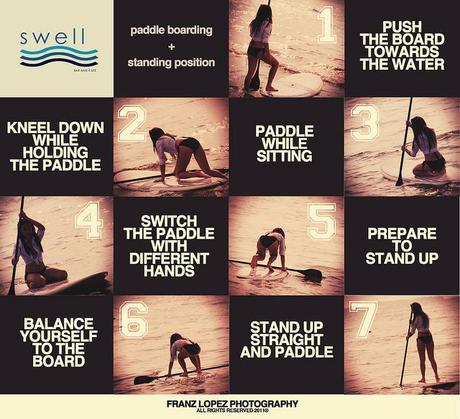 Let me give a brief how-to of paddle boarding basics:
1. Push the board towards the water. Paddle boarding is ideal on flat, calm waters. Be sure to bring the paddle board only on shallow waters, else use a personal flotation device.
2. Kneel down while holding the paddle. Mount and kneel on the center of the board then balance yourself. A kneeling initial position allows more stability. 
3. Paddle while sitting. If paddling on your right, grip the paddle with your left hand on top of the shaft and your right hand on middle. To propel yourself, make small paddle strokes with the blade planted beneath the water surface and the face of the blade away from you. It would be better if the force came from your tougher abdominal muscles rather than your arm muscles. Get yourself well into the water but not too deep into it. 
4. Switch paddle strokes between the two sides of the board. Switch between the two sides of the board to keep yourself in a straight line. Remember to reverse your grip or hand positions when switching the paddle.
5. Prepare to stand up. One foot at a time, place your feet where your knees were.
6. Balance yourself on the board. As you stand up, immediately find balance on the board.
7. Stand up and paddle. When standing upright, maintain the following stance: feet parallel and hip-width apart; knees bent; back straight; head and shoulders steady; hips doing the balance; and eyes to the horizon not the feet. Refer to steps three and four for paddling.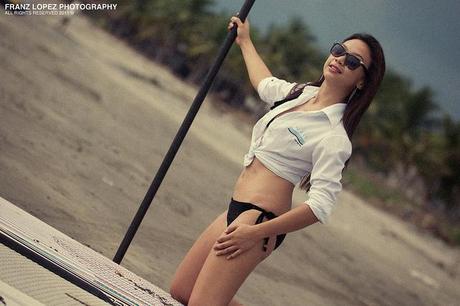 Here's a how-to video by US retailer REI:
Done right, paddle boarding is also one fantastic core workout. So one weekend, head to Subic Bay in Zambales, which is just roughly three hours by bus and try paddle boarding at Swell Bar and Café!
SWELL BAR AND CAFE 
Bldg 664 Waterfront Road, Subic Bay Freeport Zone, Zambales (Google Maps)
Hours: breakfast until after midnight
Contact: +63 47 250 2221 or through Facebook
Special thanks are due to Gianne and Martin Montelibano of Swell Bar and Cafe for having us that weekend and to Francis Romero of Achievers' Circle. This post features the awesome photography of Franz Lopez. Do check out his portfolio here.