The usual go-to places when on the lookout for short-term stays are hotels, inns, and everything in between. But you see, many a time, these places may mean being sleeping inside rooms that are too cramped and unimaginative. They may likewise lack a comfortable, homey feel, and more importantly, they may not give a taste of the locality. 
I'm all for local experience, and I'd would most rather eat at a hole-in-the-wall than a burger chain. Now, I didn't know that my local experience could be amplified some more through Roomorama's short-term accommodations. Read more…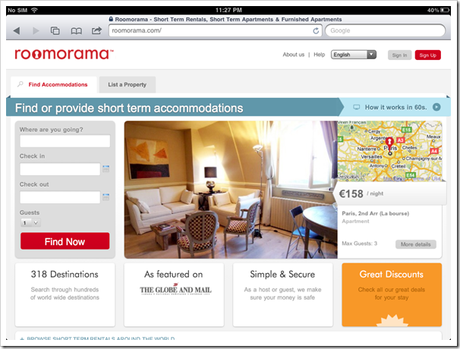 Roomorama is the brainchild of New Yorkers Jia En Teo and Federico Folcia who would often rent out their apartment for some extra money to fund their perpetual wanderlust. But of course they also wanted to give fellow travelers a chance to live like a local. 
The premise of simply renting out a place sounds risky and insecure, pretty much like the short stay listings on Craigslist where one has to deal with the owner directly. Well, this lack of security and convenience in the short-term rentals market was exactly the motivation of the founders in starting Roomorama. It is a secure platform that mediates between the traveler and the property owner, and it minimizes the risk for all parties. Travelers need not to hand the payment directly to the owner, as payments are securely held by Roomorama until one has successfully checked-in. It is also convenient for travelers, as Roomorama takes credit and debit cards, and PayPal. 
The defining feature of Roomorama, as opposed to other booking engines, is that instead of hotels, it focuses more on listings of local apartments, condos, and flats available for short term stays. Travelers are given the opportunity to directly interact with the property owners or managers before a booking is made. After a stay, travelers may write feedback about their experience, in turn providing a peer-to-peer quality-check for other travelers. 
I did a mock booking and saw a number of prime properties listed affordably for Manila. Roomorama does not only give out a nightly rate but also weekly and monthly: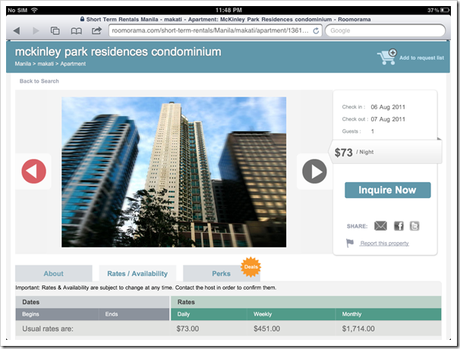 One of the best upsides of booking with Roomorama is the access to many perks in different cities. Roomorama constantly teams up with local establishments to provide the best deals, be it for dining out, shopping, or attractions. 
I will definitely book a stay with Roomorama for a change. I want to really feel what it's like to live like a local and also to get a more inside experience. And you should too. 
Find out more about Roomorama through this short video, and you may also check out their site here.