The Lime Kiln in Julianstown could be the envy of every restaurant. Not because of the food, the creativity of the chef, the friendliness of the staff or the beautiful decor (though these things are all fantastic) but because the restaurant is absolutely devoid of cellular coverage. Nada. Zip. Squat. Zilich. Not even a single sodding bar.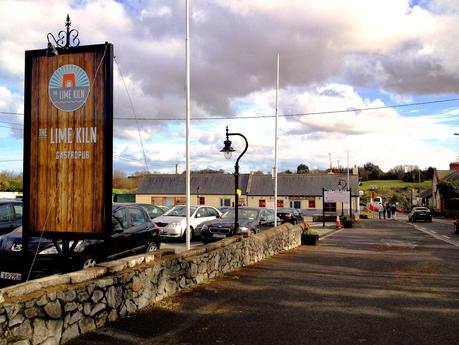 As a result the interior had my full attention and good job too as it's absolutely cracking. Sort of industrial meets farmhouse with touches of snugness and light. The place has had a total refit and it's amazing. I love the open bar area in the restaurant which is really slick with the help of some high gloss black tiles.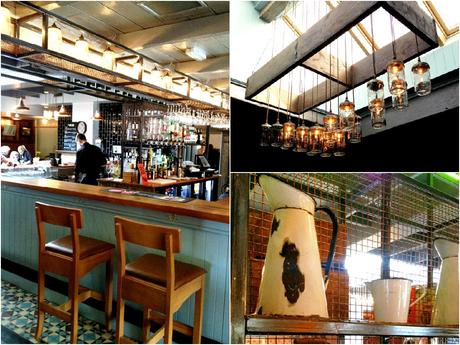 The beautiful light interior. 
Three of us were meeting for Sunday lunch and we got the last table in the place. We decided to go straight to mains but there are heaps of starters to choose from like chicken wings, mussels in white wine and smoked salmon. They are all under €7.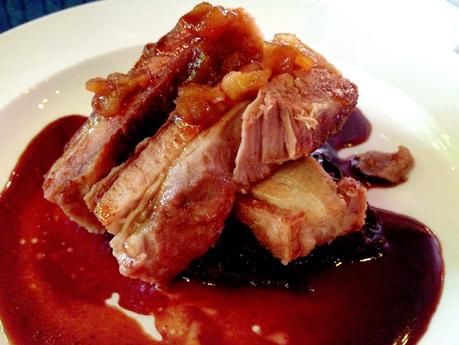 Pork belly (€15.95)
Out of the mammoth menu we finally managed to whittle out three dishes. The crispy pork belly with spiced red cabbage and apple caramel was probably the best. The pork was oozy and tender and the spiced cabbage provided a good contrast. It disappeared quickly!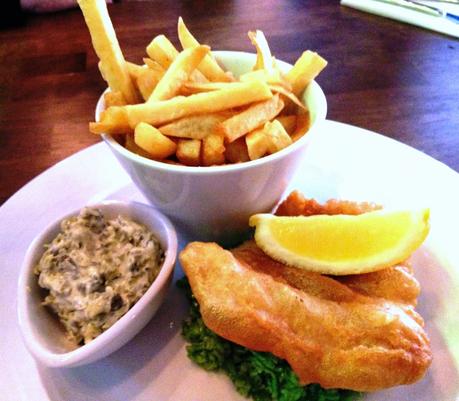 Fish and chips (€14.95)
The fish and chips came a close second. Lovely light batter encased a generous portion of tender fish that was perfectly cooked. The homemade tartar sauce was very good as were the ubiquitous minty mushy peas!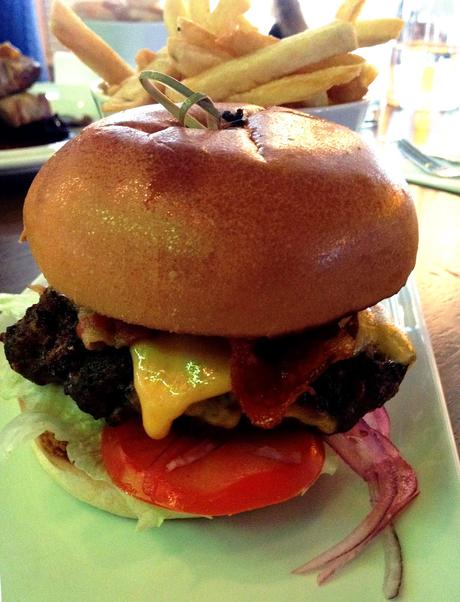 Burger and chips with bacon and cheese (€13.95)
I ordered the burger. The juicy, meaty, patty was cooked all the way through, I'd have preferred it medium but you can't have everything, and topped with all the regulars before being encased in a brioche bun. A simple, well executed, dish is always nice to see in a world where everything seems to be "tweaked"
One of our delicious desserts, chocolate mousse with praline snaps (€5.95). We also tried the amazing sticky toffee pudding with salted caramel (€5.95) and good old fashioned ice cream (€4.95) All were delicious! 
As we skipped starters we had plenty of room for desserts so we shared three of the lovely in-house creations, none of the bought-in pre-made stuff here. The head chef used to work in the Brown Hound Bakery in Drogheda so you can get an idea of the standard involved. All were delicious. 
The Lime Kiln offers good honest cooking at reasonable prices. This combination is a rare thing and deserves to be applauded. Supposedly a shop and bakery are on the way to further invigorate a village which, until the opening of The Lime Kiln, was completely without enterprise. Personally I'd love to see more of the chefs creations on social media, perhaps someone could get him smartphone... and eh... wifi too? 
The Lime Kiln,Main StreetJulianstown,Co Meath.041 982 9001
Website