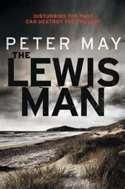 What's it all about?:
A MAN WITH NO NAME. An unidentified corpse is recovered from a Lewis peat bog; the only clue to its identity being a DNA sibling match to a local farmer. A MAN WITH NO MEMORY. But this islander, Tormod Macdonald – now an elderly man suffering from dementia – has always claimed to be an only child. A MAN WITH NO CHOICE. When Tormod's family approach Fin Macleod for help, Fin feels duty-bound to solve the mystery.
What did I think?:
This is the second book in the Lewis Trilogy, featuring Fin Macleod, a former police detective who has a troubled and heart-breaking past. When we meet him in The Lewis Man, he is finalising a divorce and escapes to the Scottish Highlands where he grew up to get away from it all for a while. However, when an unidentified corpse is dug out from a peat bog he can't help himself and becomes heavily involved in the investigation. This is due to DNA tests being carried out on the body which reveal a sibling match to his old flame Marsaili's father. Unfortunately for the police, the elderly man is suffering with a quite advanced form of dementia and his hazy recollections cannot be relied on.
The captivating story in this novel is told from a number of viewpoints which I loved. First we have our main character Fin Macleod whom I am really warming to in this series. The scenes that involve his interactions with Tormod, the elderly man with dementia, are both touching and heart-warming. Then we hear from Tormod himself, during the present where we get slivers of information about his muddled state of mind and when he is reminiscing about his childhood.  Some of the events he recalls are truly tragic and harrowing with additional titbits about how brutally orphans were treated during the 1950′s. As in the first novel, the author's descriptive and rich prose brings the Outer Hebrides to life, and I was blown away by how the landscape seems intensely beautiful but in some ways, highly desolate. The answer to the mystery of the body in the peat bog is fascinating and one definitely worth the unravelling for the reader. Peter May is fast becoming one of my favorite authors in this genre and I can't wait to read the third book in the series – The Chessmen.
Would I recommend it?:
But of course!
Star rating (out of 5):