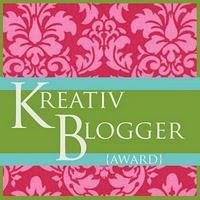 I was very excited and honored that Aly from seven things beauty 
♥
awarded me with the Kreativ Blogger Award! Another wonderful Christmas gift.
 I think this is my 3rd blog award now and it wouldn't matter if I received 100 blog awards, each one is special. I'm always honored to receive them and to get the chance to award other bloggers.
Here are the rules you have to follow when receiving this award:
RULES:
Link back to the person who gave you this award
Complete the form below
Award 10 other blogs and let them know in a comment or email
Share 7 random thoughts about yourself
FORM TO BE COMPLETED
1. NAME YOUR FAVORITE SONG:
There's no way I could pick 1 fav song or even just a few lol. But I'll just pick 3 to come to mind:
1.
Lucky Star by Madonna
2.
Damaged by Danity Kane
3.
Let it Rain by Bruno Mars
2. NAME YOUR FAVORITE DESSERT:
Sugar Cookies!
3. WHAT TICKS ME OFF:
Ignorant people, people that cant drive, having to wake up if it's still dark out
4. WHEN I'M UPSET I:
Depending on the situation I probably cry, talk to one of my good friends about it, hopefully try to resolve it
5. WHAT'S YOUR FAVORITE PET:
My favorite pets are puppy's and dogs, I've only owned dogs and I can't say there are any other animals I would want right now. 
6. BLACK OR WHITE:
It depends: I guess I would say Black
7. BIGGEST FEAR:
The deep deep end of the ocean, especially looking at it at night. It scares me thinking and looking at it
8. EVERYDAY ATTITUDE:
I try to stay optimistic as much as possible, of course things happen that are gonna make you upset, as bad as it is though, I've learned (from experience) that no matter what it is, it always gets better
9. WHAT IS PERFECTION:
To me perfection means trying to make everything you do perfect and if it's not you;re not satisfied. I'm in no way a perfectionist, sometimes I try. But the truth is nothing is perfect and no one is perfect
10. GUILTY PLEASURE:
I have a few...Reality T.V. and shopping for beauty products
SEVEN RANDOM THINGS ABOUT ME:
1. I can't sleep without the T.V on
2. I'm afraid of big turtles
3. I'm in love with my blackberry
4. I'm obsessed with nail polish
5. I won't (normally) date anyone shorter than me
6. I eat like a 6 year old
7. I make a to-do list every morning, even if I don't have anything to do
WHO I GIVE THIS AWARD TO:
Gloss & Glitz
Beauty by Arielle
Just Tiffeny
LuckyDuckyLoves
Rivuletsbeautyblog!
Glitz Glam Budget
~*PrettyPisces
Brittany's Secret
Polished Nails
Aimee's Nails
You all really deserved this award 
♥
Click the links below :)
Follow via GFC
Follow me on Twitter