AKA: How is it already almost February?!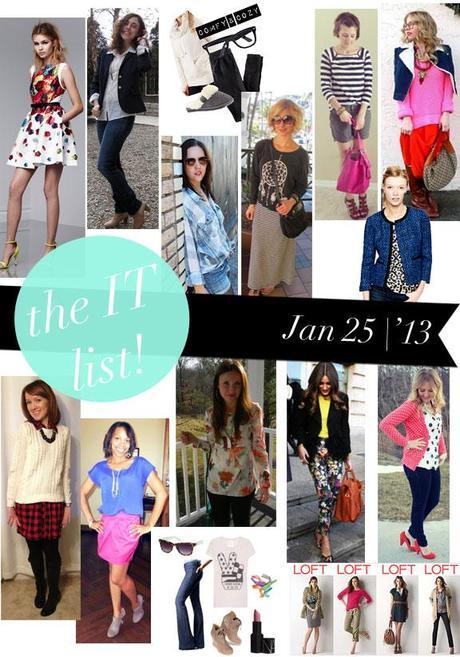 do you j.crew? styles up a closet staple: the tweed jacket!  Check out her gorgeous round up!
the luxury rehab features a sneek peek of the upcoming Prabal Garang for Target line. This floral dress is just stunning! (find the luxury rehab on Twitter!)
everything but ordinary looks simply adorable in this polka dot on polka dot look. Wearing double polka dots is definitely on my spring-to-do list! (find everything but ordinary on Twitter!)
live. work. style. is showing her 'blogger day off' outfit, which of course is just as fabulous as her blogger day 'on' outfits! A perfectly casual and comfortable look! (find live. work. style. on Twitter!)
rose a la mode is perfectly Florida-chic in this striped top, casual shorts with a bright pop of color by way of her purse! I love this look and am longing for spring! (find rose a la mode on Twitter!)
my confidence + me pulls together the perfect 'comfy & cozy' work from home outfit. I am really digging this, especially with all the cold weather the midwest has been having! (find my confidence + me on Twitter!)
a little bit of wo.we experiments with layering in a new way (to her!).  It looks adorable and was well worth trying something new! (find a little bit of wo.we on Twitter!)
from carpools to cocktails pulls off the perfect 'day date' look. It's charming and beautiful, but also totally appropriate for the day time. See how she does it! (find from carpools to cocktails on Twitter!)
my thrifty chic steals her husband's top and styles it so effortlessly cool. Find out how she tweaked it a bit to make it fit her perfectly! (find my thrifty chic on Twitter!)
loop looks invested in a great navy blazer and was excited to pair it with an adorable polka dot top. The look is classic and modern - check it out! (find loop looks on Twitter!)
the second best dishes on her two must have items in her closet and wears them together.  Hint: you are going to want these two items as well! They are classic and beautiful! (find the second best on Twitter!)
a fashion fixation is hosting a giveaway for a gift card to LOFT!  Head on over to enter! The LOFT is having some great sales right now! (find a fashion fixation on Twitter!)
dahlia lynn lane is talking Alt Summit, unicorns and red maxi skirts. Random perhaps, but definitely worth checking out! This outfit is so fabulous! (find dahlia lynn lane on Twitter!)
one hundred inspirations features Olivia Palermo in floral pants and a neon top. While this look sounds wild, it is pulled off effortlessly and worth recreating!
sweetie pie style is jumping right into spring style on her blog, and really, aren't we all totally ready for it? Check out her fun looks! (find sweetie pie style on Twitter!)
the IT list is brought to you weekly by Jill of good life, for information on how you can be involved... click here!