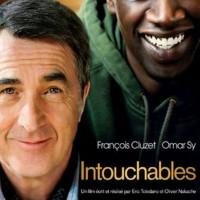 Movie: The Intouchables
Director: Olivier Nakache and Eric Toledano
Cast: Francois Cluzet, Omar Sy and Audrey Fleurot
Rating: ****
We, human beings, are so full of assumptions, aren't we? We like to jump to conclusions without even give something good deliberation. For instance, if we happen to meet someone who's done some prison/jail time, we suddenly consider him/her dangerous. We wouldn't even want to know why did this person did time at the first place. Or even when you meet someone with some condition, you tend to shower empathy upon him/her than accepting the way he/she is. French-comedy "The Intouchables", which is based on a true story, treads the path of human relationships with wit, humor and sentiment.
The lives of Phillip, a multi-billionaire and Driss, a naïve jail-returned black meet, when the former gets permanently crippled in a paragliding accident, and is on the lookout for full-time nurse. Driss applies, hoping to get rejected and get unemployment benefits, but is found suitable and hired. But, Driss should make it till the end of the month in order to be made permanent. Meanwhile, Driss and Phillip embark on a journey of self-discovery, happiness, friendship and of course, most important of all, power of human relationship.
Generally, stories about inoperable ailments either pave way to boredom or give lot of work to your tear glands. But, "Intouchables", which deals with a quadriplegic character, shows us light at the end of the tunnel. The film, which relies strongly on friendship between the principal characters, is not exactly about friendship. One aspect of the film may be friendship, but the other being the thin line of divide between two individuals from extremely different backgrounds.
In one particular scene, Phillip's friend warns him about Driss, and the time he spent in prison for robbing a jewelry store. To which, Phillip says, it doesn't matter to him what Driss did in the past. Ideally, anybody would've been petrified upon hearing about Driss, and would've instantaneously rejected him. But, Phillip only cared to know if Driss was up for the job.
The film explores loneliness from two different perspectives and it's brilliant. For instance, Driss stays with a family half the size of a soccer team, but hardly talks to them. His mother is most of the time upset with him because he acts irresponsible, while his younger never talks to him as he's busy peddling drugs. On the contrary, Phillip, doesn't have a family of his own, but is surrounded every minute by his workers, who seldom speak to him.
Filled with ratty one-liners that will surprise and entertain, jokes in the film are not carefully planted to evoke laughs, but they fit the sardonic circumstances perfectly. In one particular scene, Phillip asks Driss to pass a cookie, to which he says "no feat, no sweets," before laughingly passing one.
Francois and Omar were perfect in their respective roles. Although, Phillip may have played a character that barely moved, but he definitely moved with his brilliant performance full of life. Driss, played by Omar, won a Cesar award, a French equivalent to Oscar for his performance.