I've got big news. After almost five years' living just a stones throw from the racetracks of Brisbane, I've decided to farewell my much-loved Ascot apartment and move closer to the city (and by city, I mean bars and restaurants).
Today is the big day; I can collect the keys, drop off some of my rather large collection of stuff and prepare for tomorrow's visit from the removalists.
Downsizing from a two bedroom, two bathroom apartment to a one bedroom place has required some serious culling, so I've sold most of my current furniture on Gumtree, including my gorgeous gold-legged desk, and have spent the past few weeks regularly stalking the aisles of Domayne, Freedom and Ikea, often bouncing on sofas, lazing on ottomans and flopping on beds.
I'm looking forward to sharing some photos from my new pad with you … especially the view, which I have to say, is what sold me on the idea of downsizing. Well, that and getting new furniture.
But in the meantime, I present, The Homewares Edit featuring some of my favorite pieces currently available in a range of budgets so you can steal my style (if you're that way inclined).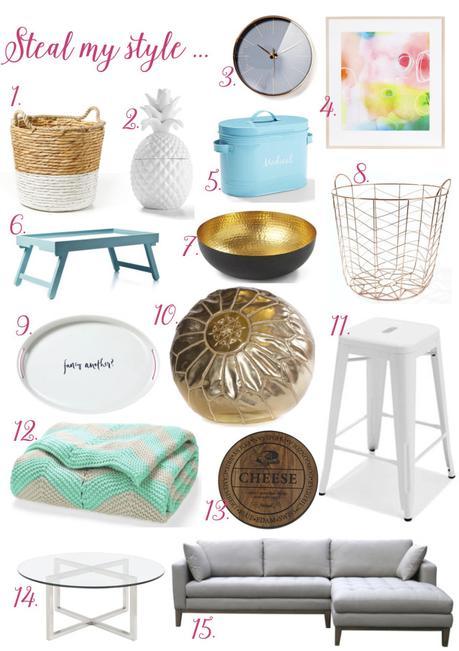 1.Home Republic San Lucas Baskets, $29.95 (Adairs) | 2. Ceramic pineapple jar, $9 (Kmart) | 3. Mercer + Reid Copper 30cm Metal Clock, $79.95 (Adairs) | 4.  Zellis Print, $399 (Freedom) | 5. Medical tin, $12 (Kmart) | 6. Home Republic Mekong Tray Tables, $59.95 (Adairs) | 7. Hammered metal bowl, $12 (Kmart) | 8. Copper coloured basket, $12 (Kmart) | 9. Kate Spade Melamine Serving Tray in Pink, $75 (Domayne) | 10. Cush & Co Gold Moroccan Pouf, $149 | 11. White metal bar stool, $29 (Kmart) | 12. Aura Chevron Throw Mint, $179 (Domayne) | 13. S&P Fromage Round Wooden Cheese Board, $39.95 (Domayne) | 14. CBD Coffee Table 90cm Diameter in Brushed Nickel, $329 (Freedom) | 15. Freedom Marley 2.5 Seat Modular Sofa in Loft Cloud, $2299 (Freedom).