It's around this time of the year that I get absolutely disgusted with society. Yes, it's the same time that Sports Illustrated Swimsuit Edition is published with all their airbrushed models in bikini's. I'm disgusted with many facts of the magazine, despite the multiple very slender models that are posed in very cute itty bitty bikini's. I also get a year-round taste of disgruntledness when looking at the Victoria Secrets commercials's on tv. Will they ever intermix curvy girls in those commercials? You know, I'm a curvy gal, a proud size 14 (the average size in America btw) and I shop Victoria Secrets! So why not project an image to society that curvy gals, as well as slender girlies, can shop there?
I'm Dishing It Straight Up Y'all
To my amazement, there has been talk of an actual REAL LIVE CURVY GAL in this year's Sports Illustrated Swimsuit Edition! I couldn't wait to see it! Thankfully I work with a bunch of men and they brought a copy to work! If you'd like to see the picture of Ashley Graham —-> SHE IS BEAUTIFUL!
Way to give it to em @theashleygraham! #CurvyGalsRock
Mind you there is just one picture ad of her in the magazine but she ABSOLUTELY ROCKS IT! 
I went ahead and looked at the other models as well. They are very cute girls that are very slender. I'm not going to bash them because it's not their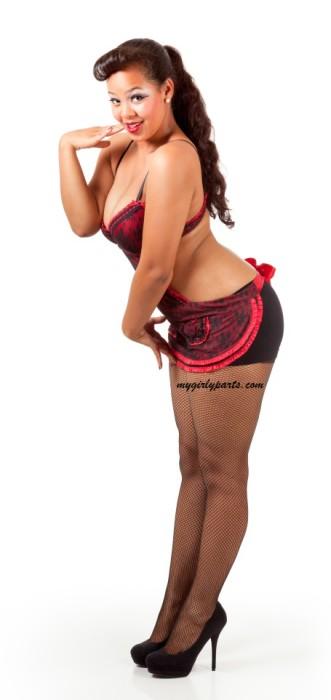 fault that society is projecting their image as ideal but
SOCIETY IS WRONG!
Studies prove all the time that the average size of a woman is a size 14. Now you know we all wear that size 14 in different ways but Ashley Graham, our curvy gal model, is a size 14! Now society is also a little jacked up and considers a size 14, PLUS SIZE. Yes, another thing I disagree that's simply based on the proven average size of women!  Are the majority of women in America PLUS SIZE? Apparently!
I know a lot of My Girly Parts readers are considered "plus size" but I just want you to know, you are NOT plus size in my book. You are beautiful in every way and should embrace those curves no matter where you have them. The more women that quite hiding their "plus size" bodies and start flaunting them "tastefully mind you", maybe together we can change the "norm"?
I don't know about you, but I would love to see more CURVY GALS in magazines, on tv playing provocative roles and in movies like "50 Shades of Smut Grey". You know we all need love and there is definitely more to love with curvy gals!
Not too long ago I read a book about a curvy gal finding love with a billionaire. I highly recommend you give it a read because, to me, it is an amazing story and one that is more realistic because SHE'S A CURVY GAL!  —->His Every Whim by Liliana Rhodes. <—–Get it FREE!
Now don't think I'm bashing on slender girls because I'm definitely not. Believe me, I was one before I got married so I totally get it! But us curvy gals would sure like some love.
How Can We Change Society's "Ideal"?
Let's check out this infographic.

This infographic was created by Wentworth Clinic
If you take a good look at the decades, curvy gals have only ruled for 2 decades since 1900! That's twenty (20) years out of one-hundred fourteen (114) years! This is ridiculous!
What Do We Need To Do To Bring It Back To The Curvy Gals?
What's it going to take ladies? Post after post like this about the "ideal woman"?
Well, I personally think we can all start by at least sharing this post across your networks and leaving your comments below. Who's with me?
Say "NO" to society and bring back the #curvygal era!