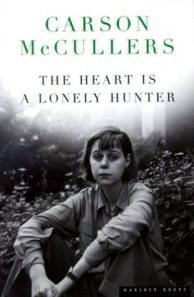 What's it all about?:
With the publication of her first novel, The Heart Is a Lonely Hunter, Carson McCullers, all of twenty-three, became a literary sensation. With its profound sense of moral isolation and its compassionate glimpses into its characters' inner lives, the novel is considered McCullers' finest work, and an enduring masterpiece.
At its center is the deaf-mute John Singer, who becomes the confidant for various types of misfits in a Georgia mill town during the 1930s. Each one yearns for escape from small-town life. When Singer's mute companion goes insane, Singer moves into the Kelly house, where Mick Kelly, the book's heroine (loosely based on McCullers), finds solace in her music. Brilliantly attuned to the spiritual isolation that underlies the human condition, and with a deft sense for racial tensions in the South, McCullers spins a haunting, unforgettable story that gives voice to the rejected, the forgotten, and the mistreated–and, through Mick Kelly, to the quiet, intensely personal search for beauty.
What did I think?:
Carson McCullers is an American writer that wrote fiction usually described as Southern Gothic, that explores the spiritual isolation of misfits and outcasts from the South. I was aware of this, her most famous novel, but have not read any of her other fiction. It revolves around a number of different characters, mainly John Singer, who is deaf-mute, and after losing his mute friend Antonapoulos to an asylum, becomes the conduit through which a select group of people express their emotions, loves and fears. There is Mick, a young girl who discovers a great love of music through listening to her neighbours radios, and becomes quite stalker-ish where Singer is concerned, following him at a distance and watching to see what he does, purely to feel the sense of peace that she does when she is around him. Singer rents a room in her parents house which is a makeshift B&B and often quite a busy and frantic atmosphere, so Singer represents a sort of escapism where she can get away from everything and just enjoy the quietness of his presence.
Other characters attracted to Singer include Biff, a restaurant owner who opens all hours and has a soft spot for any disabled, poor or needy customers that walk through his doors, Dr Copeland, an African-American who is devoted to his work and patients, feels very strongly against racial injustice and feels he has failed in some way regarding his children, and Jake, an alcoholic fairground worker who also relies heavily on Singer for a sounding board to vent his furies about the world. All characters represent some form of loneliness in their lives and look to Singer almost religiously for help. There is also a strong theme of racial prejudice, which was prevalent in the South at the time the book is set (1930′s) and I found it very interesting and heart-breaking to read about. This is a beautifully written book and I can see why it is highly regarded as a classic, the reader is drawn into the world of the American South, and can almost see, smell, taste and touch everything that is displayed. I can't quite believe this is a debut novel and the author wrote it when she was only twenty-three, it reeks of a more mature and certainly very accomplished author.
Would I recommend it?:
But of course!
Star rating (out of 5):