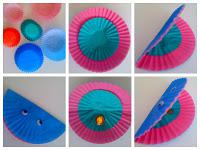 It's no secret that when you're onto a good thing you should stick to it, which is why I made yet another cupcake-liner / patty-pan craft for next weekend's mermaid-pirate party.  It's a craft activity for kids, which is fast (which kids like), affordable (which party-hosts appreciate), and super-safe because there's no cutting involved.
What you'll need:
Cupcake liners in different colours and sizes.
Google eyes (or a marker)
Stick on gems.
Glue.
Here's how to make them;
1.
Select 2 large and 1 small patty pan (cupcake liner) in different colours.
2.

Stick the 2 large patty pans together (so that the colours are visible on both sides).
3.

Stick the smaller patty pan on what will be the inside colour.
4.

Fold the shape in half so that the small patty pan is inside.
5.

Stick or draw

google-eys

on the outside.
6.

Stick a gem or pearl on the inside.
7.

Use your hand to open and shut the happy oyster and make him sing!
As always, click on the image for a better view,
or visit my website for
more inspirational images for mermaid parties
.