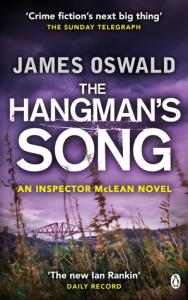 What's it all about?:
Book three in the Detective Inspector McLean series.
A young man is found hanging by a rope in his Edinburgh home. A simple, sad suicide, yet Detective Inspector Tony McLean is puzzled by the curious suicide note. A second hanged man and another strange note hint at a sinister pattern.
Investigating a brutal prostitution and human trafficking ring, McLean struggles to find time to link the two suicides. But the discovery of a third convinces him of malicious intent.
Digging deeper, McLean finds answers much closer to home than he expects. Something terrifying stalks the city streets, and bringing it to justice may destroy all he holds dear.
What did I think?:
I approached the third book in the Inspector McLean series with slight trepidation, I have to admit. I had finished The Book Of Souls and enjoyed it, that much was clear but I had a tiny issue with the supernatural element that was a bit of an additional surprise at the end of the second novel and to be honest, I wasn't sure if it was going to work. If you've never read any books in this series before, I guess you could read this as a stand alone but I think you'd be missing out on the characters back stories and other important events that have occurred bringing them to the situation that they find themselves in during The Hangman's Song. Therefore, I would highly recommend starting the series with the first novel, Natural Causes and going from there if you enjoy it.
Our male detective protagonist for the series, Inspector Tony McLean is back and has been seconded to the Sexual Crimes Unit after the events of the last novel. He becomes embroiled in a harrowing case involving prostitution and human trafficking but whilst he is attempting to work on this, another case comes to his attention. There is a hanging in Edinburgh, the victim is male and is, at first, assumed to be a suicide. However, when another young man is found dead in the same circumstances and then a third, Tony begins to smell a rat. Especially as he finds (amongst other evidence) that the same length of rope was used in all three deaths. Along with this, Tony is coping with some very intense circumstances in his personal life. Someone very close to him has been released from hospital but has regressed to a child-like state psychologically with little memories of past events so he is compelled to look after them and help them on the road to recovery. Will Tony manage to juggle three very complicated events in his own life and manage to find the connections? Or will he be at risk of losing everything that is important in the world to him?
I've tried to be deliberately vague in this review for fear of spoilers of course but I think that sums up everything you need to know about this novel. Generally speaking, I did enjoy it and I was compelled to read until the end, curious to find out exactly what was going on and how/if it would all be resolved. Luckily, I felt much more on board with the supernatural elements of the narrative. I think because it came as such a shock at the end of The Book Of Souls, I was much more prepared for it this time round and embraced it as an important part of the story. As to why it bothered me before, I'm not sure. Perhaps I thought I was reading a regular piece of crime fiction then the author threw in a magical curve ball right at the end and caught me off guard? Who's to say? Anyway, it felt much more believable in The Hangman's Song and I look forward to seeing how it develops in future books in the series. The one thing I'm definitely invested in the series for is the character of Detective McLean. I love his snarky humour, loyalty to his friends, traumatic events in his past and how he manages to deal with the difficult situations in his present. Hopefully I'll be reading the fourth book in the series, Dead Men's Bones sometime in the New Year so I'm excited to see where the story will go next.
Would I recommend it?:
But of course!
Star rating (out of 5):

Advertisements
&b; &b;