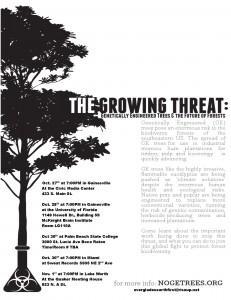 Check out the flyer/poster here. Help spread the word!
Starting next week, this roadshow is offering teach-ins and campaign building workshops across Florida featuring members of Global Justice Ecology Project, the International Campaign to STOP Genetically Engineered Trees and Everglades Earth First!
Genetically Engineered (GE) trees pose an enormous risk to the biodiverse forests of the southeastern US. GE trees are being promoted for use in industrial monoculture plantations for timber, pulp and bioenergy. GE trees like the highly invasive, flammable eucalyptus are being pushed as 'climate solutions' despite the enormous human health and ecological risks. Native pine and poplar are being engineered to replace more conventional varieties, running the risk of genetic contamination, herbicide-producing trees and increased plantations. Right now there are GE test plots all over the southeast and the USDA is currently considering commercializing them for the first time in history. It's not to late to stop it in its tracks!
Come learn about the important work being done to stop this threat, share you knowledge and let's work together in the global fight to protect forest biodiversity.
Stops for the roadshow are below:
Oct 27th Gainesville, FL at 7PM
At the Civic Media Center 433 S. Main St.
Oct 28th Gainesville, FL at 7PM
At the University of Florida
433 Newell Dr. McKnight Brain Institute Bld. 59 Rm LG110A
Oct 30th, Boca Raton, FL at 2PM RM#TBA
At Palm Beach State College Campus
3000 Saint Lucie Dr.
Oct 30th, Miami, FL at 7PM
At Sweat Records 5505 NE 2nd St.
Nov 1st, Lake Worth, FL at 7PM
At the Quaker Meeting House 823 N. A St.
For Any questions, please e-mail evergladesearthfirst [at] riseup.net
For more info please visit: stopGEtrees.org
Check out a printable fact sheet on GE trees here