The emergence of cloud computing services has created an entirely new way for individuals and businesses to view and interact with the Internet. Whereas it was previously used primarily to access and disseminate information, it can now be used to access private data and applications, turning programs into services instead of platform-specific installations.
There are numerous services that are often lumped together under the moniker "cloud computing", though the general term essentially means delivering computing services such as shared resources, software and information as a utility over a network. The intent of cloud computing is to provide a black box for clients that will meet their needs, scaling when necessary without requiring that clients spend weeks learning new systems.
One of the secondary effects of the rise of the cloud is the positive environmental impact of cloud servers. Though a 160,000 sq ft building filled with server racks and a mammoth cooling system might not seem like a green web hosting option, there's more to cloud hosting than is apparent initially.
Pooled Resources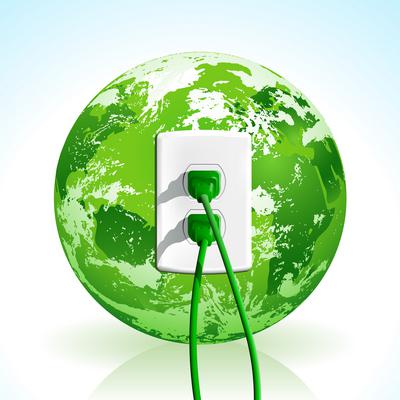 The main benefit of cloud computing for users is also the chief reason it's better for the environment than the traditional server model. In the old way, businesses would have dedicated servers running their email, website, file storage, development and anything else needed on a day-to-day basis. The problem with that model is that in order to have enough resources for everything, companies would have to purchase equipment that met more than their base needs in order to be ready for usage spikes. Any time a server isn't utilized to full capacity those extra resources are wasted.
When the cloud came along it solved all of that by allowing multiple clients to share the same physical servers and increase or decrease their access to server resources based on demand. This allowed more people to use fewer servers total while saving money and still receiving everything their business needed.
Fewer Upgrades
If most of a company's data is being processed in the cloud and employees are using cloud-based services for productivity the business's workstations could potentially see longer lives. Besides normal wear and tear, most businesses upgrade their employees' computers due to upgraded system requirements that come along with new and updated software. When all of those requirements are filled by a cloud service, employees' computers will require fewer upgrades and can possibly be switched to more minimal systems, such as thin clients.
Server Farm Specifics
Many companies that build dedicated cloud server farms decide to employ alternative, ecologically friendly methods of powering their buildings or find other creative ways to make their operations more efficient. Some companies build solar arrays or wind farms while others purchase their power from hydroelectric or nuclear plants (which are, if operated properly, more environmentally friendly than coal plants) to create green energy web hosting options. There are even plans being proposed that would allow some server farms to recycle the heat generated by their equipment and use it to warm homes and offices nearby, reducing or eliminating the need for other heat sources.
The development of cloud services has not only had a profound impact on the way IT departments around the world are organized, it has also helped pave the way for more environmentally responsible computing practices by companies both large and small. Any company looking for a green computing option would be well served to consider the feasibility of, and benefits from, switching to a cloud model. By increasing the efficiency of computing, the cloud is benefiting more than just its users.
Rackspace® Hosting is the service leader in cloud computing providing Fanatical Support® to customers across a portfolio of IT services, including Managed Hosting and Cloud Computing.