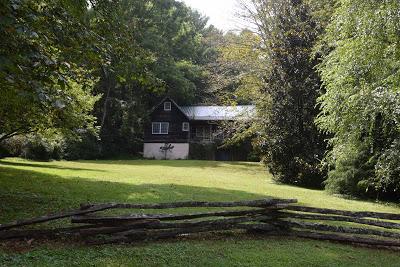 Once again we are looking for new tenants for The Gran House. As I wandered through it, taking pictures to accompany an ad, I remembered all the people the house has sheltered.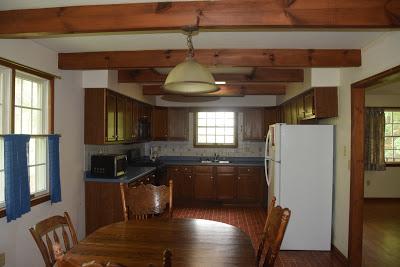 It was built in 1987 for my mother-in-law who was an invalid. Emphysema and osteoporosis had made it necessary that she not live alone and we were able to find a rotating core of caregivers for her-- while our boys and their cousin spent the night there in case she needed anything.  
She had a good time choosing the flower painted tiles in the kitchen and seeing her beloved shell collection installed in the front room.  Thanksgiving and Christmas were celebrated here .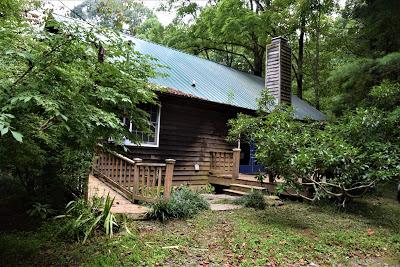 Since her death we've had a succession of tenants -- my sister-in-law Fay and her children, our son Ethan and his wife, the baby hippies (as we called them) who made marbleized fabric in the basement, several families with children, various couples, some of whom were looking for a permanent home elsewhere and. most recently, staff members of a nearby boarding school.
We've been fortunate in our renters -- no horror stories, thank goodness. Someday Ethan and Aileen hope to return but till then, we'll be hoping for some more good tenants to add to the history of The Gran House.  (This is what I'm saying in my ad -- if it sounds idyllic, it's because it is.) The Gran House was built in 1987 and is nestled amid the fields and woods of our hundred acre family farm.The house boasts a spacious kitchen and dining area with an adjoining laundry room. The dining area -- big enough for a large family table -- opens into the living room with its cathedral ceiling, bookshelves, stone fireplace, and French doors to the deck behind the house. There is a second room (perfect as a family room, media center, or office) with a door to the front porch where a porch swing and rocking chairs invite you to sit and watch the sunrise. The master bedroom on the main floor has a walk-in closet and its own bath. There is a second bedroom and another bath. Upstairs is a large space which can be used as one or two bedrooms, a studio, an office, an exercise room or . . .? The Gran House is twenty minutes away from Marshall, forty-five minutes from downtown Asheville. The school bus stops at our mailbox -- a quarter of a mile down the driveway. The house is heated with propane, supplied with well water, and there is A/C. An inground propane tank serves heater, stove, and hot water tank. The rent includes basic lawn care. High speed internet is available. We are two miles from the Barnard bridge -- the put in spot for white water paddling on the French Broad. The farm itself supplies hiking and birdwatching opportunities. Garden space is available, as is space to keep chickens (if you supply the coop.) Pets are welcome as long as they are compatible with farm life -- there are cows and chickens -- and with the various dogs and cats in our secluded cove. No smoking permitted in the house. For more information, contact Vicki at [email protected]