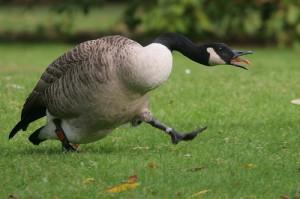 from: takemystockplease.com
Picture how painful it would be if a big ole goose got a hold of your left left nipple, clamped down it and pulled as it flapped it's wings to fly backward.  Okay, that's not really what happened, but that's what it felt like at my follow up mammogram.   Let's back track.   I went last week for my yearly mammogram… actually the last one I had was 3 years ago. The place I had it done, Cleveland Clinic Independence location, didn't have the new digital imaging so I had to wait for the films to develop. First films: too light. Second films: I don't know, the tech just sent me home.
A couple days later I got a letter indicating 3 spots were found. One on the left breast, 2 on the right. Greaaat. At first I thought… I don't have time for cancer. Or dying. I've got WAY too much to do. Plus, who's going to handle everything at home. Nope, can't happen. Then I started kicking myself for waiting 3 years between mammograms. If something is there — I just gave it 3 years to progress.  The first day I got the letter I sat there thinking about it for about 6 hours and actually caused deep pain in my breast.  Then I did something I always say not to do… I googled.  (I know, I know!)  As the day went on, I got my mind off it, and I was fine.
So I sat this morning in the waiting room of the Cleveland Clinic Beachwood office (they read the films on the spot!) in my chilly green hospital gown. Turns out the spot on the left breast was right smack on the nipple area. I thought a regular mammogram was painful, but this one had to zero in on the nipple and crush it. OH. MY. GOD. It felt like a big goose was clamping down and pulling on it. Twice. AFLACK!  (and yes, I know the Aflack mascot is in fact a duck.)
My heart goes out to all the women (and men) out there fighting a battle with breast cancer.  I wish you all strength, hope, and courage.  I encourage everyone to send positive energy and prayers to all of these brave souls and their families.
Turns out — for me — all is fine. I walked away having learned a couple lessons here today:
1.) Don't put off your mammogram! For God's sake just schedule it and go!
2.) Go to a place with digital imaging that reads it right there so you don't have to go back.
I was also reminded that even a "Zen person" needs to remember to keep their mind occupied with positive thoughts. Worry does nothing to help you, it only causes further grief.
If you are due or overdue for a mammogram, I want you to call right now and make an appointment.  After you do that, call a friend and ask them to do the same.  Think pink.