The famous adage "live life to the fullest" has been seen by many as an encouragement to live, laugh and love while living. While we are still breathing it is important for us, humans, to enjoy on whatever we are doing every minute of our lives. No wonder that there are a lot of people that resort to luxury as a way of enjoying life to its fullest.
Wearing a lot of gold and diamond studded jewelry is a part of showing luxury to some. There is even a famous boxer and RnB singer who wore gold teeth just for the sake of luxury, eh.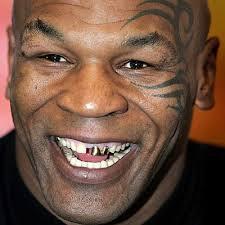 Luxurious smile? :)
So what is gold? Gold is a chemical element with a dense, soft, shiny, malleable and ductile metal. It has been a valuable and highly sought-after precious metal for coinage, jewellery, and other arts since long before the beginning of recorded history.
Gold also is all over the newest gadget from Danish luxury retailer Aesir that introduced the limited edition AE+Y phone,  an 18-carat solid gold handset that can't use apps, email, or mobile internet, but still carries a ridiculous price of 42,000 Euros (roughly $60,000). Though, the prolific device boasts groundbreaking features such as speed dial, call forwarding, and even a built-in calculator, its LCD screen measures a modest 2", and its battery can handle a measly 5 hours of talk time (ahem). Obviously, Aesir is focusing more on form than function. Aesir is also making a stainless steel version which will retail for a slightly less mind shattering $10,000. Both devices will debut this fall in Europe, and shortly thereafter in the U.S.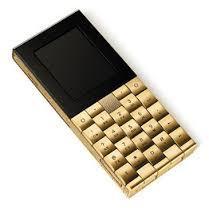 Too lavish to touch those gold keypad...
The gold rush is not just about technological innovation or should I say gold tech design but there are also people who found gold as a tasty appetizer. Gold leaf, flake or dust is used on and in some gourmet foods, notably sweets and drinks as decorative ingredient. Gold flake was used by the nobility in Medieval Europe as a decoration in food and drinks, in the form of leaf, flakes or dust, either to demonstrate the host's wealth or in the belief that something that valuable and rare must be beneficial for one's health. Hmmm need to ask medical practitioners in medical uniforms about this.
Check out these foods that you may want to turn into jewelry rather than eating them:
Chocolate Curls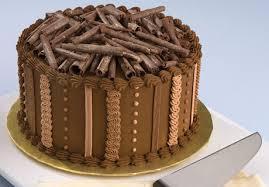 Making chocolate curls requires just four things; chocolate, gold leaf, a spatula, and a putty knife. While the ingredients are few, the curls are not so easy to make. Gold leaf is incredibly delicate and thin, so working with it requires the lightest touch. Otherwise, the sheets can crumble to dust. The chocolate also has to be prepared to exactly the right consistency: If it's not firm enough, it won't curl properly, and if it's too firm, the curls will shatter. 
Gold-Coated Cadbury Wispa Bar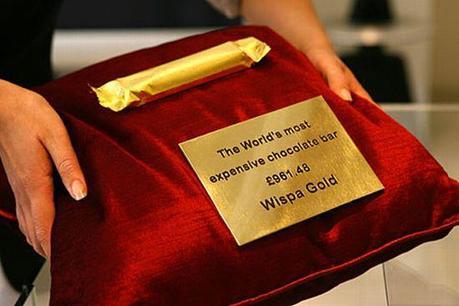 The Wispa chocolate bar was launched in 1981 by Cadbury UK and became available nationally two years later. It was discontinued in 2003, renamed "Dairy Milk Bubbly" and given a new shape, but fans of the original would have none of it. The Wispa bar made its triumphant return to British store shelves in 2007. One version of the bar was the caramel-filled Wispa Gold. It was relaunched in 2009 and discontinued in 2010, but after a Facebook campaign demonstrated huge demand for it, it was relaunched yet again in 2011. To promote it, Cadbury created a Wispa bar coated with gold leaf and enclosed in a gold wrapper. It sold for $1,630 , the value of the bar's weight in gold.

Ice Cream Sundae by Serendipity 3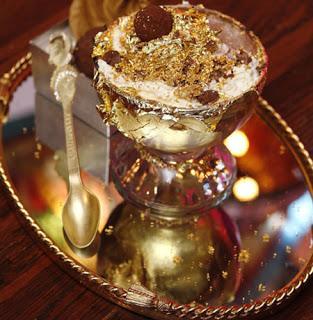 Serendipity 3 is a legendary restaurant on Manhattan's Upper East Side. It's been popular for decades with city residents, and even more so with tourists, many of whom have crossed oceans to sample its fabled hot dogs and ice cream dishes. The restaurant entered the annals of effrontery when it offered the "Golden Opulence" sundae in 2004 for $1,000. Three years later, it introduced the "Frozen Haute Chocolate," which cost $25,000 and made its predecessor look downright reasonable by comparison. Both were made with edible leaves of 24 karat gold.

Goldies
The Goldie is a version of the Hostess Twinkie made by organic chef Sarah Magid. Her recipe involves only five ingredients—cocoa powder, batter, butter cream, chocolate ganache, and gold metallic powder. Goldies are baked in éclair pans, which are specialty items that generally need to be purchased at bakery supply shops. 

Dark-Chocolate and Caramel Cake with Gold-Dusted Chestnuts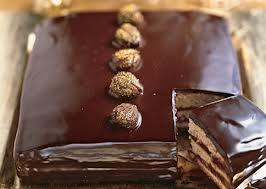 The Condé Nast-owned Epicurious.com website has upped the ante by featuring a recipe for the cake that includes gold-dusted chestnuts , making it truly decadent. The cake is glazed in a "sumptuous chocolate-caramel ganache" and sweetened with chestnut cream and brandy syrup. The chef must devote two full days to making the dessert, as the ganache alone requires all of day one and must be kept overnight. The gold dust is optional, but if you're going to slave away in the kitchen for two days, you might as well go all the way. The gold dust can be ordered through L'Epicerie .

Pizza by Domenico Crolla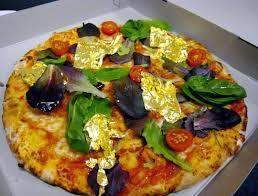 Probably one of the most expensive pizzas of all time.
Famed chef Domenico Crolla is one of the foremost artisans of Italian cuisine in the U.K. His restaurant, Bella Napoli, made its name by specializing in the exquisite, one-of-a-kind pizzas cooked in his brick oven. In 2006, Crolla auctioned one such creation on eBay. The "Pizza Royale 007" was decorated with toppings that you won't find at Domino's, such as caviar, venison, and 24 karat gold flakes. Attorney Maurizio Morelli ultimately won the auction, and he paid $4,200 for the privilege of taking it home.

Dragee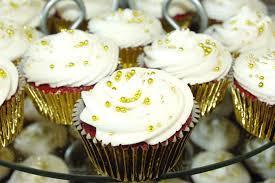 One of the most popular decorations for dessert items is dragees. The sugar spheres, which often look like miniature ball bearings, appear on top of birthday cakes, often leading to confusion over whether or not they can be eaten. The Food and Drug Administration has classified all metallic dragees as inedible. In Europe, however, it's a different story. No laws exist to regulate the consumption of these little nuggets, so dessert chefs can do their creations with metallic spheres to their hearts' content.

Gold Leaf Saffron Risotto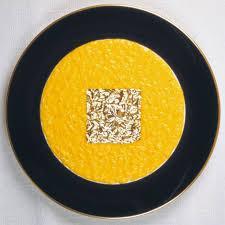 Risotto is one of the most popular rice dishes in Italy. One of the most common spices used in its flavouring is saffron, and this risotto forms the basis for a wide assortment of dishes. One such dish is gold leaf saffron risotto, made by Milanese chef Gualtiero Marchesi. Cooked in vegetable broth and served al dente, this light dish is garnished with edible gold leaves. The chef calls it "a dish of great elegance."

Barfi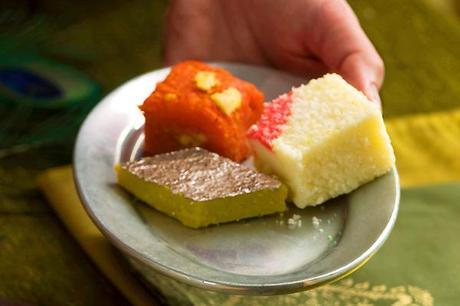 Barfi is a traditional milk-based dessert that's eaten in India, Pakistan, and the Himalayas. In some cases, the taste is similar to that of cheesecake, which accounts for much of its popularity. Its name comes from the Farsi word for "snow," and it can be made in different varieties with ingredients such as cashews or pistachios. It is often covered in a layer of edible gold or silver leaf.

Bagel by Frank Tujague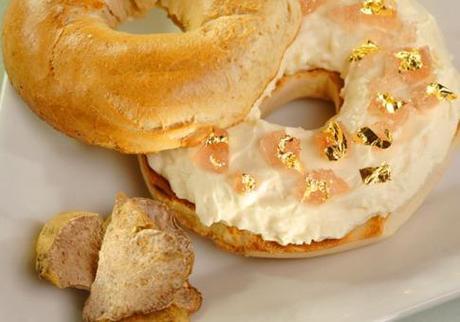 For a brief and glorious moment in 2007, guests at the Westin New York hotel in Times Square were presented with a unique opportunity. For a mere $1,000 , they could nosh on the world's most expensive bagel. The bagel was the creation of chef Frank Tujague, and all proceeds went to charity. Its high price was the result of the various luxury foods with which it was gilded, such as goji berry jelly, white truffle cream cheese, and edible gold leaves.

Gold Sushi by chef Angelito Araneta Jr.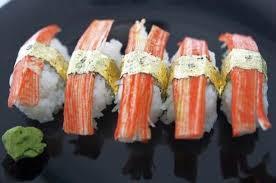 When it comes to gourmet sushi, Filipino chef Angelito Araneta Jr. has got the Midas touch. Araneta judiciously applies 23K gold leaf to his custom creations and at times even that isn't enough: the gold-wrapped rolls above are garnished with 12 local Palawan pearls and 4 (.20ct) African diamonds of VVS clarity.
Wow!
Danziger Goldwasser liqueur

Danziger Goldwasser is a traditional German herbal liqueur produced in what is today Gdansk, Poland, and Schwabach, Germany, and contains flakes of gold leaf. There are also some expensive (~$1000) cocktails which contain flakes of gold leaf.

So, what will be the effect of gold to our body? Will it give us fortune? Luck?  Or maybe eternal life? The fact is, metallic gold is considered inert to all body chemistry thus it has no taste, it provides no nutrition, and it leaves the body unaltered( ask your doctor wearing medical uniforms). haha. So practically speaking gold is not a treasure when it comes to the world of culinary health and the industry of  medical men and women in medical uniforms, eh.
Sources: Google Images | Wikipedia | 24 Karat Cuisine | 
Solid gold phone with a $60,000 price tag