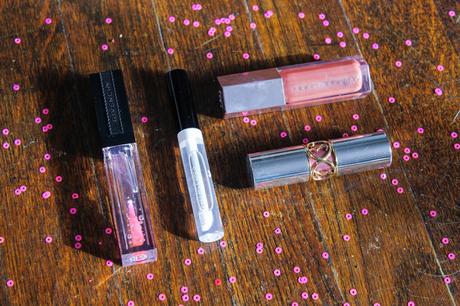 If you personally know me, you would know that I prefer glossy lips over matte lips. Well, the question has never popped up in a conversation before so I am not mad if my friends did not know that.
I have naturally, uber dry lips that seem to look quenched regardless the amount of lip balm I apply. So applying a matte lip takes preparation and care, but glossy lips tend to fit my personality and be less maintenance. I thought it would be fitting to share some glossy lip favorites.
A new addition is theGivenchy Gloss Interdit Vinyl* in "N1 Rose Révélateur." I talked about this in my previous post, but to sum it up, I really enjoy it. It has a gel consistency rather than the traditional runny formula, but it still shines like a normal gloss.
A surprising edition is the Wet n Wild MegaSlicks Lip Gloss* in "Crystal Clear." I got this gloss two years ago on a whim. I have no clue why (ok, I had a CVS coupon) but what I like about it is that I don't feel bad about mixing it with other colors. Like getting some color on the wand and turning the gloss anything but clear. However, since it is my only gloss, I like to put it on the back on my hand and apply it with my fingers. Formula-wise, it is nice! Not too sticky and it has a nice shine.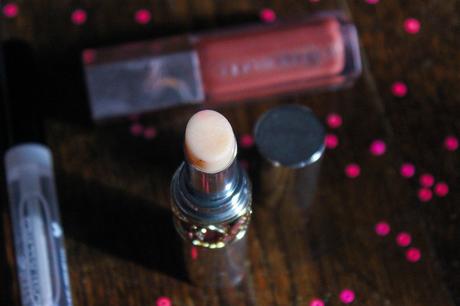 Does the Fenty Gloss Bomb* need an introduction? It is hands down my favorite lip gloss. I love the color and the applicator and color look beautiful. It is the perfect color for any makeup look you decide to do, maybe that is why it is called the universal gloss bomb!
Finally, an old favorite: the YSL Volupté Sheer Candy* in "Juicy Grapefruit." I don't think YSL makes these lipsticks anymore, but I think they rebranded them as the Volupté Tint-In-Balm*. However, this is a very interesting lipstick. It is not a gloss but it does give the lips a pretty sheen. I really like using this over my natural lip color when they decide not to look dead.
What are your favorite lip gloss products? Let me know in the comments below :)
Happy Wednesday!