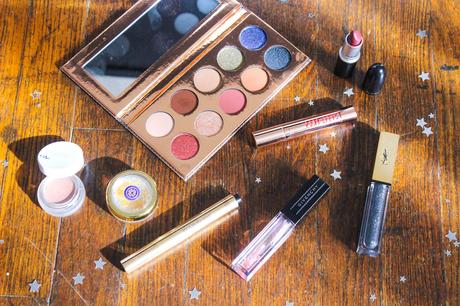 Hello everyone. It has been a hot minute since I posted something here - three months to be exact. I have been very busy with school, work, my internship (which ended Sunday) and just life. Now that I have a tad bit more time, I thought it would fitting to make my return.

I thought I would sit down and write a little post about products I have been using for the past few months. If you have a second, please let me know if you have tried any of these products below.
I'm going to keep it real with you guys and say that I have been using a lot of the same products for the past few months. However, I do some new bits added to my collection that I think you guys will enjoy.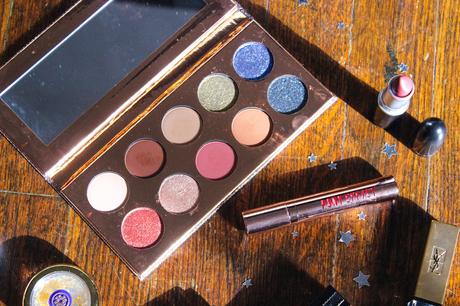 For the past three-four months, I have been using either the Urban Decay Naked Heat Palette* or single eyeshadows. However, I got the Dose of Colors x Desi x Katy Friendcation Palette* recently and I adore it. The palette has a wonderful selection of colors that I have not seen in an eyeshadow palette in a while.
There is a selection of neutral matte shades that are so common, I am not surprised that they were included in this palette. With that being said, I feel the selection of the neutral shades are great because the colors are wearable for any skin tone and they are unique to one another. Meaning they are not variations of the same color.
I think the shimmers speak for themselves, honestly, they are gorgeous. We have that deep navy blue that was popular about a year and a half ago and a black shade that has a tinge of green to make it unique from other black eyeshadows. My favorite is "Just a Kiss" which is a gorgeous glistening champagne color. One of my favorite makeup artists, Nam Vo, uses it as an inner-corner highlight, I tried it and received endless compliments.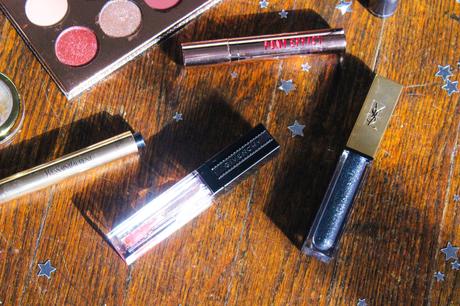 I have not been experimenting with new lip colors - I still stick with my Glossier Sheer Matte Lipstick in "Crush" (currently not available on their website) and Fenty Gloss Bomb* - however, I have found some new products.
For lipstick, I have been using a Mac Lipstick* in the color "Del Rio." It is a pretty brown with a plum undertone. I am still on the hunt for a true brown lipstick but "Del Rio" has been the closest true brown that suits my skin tone.
Jumping into glosses, I have been using the Pony Effect Favorite Fluid Lip Tint in "Cherished Values." Very reminiscent to the YSL Glossy Lip Stains*. Applies the same and blends the same (meaning it applies very opaque and sheers out). The color is very pretty because it is bright enough to be like "bright lip" but it is not overpowering. Like I said, it is a lot like the YSL Glossy Lip Stain, however, it is not as buildable as one.
Finally, I never thought in my lifetime I would purchase something from Givenchy. The Givenchy Gloss Interdit Vinyl* in "N1 Rose Révélateur" has become a new favorite of mine. It is a clear gloss but the formula resembles more of a gel than gloss. You still get that traditional glossy lip from the product. Also, something interesting about this product is that it gives off a slight rosy glow even though the color is clear.
A mascara I have been liking recently is the YSL Vinyl Couture Mascara* topper in "7- I'm The Storm." It is not a mascara with any revolutionary purpose like lengthening or separating - rather it is sparkly. I apply this after my L'Oreal Telescopic and it adds a sparkly and vinyl-esque layer of mascara. Super cute. It does have a strong fragrance (like a chic perfume), but I like the scent and it does not irritate my eyes.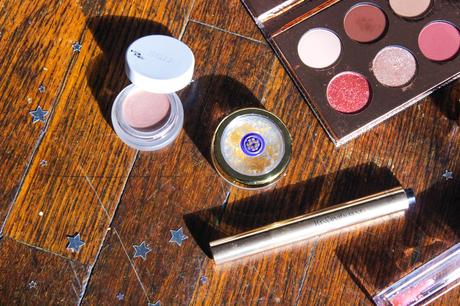 Bronzer is something I am still learning how to use; I am very bad at it. I have been using some RMS products for the past year, so I decided on getting the RMS Burti Bronzer* and I am very pleased with it. It is a golden cream bronzer that blends pretty well into the skin. It is not too heavy and it looks really natural on the skin.
For lip prep, I adore the Tatcha Camelia Gold Spun Lip Balm*. I don't use it as a normal lip balm, I use it as a prepping lip balm for my other lip colors. It is rich enough to absorb into your lips quickly and when you wipe it off, there is a bit left leaving your lips moisturized but it does not interfere with your lip color application.
Finally, its time for concealer! I took the plunge and bought the YSL Touche Eclat* in "5 Luminous Honey. I know there are mixed feelings about this product but I really like it. I like the applicator and the color matches my skin well enough that I get that brightening effect without having to go lighter in color.
That is it! If you have read all the way to the end, thank you! I will be uploading a bit more in the coming weeks. Tell me in the comments below what new products you are using.
Happy Friday ^_^