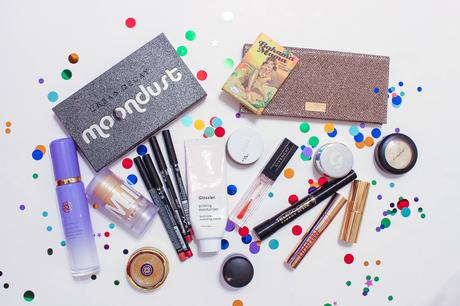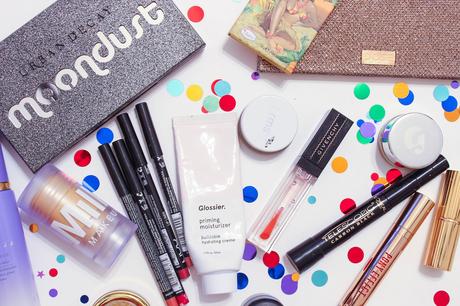 Hello everyone~ Long time, no talk. I am officially on winter break, which means I can finally read and write for fun. You know stuff that would otherwise be considered work during the semester.
I thought it would be fitting to start wrapping up my 2018 and do my coveted year-end beauty favorites post. I am going to keep it real with everyone and say I have not been wearing a lot of makeup recently, but I do have some favorites I would like to share. Also, sorry, but a lot of this stuff was in the Products I have Been Loving Recently post from a month ago.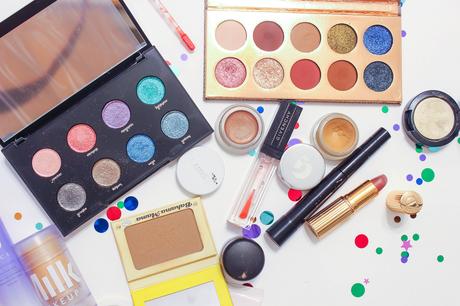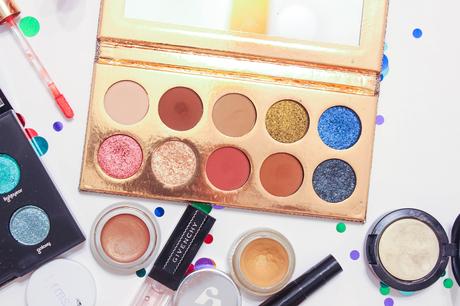 Starting with palettes, I have been loving the Urban Decay Moondust Palette* this year. I was very skeptical about it at first since it is a palette with eyeshadows with a certain finish. And although I LOVE glitter, I did not know if the eyeshadows were true glitter eyeshadows or just shimmer ones. However, they are glittery and have a beautiful sparkling finish.
Next is the Dose of Colors Friendcation Palette* (I talked about it here) and to get straight to the point, I adore this palette. This has become my ideal travel palette because it contains shadows I use every day and some colors to spice up a look. My favorite color is "Just a Kiss" because of pretty and sparkling it is (its the bottom row, second from the left).
The Mac Cream Colour Base* in "Pearl" has been a go-to inner corner highlight for a long time. The color blends well into the inner corner and it has a yellow base making it ideal for people with warm skin tones.
Mascara of the year goes to the L'Oreal Telescopic Carbon Black* Mascara. This mascara lengthens, lifts and separates my lashes beyond belief. I have not used a mascara as well as this one.
I talked about this last year, but the Glossier Stretch Concealer* is undefeated in my makeup collection. The finish and the color are absolutely amazing, and I would honestly recommend it to everyone - well, as long if you don't have oily skin.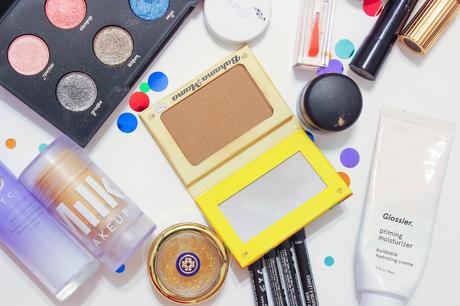 Since I am already talking about Glossier, I wanted to talk about my favorite priming duo. If you have been the blog for a while, you would know I have a love-hate relationship with foundation primers. However, for the past year, I have been LOVING to use the Glossier Primeing Moisturizer* (talked about it here) with the Milk Makeup Blur Stick* (talked about it here). I do the Priming Moisturizer all over my face and then apply the Blur Stick to any problem areas. Perfect base.
I have finally been experimenting with bronzers this year and I have been liking two: theBalm Cosmetics Bahama Mama* (talked about it here) and the RMS Buriti Bronzer* (talked about it here). I like the Bahama Mama bronzer because it adds a nice balance of warmth to my face (NC 40-42). The Buriti Bronzer has been a lot more experimental for me because it is not like traditional bronzers. I like to think of it as a cream bronzer with a skin filter finish (if that makes sense). The way I think of it is that is a tan you would get from frolicking on the beach for a day. Tan with some gold elements.
I am going to jump into talking about Tatcha for a second and mention two things that won me over this year: the Dewy Skin Mist* and the (talked about both here). The Dewy Skin Mist is something you have probably already heard of, so I am going to say it adds a beautiful finish to the skin, and I like that it has a wide angle spray and it is a fine, distributed mist when sprayed. The Camellia Lip Balm has become a huge favorite of mine when it comes to preparing my lips for lip products. I don't use it as a normal lip balm, but consistency is like jelly and it absorbs fairly quickly. Perfect for lip prep.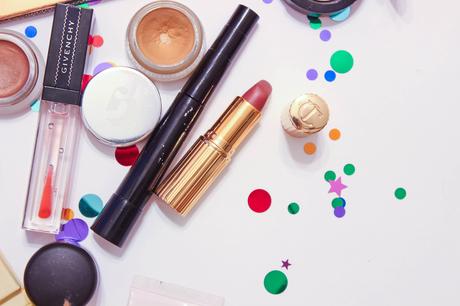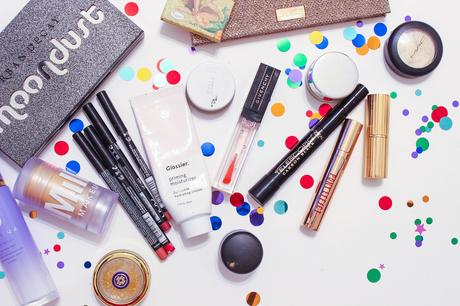 Sliding into lip products, I love the Givenchy Gloss Interdit Vinyl* in "N1 Rose Révélateur" (talked about it here). I am a huge fan of the clear gloss. My lips are difficult to work with because of their shape, so I usually opt for a gloss. I really like this gloss because it has a jelly texture and has a beautiful shine.
Then I have the Pony Effect Favorite Fluid Lip Tint in "Cherished Values" (talked about it here). Like I said in one of my previous blog posts, this product is very reminiscent of the YSL Glossy Stains, which is one of my all-time favorite lip products. I also really like the color as something to really brighten up my look when I feel blah.
I have the Charlotte Tilbury Lipstick* in "Very Victoria" (talked about here). I have a lot of trouble finding lip colors that suit me so I was very skeptical of this lipstick. However, everyone's favorite princess, Meghan Markle supposably always wears this lipstick. I decided to give it a shot and I have not looked back. It is a beautiful color and I would recommend it.
An honorable mention: The NYX Slim Lip Pencils*. They are pretty cheap and they have almost every color you might want and the quality is good. I am not well versed in the world lip liners but these do the trick.
That is everything! Like I said, a lot of this stuff are items I have mentioned before. Also, I have a mega beauty haul next. LIKE HUGE. I don't know if I will split it up or just do one mega post. Time will tell.
Again, thank you for reading! Let me know in the comments what beauty products you have been loving in 2018.
Happy Wednesday ^_^
_
Other Readings:
Products I Have Been Loving Recently
2017 Beauty Favorites
2016 Beauty Favorites
2015 Beauty Favorites
2013 Beauty Favorites