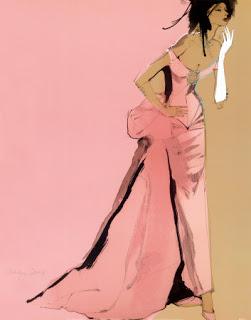 Once upon a time, there lived a girl. And she lived for fashion.
The girl wanted to be a designer when she grew up, but she did not wish to go through any extensive training. As luck would have it, people in her village were beginning to crave a trend that suited their laziness. So she cut them pairs of sweatpants in every fit and color, and she called them couture.
Soon the girl was known in other villages far and wide. Everyone loved her couture sweatpants

—


everyone, that is, except for the people who actually knew what couture was. The girl was desperate for their acceptance. She created dresses and jackets, handbags and shoes. She launched a fragrance. Once again, she called them all couture.
People loved her collections. Every shop in every village carried them. Yet still the fashion world ignored her. They laughed at her behind their fans, even though they all secretly owned her sweatpants. The girl could not stand this. She packed up her things and flew to the other side of the world.
For ten years, she studied every couturier in the history of fashion, from Rose Bertin to Azzedine Alaia. She learned how to cut and sew, how to drape and fold. The girl returned, triumphant, to the fashion world. She unveiled her collection of gowns. They were spectacular. They were truly works of art. She called them what they were: Couture.
But no one believed her.
The End.