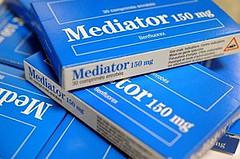 Those of us who were practicing medicine back in the mid 1990's recall the amazing "miracle pill"  Fen-Phen, a combination of two drugs called fenfluramine and phentermine, that resulted in rapid weight loss.  Its popularity was short lived, however, when it was discovered that the two medicines together could cause damage to heart valves and a serious lung condition called primary pulmonary hypertension.  The pills were pulled off the market by its manufacturer Wyeth Ayerst, eventually costing the pharmaceutical company over 21 billion dollars in legal settlements with those who claimed to have been damaged by Fen Phen.
In an odd case of "déjà-vu" French officials announced recently that Mediator, a drug licensed for use by diabetics that became widely used in France for over thirty years as a slimming aid, probably caused at least 1,300 deaths. The drug was originally developed to reduce lipids, but was found to be effective in helping diabetics maintain control of their blood sugar.  When it was also noted to suppress appetite, the drug ultimately gained approval in France to help diabetic patients who were obese lose weight.  Eventually, the drug became widely popular among non diabetic patients who just wanted to shed extra pounds.
In 2009, the drug was removed from the market by its French manufacturer Servier amidst allegations that were hauntingly similar to those against Fen Phen.  A number of users of Mediator had heart valve damage or developed primary pulmonary hypertension. 
The data, which was compiled by the French National Health System, was pulled primarily from the records of those who died from faulty heart valves among major users of the drug.  The statistics likely underestimate mortality rates, as they did not include users who may have died from primary pulmonary hypertension.
Mediator's generic name is Benfluorex, and is an amphetamine derivative just like the two drugs that made up Fen-Phen. Despite the wide publicity surrounding the adverse effects of Fen-Phen, and suspicion for years that Mediator had identical problems, the medication was taken by over 5 million French between 1976 and 2009.  Investigations are underway and lawsuits have already been filed, citing negligence on the part of Servier and French regulatory agencies.
Travelers to other countries should be careful about taking drugs that have not been properly vetted.  Mediator was never approved for use in either the United States or the United Kingdom.
Photo by DES Diethylstilbestrol.