For the first part, we will explore
Luneta
and the
National Museum
, which could enlighten us through portions of Filipino history and identity. We continue on by foot to
Intramuros
, which is nicknamed "walled city," and know more about the Philippines during the Spanish colonial times. The other two stops are the
Cultural Center of the Philippines
and a glimpse of the alluring sunset at
Manila Bay
.
Read more…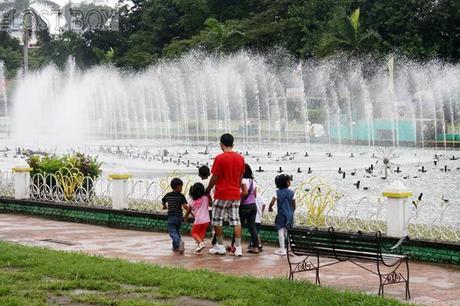 FIRST STOPLuneta and the National Museum: History and Identity
Nearby LRT-1 Station: United Nations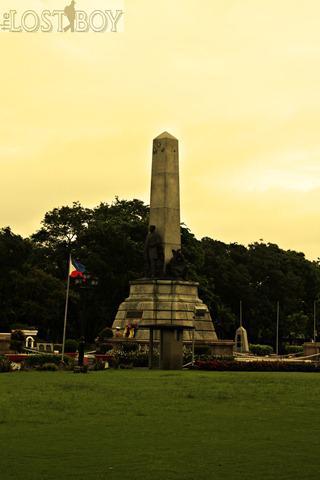 Luneta
, formerly Bagumbayan,
is of historical significance, mainly because this is where our national hero, Dr. Jose P. Rizal was killed after he was condemned to death by firing squad by the colonial Spaniards for rebellion, sedition, and conspiracy. That fateful morning on December 30, 1896 sparked revolts, most notably from the Katipunan.
It was also the site of execution for the three martyr priests, Mariano Gómez, José Burgos, and Jacinto Zamora, who are known collectively as the Gomburza. They were implicated in the 1872 Cavite Mutiny and were killed by
garrote
for subversion.
In what is now likewise known as
Rizal Park
is
Rizal Monument
, a structure made of bronze and granite by Richard Kissling and perpetually guarded by two ceremonial guards. It is where the remains of Dr. Rizal were fittingly interred after they were unceremoniously buried by the Spaniards into an unmarked grave in Paco Cemetery. A life-sized diorama reenacting Dr. Rizal's death is also found nearby.
Luneta is not just a historical park. Rather, it has recreational attractions, including Japanese Garden, Chinese Garden, an orchidarium, dancing fountains, and a playground. A relief map of the Philippines and a
One-Stop Jose Rizal Heritage Trail
can be found as well.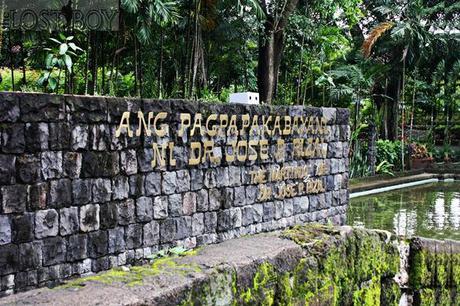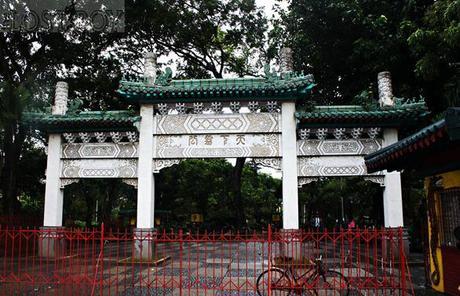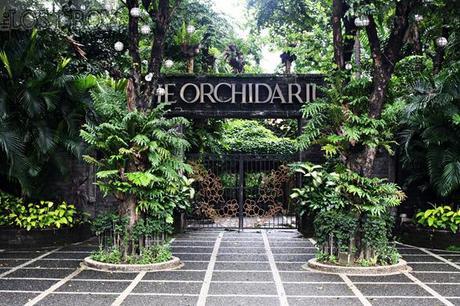 How to get there: The convenient entry to Luneta is at T.M. Kalaw St., which is adjacent to United Nations LRT Station. The entry road, General Luna St., is across Methodist Church (Google Maps).
The
National Museum of the Philippines
serves as the official repository of the country when it comes to natural history and ethnography. Established in 1901, it has two major departments: the
Museum of the Filipino People
that houses the museum's anthropology and archeology divisions and the
National Art Gallery
. Exhibitions relating to the natural sciences and a planetarium are also in the museum.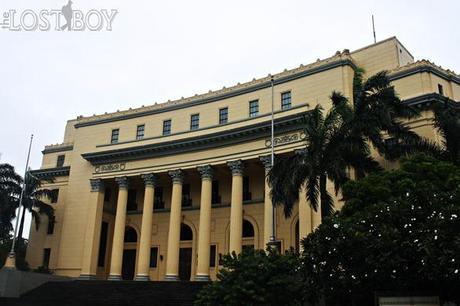 Museum admission costs only 100php (~2.50 USD) for adults and 30php (~0.70 USD) for students. Planetarium admission is separate but minimal. The museum is open Tuesdays through Sundays from 10AM to 5PM, and walk-in museum admission is free on Sundays. The museum's website can be found
here
.
How to get there: The entry to the National Museum is near Luneta (Google Maps).
SECOND STOPIntramuros: The City Within Walls
Nearby LRT-1 Station: United Nations or Central Terminal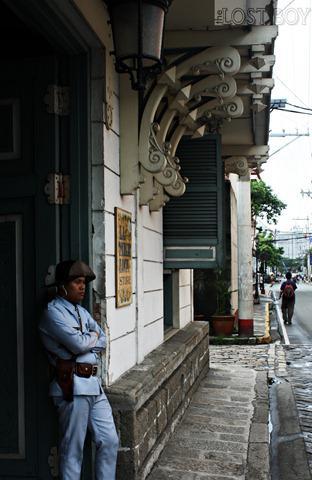 Intramuros, with a moniker "walled city," used to be the nucleus of political, militaristic, and religious activity of the colonial Spanish regime here in the Philippines. Completed in 1606, Intramuros is oldest district of Manila, which was then chosen to be the Philippine capital by the Spaniards for its strategic location and resources.
The defining feature of Intramuros is its medieval wall fortification, which was installed mainly because the seat of power of the Spanish government here in the Philippines was historically located within its bounds. Back then, there were constant threats from foreign colonizers, most notably from the British and the Dutch, thus prompting the Spaniards to enclose the 64-hectare parcel of land by 8 feet thick and 22 feet high walls.
The Spaniards filled the walled city with churches, convents, and schools that were run by the four foremost religious orders: the Augustinians, the Jesuits, the Franciscans, and the Dominicans. The Governor's Palace, the domain of the governor-general or the viceroy of Spain in the Philippines, used to be in Intramuros before it was transferred to Malacanang Palace after an earthquake destroyed it in 1863. Lastly, protecting the walled city is Fort Santiago, which was built at the mouth of Pasig River.
World War II brought about massive destruction to Intramuros. However, Imelda Marcos, wife of Former President Ferdinand Marcos, tasked the Intramuros Administration to restore the walled city because of its rich heritage. While nowadays the walled city is in dire need of better restoration efforts, Intramuros is still very much worth exploring.
First among Intramuros' noteworthy stops is the
San Agustin Church
, which was built in 1570 and thus holds the title of being the oldest church in the Philippines. It is likewise one of the four "Baroque Churches in the Philippines" to be inscribed by UNESCO into the World Heritage List in 1993. Interred inside the church are the remains of Spanish conquistadores, Miguel Lopez de Legazpi, Juan de Salcedo, and Martin de Goiti; and the remains of Filipino statesmen, Juan Luna, Pedro Paterno, and Trinidad Pardo de Tavera. There is also a museum that serves as a repository of religious artifacts and art.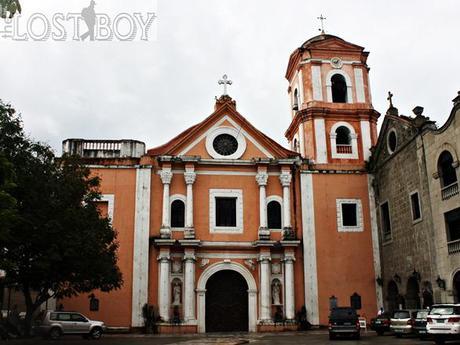 Meanwhile, a few meters from San Agustin Church is the
Manila Cathedral
, which on its sixth and current structure completed in 1958 has been named a minor basilica by the late Pope John Paul II in 1982. The basilica honors Our Lady of Immaculate Conception and serves as the seat of the Archdiocese of Manila.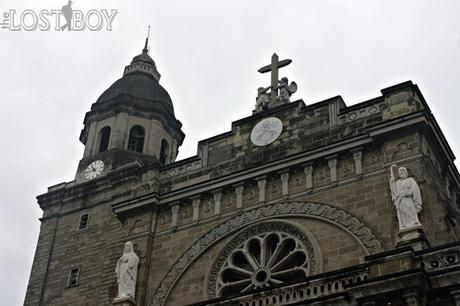 Finally, near the Manila Cathedral is
Fort Santiago
, which was built as a defense fortress in the 16th century. But more importantly, this is where Dr. Jose P. Rizal, our national hero, was incarcerated before his execution in 1896. Inside the present Fort Santiago is
Rizal Shrine
, which has a model of Dr. Rizal's detention cell. Also on exhibit are his overcoat, copies of his works, and his vertebra with a bullet embedded. Admission into Fort Santiago, including Rizal Shrine and other attractions, is minimal at 75php (~1.80 USD) for adults and 50php (~1.25 USD) for students and children.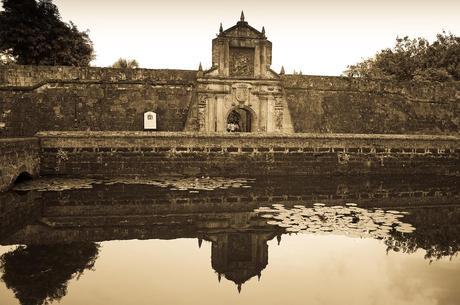 Photo credit: yeheii
Exploring Intramuros is not limited to the abovementioned stops. A lot of colonial structures are built within the walled city, including the
Governor's Palace
. There are also several elegant restaurants and cafes serving Filipino and Spanish fare. Know more about Intramuros through the website of the Intramuros Administration
here
.
Refer to the map below by the Intramuros Administration: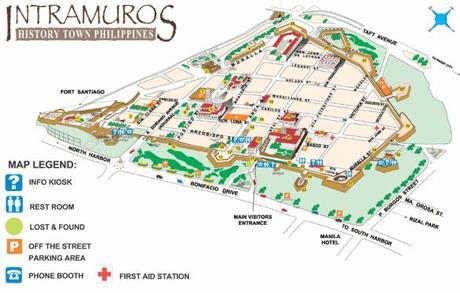 How to get there: Intramuros can be walked from Maria Y. Orosa St., which bisects Luneta and is relatively proximate from United Nations LRT Station (Google Maps). Landmarks are Puerta Real and Muralla St., which are right in front of Pamantasan ng Lungsod ng Maynila. Alternatively, from Central Terminal LRT Station (Google Maps), one can walk to Intramuros through Padre Burgos St. To get around, one may hire a horse-drawn carriage or kalesa, or a bicycle rickshaw or pedicab. However, Intramuros is better explored on foot.
THIRD STOPCultural Center of the Philippines
Nearby LRT-1 Station: Vito Cruz
The Cultural Center of the Philippines was inaugurated in 1969 to promote and preserve arts and culture in the Philippines and to be known as a mecca of culture and the arts in Asia. Established by virtue of the late President Ferdinand E. Marcos' Executive Order No. 30, it comprises several theatres and exhibit halls.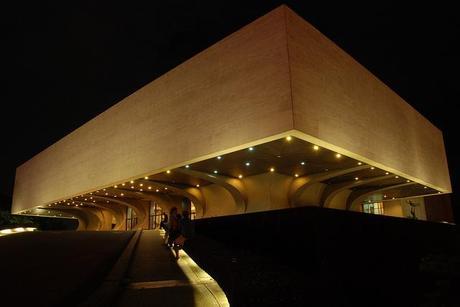 Photo credit: jmannion
Aside from its galleries, the CCP also houses the
Museo ng Kalinangang Pilipino
or the CCP Museum, an integrated humanities museum. It displays the works of some Filipino traditional artists and showcases Filipino artistic traditions. It also has a collection of traditional Asian musical instruments from the Philippines, Japan, Indonesia, India, Thailand, China and Korea.Admission into the museum is only 40php (~1.00 USD) for adults and 20php (~0.50 USD) for students and children. The museum is open Tuesdays through Sundays, 10am to 6pm. Know more about the CCP through
here
.
How to get there: From Vito Cruz LRT Station, find the CCP orange jeepney terminal near Rizal Memorial Stadium (
Google Maps
). These jeepneys will drop you off at the CCP (Google Maps).
FOURTH STOPThe Manila Bay Sunset
Nearby LRT-1 Station: Vito Cruz
After a day of touring and walking, you may want to see the picturesque sunset of Manila Bay. Sit on one of the benches, jog, walk, or simply watch people pass by at
Baywalk
.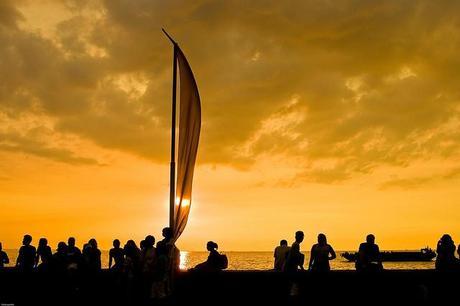 Photo credit: mikol_ice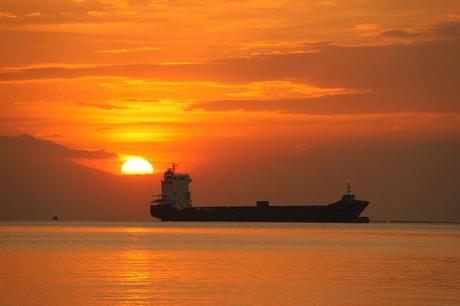 Photo credit: jiawenkillingtime
How to get there: A portion of Manila Bay is near CCP (Google Maps). If coming from Vito Cruz LRT Station, take the orange CCP jeepneys at Vito Cruz (Google Maps) and walk towards the bay.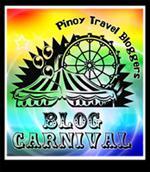 The Pinoy Travel Bloggers group holds a monthly Blog Carnival, wherein participating bloggers write about a singular theme. Mechanics and archives are found in Estan Cabigas' Langyaw page here. For the month of June, we write about Manila in focus as hosted by Angel Juarez of Lakwastero.