The Farm has been serving locally grown and produced food on Dawson Street since 2007. I've passed it many times and nothing has ever drawn me in. To be honest, until recently, I didn't think about where my food came from, who grew it or how far it'd traveled.
The horse meat scandal was a big eye opener and as a country I think we are definitely more conscious about food and its provenance. Thanks to some interesting chats with producers I've learned how we really need to focus on what we are eating and where it's coming from.
I suppose being mindful of food provenance has become the new cool thing to do but The Farm have been conscious of this for a long time now. Long before the horse went to France and came back as a frozen burger anyway!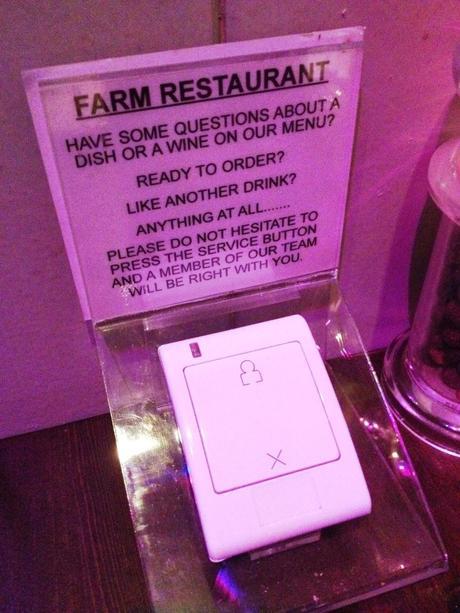 No need to shout "Garçon!" to get attention here! 
Initially The Farm looks small but the skinny exterior hides a much larger dining room. The decor is soft and simple with low lighting. They've created a nice warm, cosy atmosphere. I love the little bells on each table to attract the attention of the waiter. No trying earnestly to catch someone's eye here!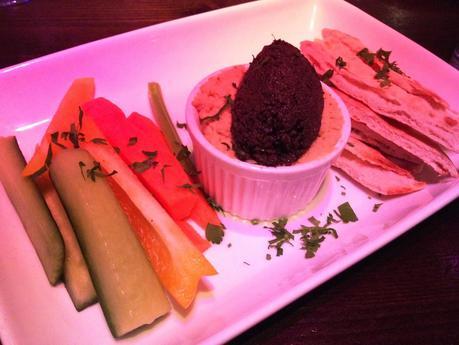 Simple but tasty veggies, pitta and a hummus and tapanade dip.
To start we had  hummus and black olive tapanade with pitta and vegetable crudites. Both the hummus and tapanade were homemade and delicious to boot.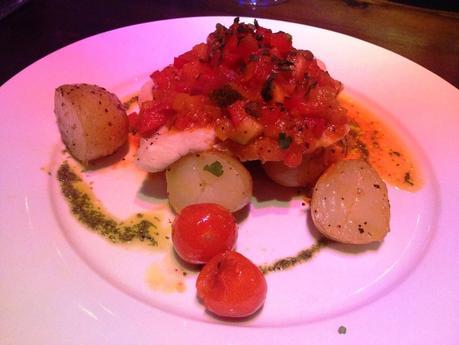 Grilled hake with a Provencal sauce.
The main course reads like a "who's who" of Irish produce, actually, there's a whole page dedicated to their suppliers and food provenance. It was a tough choice but I went for the hake with baby potatoes which came with a Provencal sauce. Perfectly cooked fish sat atop potatoes rolled in butter, herbs and sea salt. The sauce was fresh and had a real kick to it thanks to some tasty capers!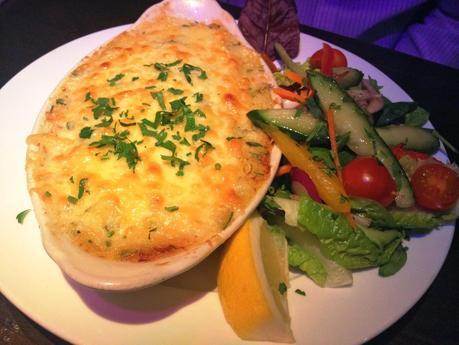 Perfect fish pie!
I was dining with a friend who has a great love for all things Irish and on this particular day he demonstrated his deep seated love for Irish food! He went for the fish pie which came with a generous side salad. Chucks of fish were mixed with the mashed potato and dill then topped with cheddar. It was a delicious, moist and satisfying dish.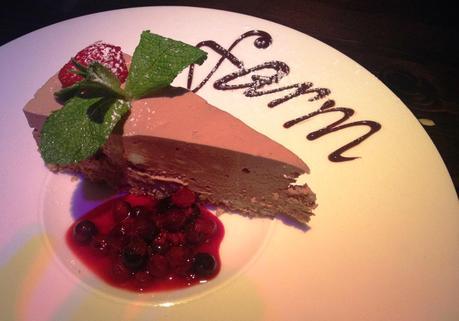 Decadent cheesecake.
For dessert we went for the Toblerone, Baileys and rum raisin cheesecake which comes with a berry compote. It had a lovely light and airy texture which belied it's deep rich flavours, perhaps not the most ideal dish to follow such heavy main courses but it was delicious and not a crumb was left on the plate!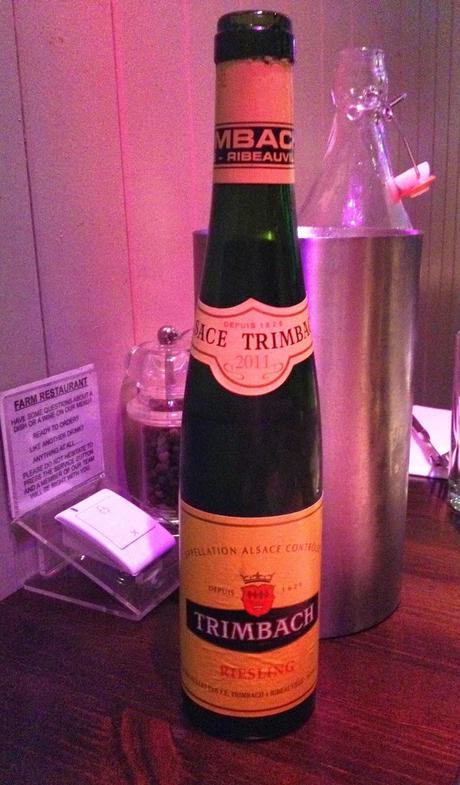 My new favorite thing - wines by Trimbach! 
I was delighted to see a half bottle of Trimbach's Reisling on the wine menu. I'd recently attended a wine tasting course in Donnybrook Fair and this was one of the goodies I uncovered. It definitely complimented our dishes well.
Will food provenance remain trendy? Will we always want to meet the man who grew our carrots or the woman who tended our chickens? Who knows? I dare say such things might fall out of vogue with the restaurant trade after a few years. The Farm isn't trying to be fashionable though and I'm sure they'll around when the next fad has worn off! Good local food, cooked well and decent prices are hard to beat!
The Farm
3 Dawson Street
Dublin 2
01 671 8654
Website