Having spent over two weeks in Joe's Valley, and also having gotten the low-down from friends who have previously been here, we have gained insight above and beyond the Insightful Guide. If you are planning your first trip there, or even if you have been before, read on for some useful information you might not have thought of. It may be getting a little chilly/snowy there soon, but bookmark this post for Spring/Fall 2013, and feel free to ask questions or make additions in the comments.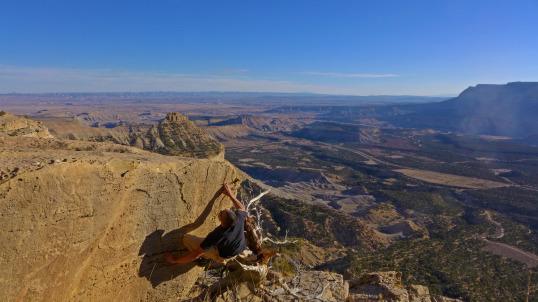 Hike a little bit further and you might find a new boulder! Spenser high above New Joe's and Orangeville.
Fires
One of the most important amenities on any climbing trip is firewood. In Joe's, there are three options.
The first option is to gather. PLEASE DON'T. Plants don't grow very quickly in the desert, and what's dead and on the ground is an important part of the ecosystem. The areas near popular campgrounds are picked through anyway, which means you'll be tempted to hack into a huge log that's being used as a bench, or something like that.
The second option is to buy it for the standard $6 per box at Food Ranch or another store. Good wood, bad price.
The third option: there are many trailers along the roads that are stacked with firewood, usually with a sign listing a phone number. Our favorite firewood source is also the closest to the camping. For $10, we filled the back of Bert, more than enough for several nights. The best part is that it comes from a family-run sawmill, and if people don't take the scrap, it's just a big flammable pile in their yard. I don't want to blow up the spot, so I'll leave it to you to find on your own. I promise it's not hard to find.
Pooping
You are reading a climbing blog, hence you know how important the morning glory is to the rest of the climbing day. The Food Ranch has clean bathrooms, but it's also about a gallon of gas to make the round trip into town. There are two options near your camping: either 2 miles up Left Fork or a mile and a half up Right Fork, you'll find a pair of port-o-potties. They're put there by the Salt Lake Climbers Association, and are kept quite nice. Please donate to help keep Joe's Valley poo-free.
Food
You're probably on a budget. The Food Ranch is the most popular (and closest) spot, but it's also pretty expensive. I like to patronize them anyway, as they are very friendly towards climbers, but if you eat at the Food Ranch regularly you'll likely be heavier and poorer than you meant to be.
Still, there is Food Ranch beta: Donuts go on sale in the afternoons, around 4 or 5. Get a dozen then (but the Butterfinger and Oreo donuts will almost certainly be sold out by then). Lunch items like pizza and such also go on ½ price sale, so if it's a rest day, just wait out the lunch rush for cheaper food.
For big grocery runs, Stewart's is the place. It's a few miles further but worth the drive. Produce is reasonable (they even had kale) and there's plenty of selection of other items.
There is no gluten-free bread in this vicinity, as far as we can tell, but they do have GF pasta and such.
Now, if you've a little more cash in your pocket, check out Dale's Meats in Huntington. Operated by Gordon Ungermann, this non-descript little garage can be hard to find, but it's worth seeking out. He pulls out a big hunk of meat from the freezer, you say how thick you want it, and he slices it off right there. It ends up being something like $7 per pound, and they're the best steaks we've had on this trip, hands down. If you're lucky, you can snag some jerky too. It depends on what he's got in stock. He can be found at 142 East and 300 North in Huntington. Call first to make sure he's there: 435.687.2276.
As far as eating out goes, there's pizza and there's pizza. Oh, and there's a sweet BBQ spot run by a nice lady named Kellie on Main street in Orangeville. She's open for lunch and dinner unless herself or her kids are sick. The brisket is gooood.
Camping
This is basically to say, don't worry about it. It's free and it's everywhere…if you pull up on a crowded Saturday, either crash with someone or just drive a little further. There are no demarcated sites or anything, so if you can find some space, you're in luck. Just be considerate if you're crashing someone's fire. Offer whiskey, something to smoke, or firewood. If you've got nothing, then either be funny or be quiet.
The Locals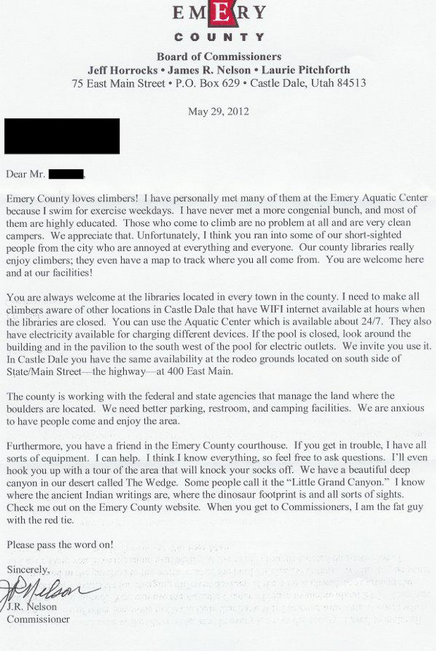 As climbers, we aren't too different from the usual people who live in and visit Emery County. Bouldering is one of the many outdoor activities that people partake in, and we tend to all get along pretty well. There is a huge network of 4×4 roads in the area, plenty of horseback riding, hunting (and poaching), and RVing, which is sort of an outdoor activity, I guess. On an unrelated note, we still are happy to be rid of the giant trailer.
The result is that the roads are well-maintained, the townsfolk don't give you particularly dirty looks if you're a climber, and people care more about the weather than anything else.
It should be noted, however, that climbing has by far the biggest draw in terms of out-of-towners. That means more money coming into town from out of state and even out of country. They treat their climbers well. The Food Ranch is littered with signs saying "We Love Our Climbers." I even met the County Commissioner James "JR" Nelson, who gave me his card and told me to call with any request for help. "If your car breaks down on a Sunday and nothing's open, call me," he said.
Of course, this is also Mormon country, as you probably know. Go easy on the Mitt jokes and things should be alright.
Booze
This is tricky. Utah is a 3.2% state, so anything you buy in the grocery store will be like having sex in a canoe (i.e., fuckin' near water). For real beer, wine, and hard liquor, you'll need to visit a State Liquor Agency. There's one in Castledale, but you must time your visits properly: it's open 12-7, Tuesday-Saturday. Selection isn't great, but there is a double IPA that weighs in at 9%.
I'm not sure about open containers or other laws, but generally the canyons are pretty safe from law enforcement.
Recycling
As far as we could determine, they don't.
Rest Days
There are 4WD roads EVERYWHERE. This is a very popular hunting/fishing area, and if you've got some time you should grab one of the OHV roadmaps that are pretty much everywhere and go exploring. There's a network of roads that we didn't get a chance to check out that will take you to the very top of the mesa above the confluence of Left Fork and Right Fork.
Further out, there's the San Rafael Swell, with some of the finest landscape in the country. The best part is there won't be throngs of tourists. Ask around for directions, just about anyone in town will be able to direct you to the Wedge AKA Little Grand Canyon
Triassic is another cool, trippy moonscape, with some very fun looking boulders. If Joe's gets too cold, drive 45 minutes down the road.