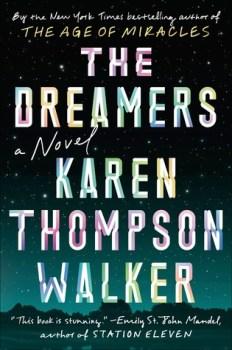 The Dreamers by Karen Thompson Walker
Published by Penguin, Random House on January 15, 2019
Pages: 320
Format: ARC, eBook, Paperback
Goodreads

A strange illness induces sleep and heightens dreams in an isolated college town, transforming the lives of ordinary people, in this mesmerizing novel by the New York Times bestselling author of The Age of Miracles.

A college girl tells her friends that she's feeling strangely tired. The next morning, when they find her in bed, she is still breathing–but she won't wake up.

Within a few days, another student, down the hallway, won't wake up.

As the sleeping sickness spreads, the town is turned upside down. We meet Ben and Annie, a young couple determined to keep their newborn baby safe; Sara and Libby, whose survivalist father has long prepared for disaster; Mei and Matthew, and other college students. A quarantine is established, the national guard is summoned. Yet, those who have fallen asleep are showing unusual patterns of brain activity. More than has ever been recorded in any brain–asleep or awake. They are dreaming–but of what?

With gorgeous prose and heart-stopping emotion, The Dreamers startles and provokes about the possibilities contained within a human life, when we are awake and, perhaps even more, when we are dreaming.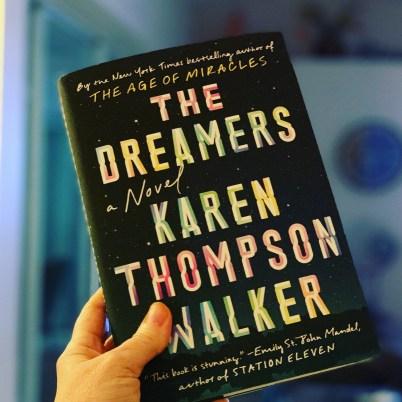 Today's book is The Dreamers by Karen Thompson Walker.  I had seen this book everywhere on social media so when I saw it available on NetGalley for review, I put in a request and my request was granted. Then, as it turns out, I actually received a copy of the book for my birthday earlier this year!
The Dreamers is a different sort of read for me, and since I hadn't read the cover, I didn't know what to expect. The theory of the book is a disease that is affecting a college town causing strange and vivid dreams with unstoppable sleep.  Not my usual read, but kept me turning pages…..
At a fictional university in Southern California, a student named Kara falls asleep after having left a party not feeling well and thinking she was coming down with something.  She arrives home to her dorm room, falls asleep in her clothes, and when her roommate, Mei, tries to wake her the next morning, she is unable. 
The doctors at the hospital can't even wake Kara, and then it happens – one person after another suffers from the same sleep occurrence.  Soon the town is attacked with panic thanks to this unknown and unnatural sleep disease.  No one seems to know why it's happening, or whether it is real or a prank. Doctors are not able to find a known medical cause either.  The people who are sleeping seem to show unusually high brain activity than is considered normal, whether they are asleep or awake and their brains are in a deep REM sleep stage. 
I found myself slightly panicked at times caught up in the story. Other times, I was baffled trying to figure out exactly what was happening to this community of people.  It was scary and captivating at the same time.  The Dreamers is a memorable, thought-provoking, insightful, and frightening page-turner.   I was in the mood for something different to read, and this book fit that bill perfectly!
Are you interested in an even better reading experience for The Dreamers? Thinking about reading this as a buddy read with a friend or a local book club?  Feel free to download the attached Guide to create the ultimate reading ritual experience and Discussion Questions for The Dreamers HERE.
---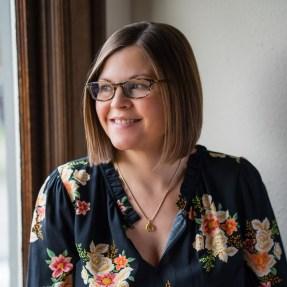 Karen Thompson Walker is the author of the New York Times bestselling novel The Age of Miracles, which has been translated into twenty-seven languages and named one of the best books of the year by People, O: The Oprah Magazine, and Financial Times, among others. Born and raised in San Diego, Walker is a graduate of UCLA and the Columbia MFA program.
She lives with her husband, the novelist Casey Walker, and their two daughters in Portland. She is an assistant professor of creative writing at the University of Oregon.
Connect with Ms. Walker on social media ~~
---
I received an advanced readers digital copy of this book from the publisher through NetGalley in exchange for my honest review. I was not required to provide a positive review.
---
https://14-in-2014.com/wp-content/uploads/2019/03/Dreamers.mp4
~ ~ ~ ~ ~ ~ ~ ~ ~ ~ ~ ~ ~ ~ ~ ~ ~ ~

It would be great if you would stay connected with me!! You can follow me on Twitter @DebiL1611, like me on Facebook at 2014 and Beyond, circle me on Google+, follow me on Tumblr, Instagram and Bloglovin', subscribe on YouTube, or connect with me on LinkedIn and Pinterest.

Please make sure to visit my homepage and subscribe to my blog for more great posts on running, fitness and lifestyle topics as well as food, product, music and book reviews, and more!