People world wide worship God in different forms….celebrate His Glory by different Names….But I personally feel that there is Only One Force in this entire world….Who sustains the life force on Earth…..Who protects and makes sure that All His children are safe and sound….Who like a mother cares for his devotees….and even punishes them for their wrong deeds and gets them back on the right path….It just that different civilizations have given them different names and worship them in different ways….This is purely because of the fact that they are able to connect to that central force whom we call as "GOD"…..Through the way they worship Him and know Him….So the form of the force that I have grown up worshiping is Lord Ganesha…..He is my God….My BEST FRIEND….the force behind my existence and all my successful pursuits!!!!
Lord Ganesha as we all know….is son of God Shiva and Goddess Parvati….He is Lord Karthikeyan's brother….and is married to Goddess Riddhi and Siddhi (although the story varies a bit in southern parts of India where it is believed that Lord Karthikeyan is married and Lord Ganesha is not)…..This post is to take you on a journey to two most famous places in India known for their cosmic connection to Lord Ganesha….
Most Famous-
Among the eight manifestations of Ganesh in Maharashtra popularly known as Asthavinayak….The most famous temple is Siddhivinayak Temple in Prabhadevi,Mumbai…..The temple has small hall with the shrine of the Lord Siddhivinayak….Siddhivinayak literally means "Ganesh Who grants all Your Wishes"…..The wooden doors of the temple are decorated with images of Asthavinayak….The inner roof of the temple is plated in Gold….This temple is one of the Richest temples in India….Siddhivinayak is well known as "Navasacha Ganapati" or "Navasala Pavanara Ganapati" in Marathi(which means 'Ganapati bestows whenever humbly genuinely prayed a wish') among devotees…..The Aarti on Tuesdays are when the temple is most crowded…..It is believed that one who worships Siddhivinayak wholeheartedly never goes empty handed….So,friends if you are in Mumbai…A trip to this temple should be high on your List….
The Siddhivinayak Temple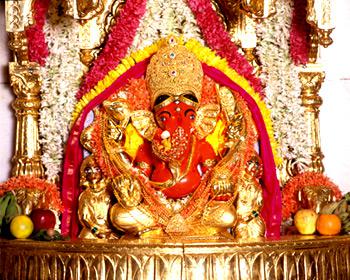 The Saffron colored Idol Of Lord Siddhivinayak
My Pick Of The Day-
My all time favorite was,is and will always be….Lalbaugcha Raja….the popular public Ganesha idol kept at Lalbaug,a prominent locality in Mumbai during Ganesh Chaturthi festival…..The idol is kept for public display for Eleven days….Thereafter it is immersed with much pomp on the auspicious day of Anant Chaturdashi….The pendal attracts lakhs of devotees during the festival and is the center of prime attraction…..Ganesh Chaturthi is festival which brings people from all walks of life together….It is most famous festival in Mumbai….All localities and associations in Mumbai have their own Mandals which organize this festival….Lalbaugcha Raja Sarvajanik Ganeshotsav Mandal is the organizer of famous idol of Lalbaugcha Raja….
The Mandal, formerly known as 'Sarvajanik Ganeshotsav Mandal, Lalbaug' was founded in the year 1934,because of a vow (Navas) for construction of the present Lalbaug Market at its existing place. The market place at Peru Chawl was shut down in 1932. Hence, the fishermen and vendors who used to sit in the open place vowed to Ganesha for permanent place for their market. With the consistent efforts and support of the then local Councillor….it was agreed to give a plot for construction of a market. As fulfillment of their wish, the fisherman and the traders established the Ganesh Idol on 12 September 1934. The idol was dressed in the customary fashion of fisherman. Since that day onwards, this Lord Ganesh has become popular as it fulfills the wishes of devotees…..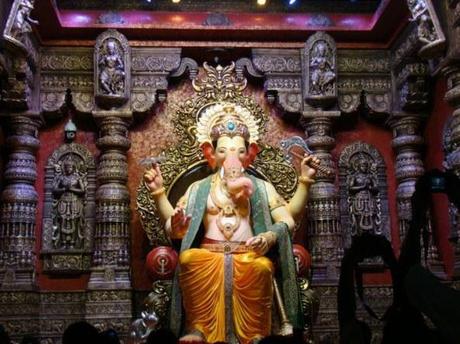 Lalbaugcha Raja-2011
So bow down to the Elephant headed God….and be blessed with Life time of Success,Joy and Happiness…. and most importantly PEACE….For He always is there for his devotees in their trying times !!!!