Monday
Beard Face began the Christmas week with his continued search for a job. Getting all festive he decided that it was time to apply for a job as one of Santa's elves. It was a bit late in the month to be offering his yuletide services and Santa wasn't exactly enthusiastic about the idea either. I'm not sure what it was but I'm guessing the old boy suggesting that all kids be given advice on taxes and pensions rather than presents may have been the clincher.
Tuesday
Even though he was already far too late, Beard Face made a last ditch attempt to secure the Christmas no.1 in the UK charts. This had already been achieved by some guy from X-Factor but facts like that don't deter the bearded one. Unsurprisingly, his composition was somewhat lacking in lyrical brilliance, musical aptitude and even festivity. Here it is, in all its whatever the opposite of glory is:-
It's Christmas, yeah, which means it's December.
There are days in December.
There are days in the other months.
These days countdown to Christmas though.
I suppose the others do too but not in the same way as December.
I don't wish it could be Christmas everyday because it's bloody expensive.
Not to mention it wouldn't work, you know, I mean think about it.
All that shopping, all that food, all those sodding lights and what's with a snowman's nose.
So let's boycott Christmas next year, what do you say?
Instead of Christmas let's make it a pajama day.
Yeah, pajamas are freaking awesome, man.
So, just like that, Christmas is gone and pajamas are here.
You can thank me later by buying me whisky or something.
I like whisky, absolutely love it, no matter how much it makes me sick.
Anyone over Christmas yet? Good. Knew it wouldn't take long.
Actually, I've changed my mind. Can we bring back Christmas?
This wouldn't be much of a Christmas song without it.
Is that it? Is that enough for a Christmas song?
It had better be because genius such as this is in short supply.  
What do you think? Riveting, eh?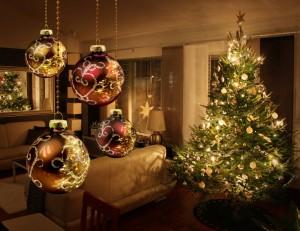 Beard Face and Frizzy Hair wouldn't put decorations up out of fear we'd knock them over. We would have done.
Wednesday
Christmas Eve was finally here and both Charlie and Buggles stayed up late to finally put their plans into action. Their target was to capture Santa Claus and interrogate him about everything he does. Somehow Charlie had the idea that Santa's career could be applied to war and to fulfilling his aspirations of world domination. Did Charlie have in mind to arm the reindeer with guns, have Santa drop bombs from his sleigh, that sort of thing? He didn't really say. Charlie and Buggles waited, and waited, and waited but Santa failed to show. Charlie could only assume that Santa had got wise to his scheme and steered clear of the Brown household. I knew the truth of course. Santa didn't come to see us because Beard Face was undeserving of gifts this year and the rest of us have to suffer along with him. Santa can be a real bitch sometimes.
Thursday
Christmas Day was finally here and despite my fears that there would be no presents, the house was actually filled with gifts. Beard Face and Frizzy Hair didn't get us anything but the rest of the family came up trumps and we enjoyed a plethora of tasty treats. My thanks to all of them. Beard Face got through the day in the usual manner of stuffing his face, saving no scraps for anyone, drinking a lot, farting, having imaginary conversations with someone named Denise and avoiding watching Christmas television. We missed the Queen's Speech but did watch Miranda later in the day. That aside, Frizzy Hair was content with puzzle games while Beard Face continued his odyssey on Elder Scrolls IV which involves killing lots of people. Very festive.
Friday
Boxing day today and it was more of the same. Plenty of food, alcohol, farting, belching, nose picking, arse scratching, and that was just Razz, I haven't even mentioned what Beard Face and Frizzy Hair were getting up to. Nothing amorous, don't worry. The most amorous Beard Face gets these days is putting a pair of shorts on when he goes out for a run. He thinks he's sexy running by, but the onlookers have learned to carry sick bags. Wise people. There was nothing on TV again though I did have the misfortune of catching Buggles watching "Wet Pussies" though thankfully it was just a show where cats are sprayed with a hosepipe and not what I initially feared.
Saturday
The festivities are finally behind us and all that is left is the build up to the New Year. What resolutions will Beard Face be coming up with? Grow a pair? Grow an actual beard? Get a job? Take up long distance running i.e. run 300 miles in one direction and never come back. Whatever he comes up with it has to be better than Charlie's current hopes of conquering the world by next April and by October the entire universe. The April deadline is one hell of a leap but taking on the whole universe in the following six months? Charlie has always been ambitious, or delusional, I can never decide which is more apt.
Sunday
Beard Face was celebrating today. Before you jump to conclusions, no he hadn't succeeded in growing an actual beard but something much more impressive. The old boy got very excited in the morning as he finally concluded his epic journey through Elder Scrolls IV. It has taken him a whopping 158 hours to complete. Gamers out there may be saluting beardy's achievement and, in some respects, so am I. That wonderful game has kept him occupied for the equivalent of more than six days. The good news is that Frizzy Hair has already bought him Elder Scrolls V so with a bit of luck the rest of us may be able to rest easy while Beard Face pretends he's a real man with a sword and some fancy armor.
0