My hands were full. With one hand I pulled my suitcase on wheels; in the other I was carrying – and trying to quickly drink – a hot cup of coffee before boarding my early morning flight to Istanbul.
A member of Turkish Airlines staff smiled at me and grabbed hold of my trolley to help me walk down to the plane. She introduced herself as Kesvar. "You're the nicest person I've met all day," I said, relieved to be past Heathrow's hard-nosed, sarcastic security personnel.
"I believe in karma," she said. "I always help pregnant ladies and old people." (Which category did she think I fell into – I had to wonder!)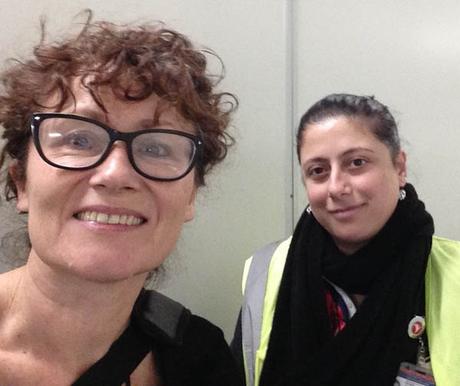 A special thank you to the lovely Kesvar, a member of the Turkish Airlines ground crew at Heathrow Airport
My new friend Kesvar and I chatted all the way down to the plane. We talked about Istanbul, my next stop. "You must go and eat fish and bread next to the Bosphorus," she insisted. We talked about fabulous Turkish food. We agreed how easy it is to get into Istanbul city center from the airport. It's cheap too! Istanbul has made sure that a short stopover in the megapolis is as easy as possible. Talking to Kesvar was like being welcomed to Istanbul and I hadn't even left London!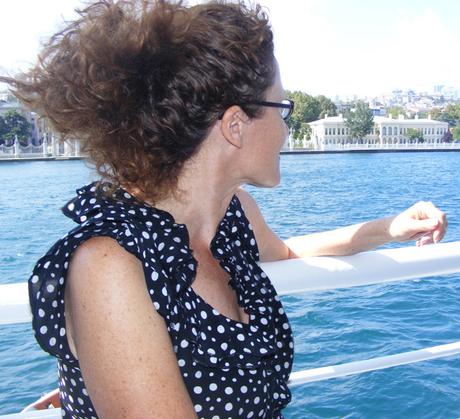 Marvel at Istanbul's incredible architecture on a boat ride along the Bosphorus. The journey takes you through hundreds of years of history
By the time my little suitcase and I boarded the plane, I was one of the last. Everywhere I looked, the overhead lockers appeared full. There was no room in the locker above my seat so I wandered up and down the aisle looking for a little space. There was none in economy.
I managed to get the attention of one of the airhostesses who invited me to follow her into business class. We giggled as we shuffled the other bags around so we could wedge my lucky little suitcase into a corner of one of the business class lockers. It was quite a workout!
Finally in my seat, I settled down to watch the quirkiest airline safety video. I've watched these videos so times that I tend to switch off when they start. The Turkish Airlines video grabbed my attention though. Even though it was played in Turkish to start with (then later in English), I couldn't help but be drawn in by the clever graphics. Meet internet sensation Zack King!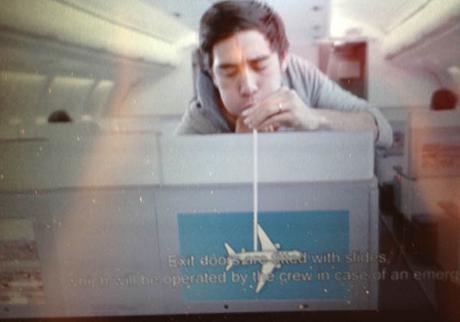 This is Zack King. The off-the-wall style of the Turkish Airways in-flight safety video was great viewing – I loved watching it (twice!)
It's a brilliantly done piece with animation and subtitles throughout. My sister Sarah is deaf. I know how left out she feels when other airlines don't provide subtitles on in-flight entertainment. The Turkish Airlines safety video even has an interpretive signer. Sarah would love it!
I always enjoy Turkish Airlines' meals and they were as good as ever: a tasty salad, a pasta dish and chocolate dessert.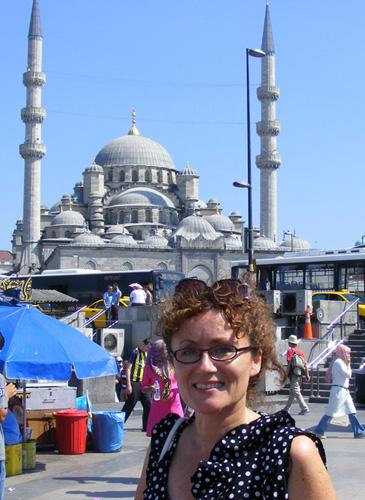 Suleymaniye Mosque. Diary of a Muzungu visits Istanbul on a stopover between London and Entebbe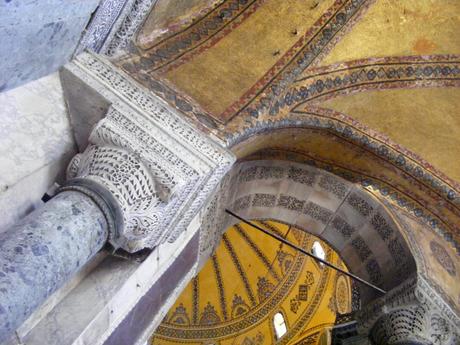 Breathtaking! An interior view of Hagia Sophia / Aya Sofya is a highlight of an Istanbul city tour
Although I had planned three days in Istanbul, unfortunately commitments in Entebbe meant I could not delay as planned. Nonetheless, my short stopover at Ataturk Airport in Istanbul allowed me time to sample some delicious honey-flavoured baklava and a cold Efes beer and stock up on boxes of Turkish Delight for friends in Kampala. Two hours free Wi-Fi gave me plenty of time for me to catch up with everyone.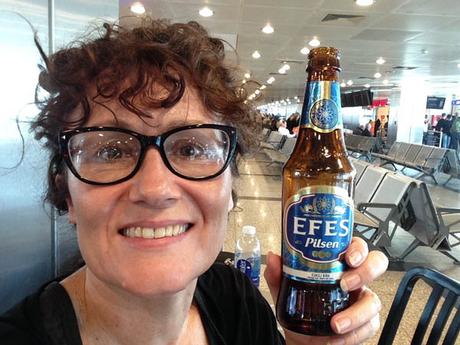 Drink a Turkish Efes beer in Istanbul! Or better still, take a few days and explore the city, en route between London and Entebbe
There is so much more to see in Istanbul! Read my blogs about this superb and accessible city.
Crossing continents – the Muzungu's Istanbul city tour and A day in … Istanbul.
Travel tips
Since my flight departed early, I slept overnight in a futuristic pod at Yotel in Terminal Four. Turkish Airlines depart from Terminal Two. It took five minutes to reach the lower ground floor and catch the Heathrow Express train which runs free of charge between the terminals and arrives every 15 minutes. The journey between terminals four and two takes five minutes. Once inside Terminal Two, there is a five-minute walk (with travelators) to the departures area.
I had checked in online. At departures, all I had to do was scan my passport at the booth, input the number of hold bags and the machine printed out my luggage tags and boarding pass. It could not have been easier. On this flight I had two 20 kg bags (thank you very much) + 8 kg allowance for cabin baggage. I always plastic wrap my bags (£12.50 each at Heathrow). Having a light canvas holdall means the weight allowance goes on the contents of the bag, not the bag itself. The bag drop next to check-in was quick. All I had to do was show my boarding pass.
Before you pass through security at Heathrow Airport, double check for small amounts of liquids hidden in hand luggage. I left a tube of toothpaste in my carry-on bag so security insisted on going through the whole bag with a fine toothcomb.
If you are in a rush, avoid standing in line behind people with kids and a pushchair. Every single part of the pushchair has to be scanned. The poor mother of the family in front of me was totally unprepared for this – she had turned up at the airport with bags full of liquids and creams for the baby. Each liquid had to be tested individually.
Don't get on the plane last if you have a suitcase to stow in the cabin – learn by my mistakes!
My flights from London via Istanbul and onto Entebbe went without a hitch. Air travel isn't always so smooth – you might get a giggle out of these two air travel stories:
A short-tempered muzungu flies to Istanbul
Airport drama # 1 – "The plane is closing" 
« Uganda for beginners – introduction for new expats