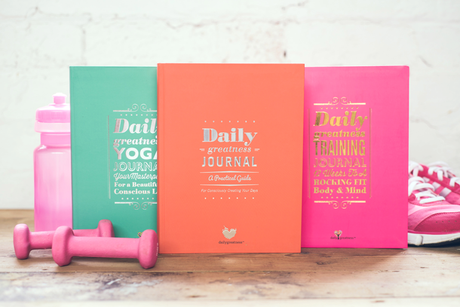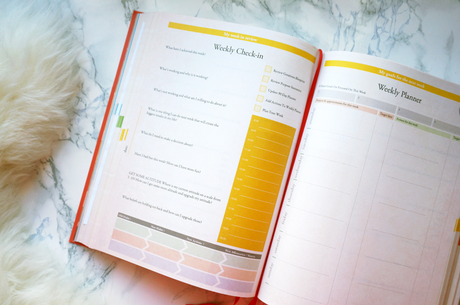 In a bid to get organised, I finally bit the bullet and purchased the Dailygreatness Journal: A Practical Guide for Consciously Creating Your Days. I have had my eye on it for a while and kept seeing posts pop up on Instagram and I couldn't resist any longer. I opted for the original design, however there is also a new 12 Week Daily Greatness Training Journal, a Yoga Journal, and a new Business Planner. 
The journal combines a yearly diary, goal and appointment planner, and daily tools for self-mastery. Designed to be used throughout the calendar year, the daily pages guide you to form great habits through the 8 daily steps of meditation & visualisation, intentions, dream journaling, gratitude, evening self-awareness questions, exercise, inspired actions & inspiration. As well as being used for a daily planner there are also weekly and quarterly check-ins which aim to keep you committed to your goals and remind you of what you set out to achieve. At the beginning of the journal there is lots of advice about how to get the most of it, and a section for you to lay out your blue print of things you wish to achieve and how you are going to get there. 
On the website Daily Greatness state that the journal is durable yet light in weight, which I would hesitate to agree with. It comes bound with a thick, flexible matt texture cover full and is full of premium paper covered in beautiful decorations. However the journal as a whole is much heavier than I had originally anticipated and not the size I can fit into my daily handbag which is a tad disappointing. I have found myself missing out days at a time as I don't carry it around with me and by the time I get home it seems odd writing in retrospect.
However, I absolutely love the concept of the Daily Greatness Journals which are all beautifully designed. I feel that I just need to be a touch more work in on my side and remember to use it for it to upgrade my life and help me achieve my goals. 
Remember, as John Rohn states "success is nothing more than a few simple disciplines, practiced everyday".