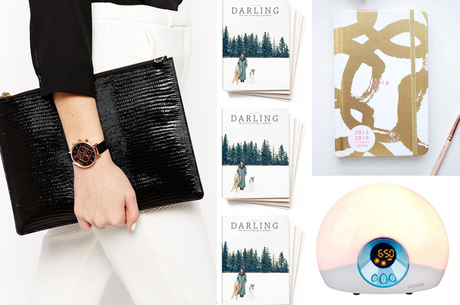 With the final pay day before Christmas looming and huge shopping events like Black Friday and Cyber Monday approaching it's difficult to not feel the pressure when it comes to Christmas gift shopping. I've put together a little gift guide of the things I have been coveting over this festive season. 


First up is the Whistles Shiny Croc Rivington Clutch. 

I've always loved the classic Whistles clutch bags but considering that I find handle-less style pretty impracticable this offering seems like the perfect compromise. A space to cram in all my essentials when I want something a little more put together than my Kanken Mini Fjallraven Backpack. I've also had my eye on this

Whistles Shiny Croc Credit Card Holder

 but unfortunately it seems to be sold out everywhere. 


If you anything like me and you love a bit of stationary then you can't go too far wrong with the Ban.Do Gold Agenda available through Nouvelle Daily. It's a treat for the eyes with it's gold foil design filled with an 18 month planner to help you keep organised and get that bit closer to being the ultimate girl boss.
A lovely gift that keeps of giving is a magazine subscription and what better magazine to support than Darling Magazine. It's made up of collections of essays celebrating the art of being a woman and encourages its readers to read well, read often and consume all that is good. You don't have to commit to a subscription package as single issues are also available. Join the #darlingmovement.
As the darker days are upon us what better way to snuggle up than in the Muji Jersey Bed Linen duvet cover. I have had my eye on it ever since I discovered a Muji store on a trip to London. The combination of the jersey grey, the turkish cotton and the fact it has zip fastenings make this the ultimate gift for a winter homebody like me.
What better way to wake yourself up gently in the morning and settle yourself to sleep than with a Lumie light. The entry level clock is the Lumie Bodyclock which acts as a dawn simulator. Simply set the alarm and 30 minutes before it is due to go off it will gradually omit natural light to help gently ease you from sleep. It can also be set to simulate a fading sunset to help you wind down gently at night. 
Despite being 25, my obsession for Harry Potter is very much alive. Of course I already own the entire collection of books but when I spotted the Harry Potter Box Set: The Complete Collection illustrated by Jonny Duddle it was hard not to gasp. I still prefer the original covers but to have the entire set in matching hardback would be a treat for my book case. 
The beauty lover inside me has been drooling over the Scandal Queen Waterproof Mascara since it dominated the beauty corner of the internet. However, seeing as it was such a cult product it was notoriously difficult to find. The hype has somewhat died down now so I am hoping this year I can add it to my collection. 
Another beauty addition which acts as stunning gift is a Ying Yu Roller which aim to massage the skin, muscles and lymph channels of your face and neck. The healing properties of the stones, twinned with the rolling action, work to tone up facial muscles, increase micro-circulation, stimulate detoxification and aid absorption of your skin care. Sounds perfect right? I absolutely love the Rose Quartz Double Roller but if you are looking for something a little more affordable then the Jade Facial Roller is a great choice too.
What is on your Christmas list this year?